In a recent video presentation dubbed "Warped Beyond Repair" on the Rogue Economics website, Nomi Prins discussed what she's calling "America's Great Distortion."
According to Prins, this is the "most important story in the financial world."
In short, the presentation centers around a "distortion" between the "financial economy" and the "real-world economy," which Nomi Prins says could enrich some "beyond their wildest dreams" while leaving others behind in a "sort of permanent underclass."
She also highlighted a stock that she believes could "double or triple in the next few years," and she reveals in a report called "The #1 Stock for America's Great Distortion."
But to access that report and find out what stock she's teasing, you have to join Nomi Prins' advisory service, Distortion Report, for $49.
So I researched the clues she shared in the presentation, and in this post, I'll show you exactly what stock I think she's bullish on.
I'll also give you an overview of the Distortion Report service to help you decide if it's worth it or not. But first, let's break down Nomi Prins' "Great Distortion" prediction.
What Is "The Great Distortion?"
In the Rogue Economics presentation, Nomi Prins explained to Chris Hurt, the person interviewing her, that The Great Distortion is "the biggest transfer of wealth in history."
And she explained that there are two sides to it.
On the one hand, Prins said you could use this "distortion" to grow your wealth. Or on the other hand, you can ignore it and risk missing out on a historic opportunity.
"The Great Distortion is the biggest transfer of wealth in history…

You can either use it to grow your wealth by leaps and bounds…

Or you can ignore it… hope for a 'return to normal' and risk missing out on this historic wealth-building opportunity."
The reason for the "wealth transfer," according to Prins, all has to do with a "massive financial distortion" she believes we are witnessing.
And during the presentation, she cited one chart in particular as a "perfect example" of the type of distortion she's talking about. According to Nomi Prins, the chart "shows how far the financial world has drifted from reality" since 1971.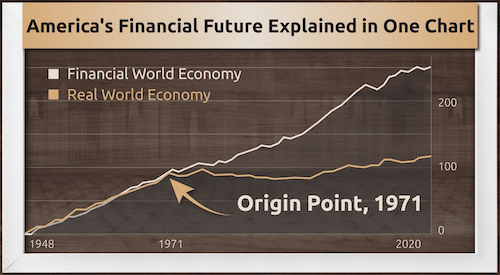 What does the chart mean?
According to Nomi Prins, the top line represents the "financial economy," and the bottom line represents the "real-world economy."
"The top line represents the growth of our financial economy… Wall Street… Silicon Valley… the so-called 'elites'

The bottom line – that's the growth of our wages… which you might call the real-world economy."
What happened in 1971?
Believe it or not, that's a question many have been considering (particularly in the gold and bitcoin space) for years now. In fact, there's even a site called wtfhappenedin1971.com, which is dedicated to exploring this topic in detail.
Long story short, the general consensus seems to be that, since 1971, productivity has gone up, yet inflation-adjusted wages have remained flat. And many (at least among the people I follow) attribute this to how the U.S. went off the gold standard in 1971.
Of course, there are varying opinions on the cause and effect of going off the gold standard, but that's the general gist of it.
What does Nomi Prins have to say about all of this?
During the presentation, Prins talked about how, since President Nixon took America off the gold standard in 1971, "an explosion of new money flooded into the economy."
She also said that this "distorted the U.S. dollar" and led to many people falling behind while the "financial economy" (AKA Wall Street and Silicon Valley) has grown.
Here's how Nomi Prins describes it:
"But 1971 was a pivotal moment in history most people don't know about.

Almost like the dividing line between 'B.C.' and 'A.D.' – when it comes to our money.

And the world has never been the same since.

Ever since this moment… the so-called 'Nixon Shock'…

No matter how hard we work…

No matter how much money we save…

No matter how careful we are with our investments…

Most people have fallen behind.

And I fear this is only going to get worse for many Americans…"
Prins also talked about how "money printing" (AKA quantitative easing) has only accelerated since 2008 and says the money isn't being spread evenly into the economy. Instead, she suggests it's "piling up" in places like Wall Street.
So, what's she predicting?
In short, Nomi Prins is predicting that this "$150 trillion distortion" will enrich some while leaving others "stuck in a sort of permanent underclass."
"Look, the simple fact is… every single facet of our lives is being disrupted by this $150 trillion distortion in ways most folks can't even imagine.

Some could be enriched beyond their wildest dreams…

While everyone else will likely be left behind, stuck in a sort of permanent underclass."
I think it's safe to say that most of us would like to be in the former category (potentially benefiting from all of this). And from what I can gather, that's where the other part of Prins' prediction comes into play regarding what the Fed may or may not do moving forward.
If you've followed the markets lately, you'll no doubt have heard talk about how the Fed has (and may continue) raising rates while winding down the "printing press." And that's not exactly bullish for stocks, which may be part of why we've seen a pullback recently.
But Nomi Prins doesn't seem to think this trend will continue…
"You see, the mainstream press thinks the Federal Reserve is going to stop printing money to put a lid on inflation…

Once again, they've got it completely wrong…

In reality, the exact opposite is about to happen."

[…]

"According to my research, the Fed can't raise rates enough to stop inflation… and they absolutely won't stop printing."
I have no idea if she's right, wrong, or somewhere in between. I gave up trying to predict the future a long time ago because I've found it's rather challenging (lol).
But the bottom line is that Nomi Prins believes this so-called "distortion" could benefit some and not others. And in the presentation, she talked about one stock in particular that she's bullish on, which she says "could easily double or triple in the next few years."
In the next section, I'll show you what I think she's teasing.
What Is Nomi Prins' "#1 Stock for America's Great Distortion?" (Revealed)
As mentioned earlier, Nomi Prins doesn't name her stock pick in the presentation. Instead, she shares the details in a report called "The #1 Stock for America's Great Distortion."
And the only way to get that report is to join her advisory service, Distortion Report, for $49.
But I looked into her clues and think I've found it.
The first clue Prins shared was that her pick is a "small firm" in the energy industry, which she claims is one of the biggest industries being transformed by "America's Great Distortion."
"And I don't want anyone to miss out. That's why I've distilled the key points into a special report to show today's viewers my favorite way to profit from this $150 trillion wealth transfer.

Inside, I'll show you all the details of a small firm that could soar as it disrupts one of the world's most critical industries."

[…]

"But the energy industry – worth more than $2 trillion – is one of the biggest industries being transformed by America's Great Distortion."
Next, Prins says that the trend toward "New Energy" is inevitable and says that many Wall Street institutions own her favorite "New Energy stock."
"In my special report, called The #1 Stock for America's Great Distortion, I'll show you my favorite 'New Energy' stock, which is owned by just about every major institution on Wall Street…"
What could it be?
Well, Prins said that it's not a solar or wind energy company but rather a "cutting-edge tech stock inside of the energy sector." And she drops hints about the company's customers, patents, and awards it has won.
"Already, 76% of Fortune 50 companies are customers of this firm …

Its fast-growing portfolio of patents gives it a huge advantage over the competition… and its technology has won awards from Goldman Sachs, the World Economic Forum, CNBC, and more."
But none of those were very conclusive.
So I kept on digging.
And what led me to her pick was a quote she shared from Motley Fool about how the company "could be a 10-bagger." And after "Googling" the headline, I came across this Motley Fool post, which highlights a company called ChargePoint (ticker: CHPT).
From there, I checked to see if ChargePoint matched Prins' other clues, and it did.
What does this company do?
ChargePoint is a California-based electric vehicle infrastructure company that operates the largest network of EV charging stations, with operations in the U.S. and abroad.
I can only speculate as to whether or not it's a worthwhile investment, but the article I just linked to might be worth a read if you want to learn more about it.
You could also check out Nomi Prins' "America's Great Distortion" report because that gives you all the details about her pick and why she's bullish.
That said, you may not want to join the Distortion Report service just to learn about Nomi Prins' stock pick. So, in the next section, I'll give you an overview of what the service is about to help you make a more informed choice about whether or not it's worthwhile.
What Is the Distortion Report?
Distortion Report is a monthly investment newsletter edited by Nomi Prins and published by Rogue Economics. According to the Rogue Economics website, the service aims to help subscribers "profit from the disconnect between the markets and the real economy."
Each month, Nomi Prins shares her latest investment research and recommendations with subscribers of the newsletter. You can also see her active picks in the model portfolio, and she shares research reports on the companies she recommends.
According to Nomi Prins, the normal price for Distortion Report is $199, but it's been reduced to $49 for those who join through the "Warped Beyond Repair" presentation we've discussed in this post. And this promo comes with the following reports:
The #1 Stock for America's Great Distortion: 10x Gains on a Small Firm Disrupting a Critical American Industry.
The Electric Car Myth: The Hidden Key to Unlocking 23x Profits in EV.
Bank to the Future: The Virtually Unknown Firm Transforming the $11 Trillion Financial Industry in the Next 12 Months.
The first report details Prins' number one "Great Distortion" stock pick. And as I mentioned earlier, I believe it's ChargePoint, so I won't elaborate further on that.
But what about her other two picks?
The second report details a company that Nomi Prins says "holds the key" that enables electric car companies and EV charging companies to operate. Without the product this company makes, she says, "the electric vehicle industry simply cannot exist."
Unfortunately, she doesn't provide many other clues on this company, other than saying her pick doesn't involve commodities like nickel or lithium. So I'm not sure what it is.
And it's a similar story with her third stock pick.
For the most part, all Prins reveals about her third pick is that it's a fintech company that "could become one of America's first government-accepted stablecoin networks."
So if you want Nomi Prins' latest research and stock picks, including the picks in the reports I just mentioned, you'll have to check out her Disruption Report service.
Is it legit?
I haven't joined the service myself, so I can't say how worthwhile it is based on personal experience. However, Rogue Economics is a legit financial publishing company, and as I'll explain in the next section, Nomi Prins is a real economic and investing expert.
So I don't think the service is a scam. The only thing I will mention is that it's unclear if the refund policy allows you to get a cash refund or refund credit. And while the service is $49 to join, the Rogue Economics order page states that it renews at $129 after 12 months.
Update (October 2022): Since publishing this article, I decided to join Nomi Prins' Distortion Report service to see if it was worth it or not, and I put together a full review detailing my experience.
Who Is Nomi Prins?
According to nomiprins.com, Nomi Prins is an economist, geopolitical financial expert, and investigative journalist who holds a PhD in International Strategic Studies.
Before joining Rogue Economics, Prins worked at Goldman Sachs, Bear Stearns, Lehman Brothers, and the Chase Manhattan Bank.
It's unclear when, but her Rogue Economics profile states that she became an investigative journalist "to shed light on the ways financial systems are manipulated to serve the interests of an elite few at the expense of everyone else."
She's also a best-selling author who has authored numerous books on finance and economics-related topics.
Her latest book is called "Collusion: How Central Bankers Rigged the World."
And according to Prins, she's releasing a new book, Permanent Distortion: How the Financial Markets Abandoned the Real Economy Forever, this fall (autumn).
Aside from that, Nomi Prins heads up a free daily e-letter called "Inside Wall Street With Nomi Prins" and runs Rogue Economics' flagship advisory, Distortion Report.
I'm not sure how well her stock picks have turned out over the years because, unless I missed it, she didn't really talk about that in the presentation. But it seems as though Distortion Report may be a relatively new service, so that may be why.
And either way, my research suggests that she's a genuine expert, especially when it comes to the sort of topics she discussed in the presentation. So while there's no guarantee you'll make money following her investment ideas, you may find her insights worthwhile.
Bottom Line
In Nomi Prins' latest presentation (dubbed "Warped Beyond Repair"), she talked about "America's Great Distortion" and hinted at three stocks she's bullish on.
To recap, Prins believes there's a "distortion" between the financial economy and the real-world economy. And she's predicting that this could potentially lead to some people becoming wealthy while keeping others stuck and falling behind.
As far as her stock picks go, the first company she's teasing (AKA her "1 Stock for America's Great Distortion") appears to be ChargePoint because it matches her clues. But I'm not sure what her other two picks are because she didn't reveal much about those.
Either way, if you want to find out what Nomi Prins' picks are and get her research on each company, the best thing to do would be to subscribe to her Disruption Report service.
Whatever you decide, I hope you found this post helpful. And if you'd like to share your take on any of this, feel free to chime in below.