First Published: March 21, 2019
Welcome to my review of National Institute for Cannabis Investors.
This is a cannabis investing news service that claims to help you make money by investing in pot stocks. Apparently, it's "the most powerful cannabis-investing tool available".
Sounds cool, but is it legit or some type of scam?
Read on…
National Institute for Cannabis Investors Review
I first came across the National Institute for Cannabis Investors (NICI) via the American Cannabis Summit, which is a video presentation about investing in the cannabis industry…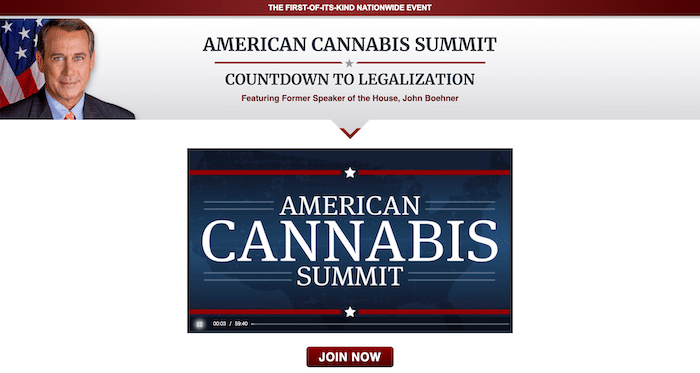 The presentation is hosted by Mike Ward, John Boehner and Danny Brody.
Mike Ward is the publisher of Money Map Press, Money Morning and co-founder of NICI. John Boehner is a former US politician and advisor to Acreage Holdings Inc, a US based cannabis company. Danny Brody is VP of Canadian marijuana company, The Green Organic Dutchman.
Together, these guys know a thing or two about the cannabis industry.
So the 'conversation' they had within the video was interesting and informative. They discuss the state of the cannabis industry, legalization and of course, investment prospects.
Needless to say, the cannabis industry is seeing unprecedented growth throughout the US, Canada and the world. It's a multi-billion dollar industry, one many are calling the "green rush".
So there's little wonder why many people are interested in pot stocks. The potential is huge. Especially as more states within the US legalize cannabis and the industry as a whole expands.
Anyways, at the end of the video, there's a link to another page.
Which is essentially a sales pitch for you to become a member, by purchasing the yearly investment subscription for between $39 to $129.
The video presentation does contain some useful information, so it's worth watching in and of itself. But let's be real- the primary purpose here is to sell you something.
I've seen this style of marketing before on sites like Federal Rent Checks and Congressional Checks for example. Where it seems like a 'news report' of sorts, when it's really just a pitch.
What Is National Institute for Cannabis Investors (NICI)?
The National Institute for Cannabis Investors is a cannabis-investing news service.
The NICI website (nicinvestors.com) launched in September 2018, and is headed up by co-founder and publisher Mike Ward. Mike is a publisher on numerous other financial sites too, such as Money Map Press and Money Morning.
According to the NICI website, the institute "brings together the smartest minds and most credible experts" to help would be cannabis investors become wealthy.
And NICI shares this wisdom through its various yearly subscription services, which apparently outline the best pot stocks and cannabis investment opportunities going.
NICI is the most powerful cannabis-investing tool available to investors who want to achieve their dreams of financial freedom. – nicinvestors.com
Bold claim.
There's no doubt that Mike and the team at NICI know what they're doing though. They have decades of investing experience between them and a solid track record of success.
And they are sharing their insights with you, the subscriber, so there is potential to make money here. However, as with all investing, it's not going to be as easy as signing up, investing and becoming a millionaire.
You will need to do your due diligence, study the industry, keep up with the latest news and so forth, if you want to be successful. And even then, there is definitely risk involved.
Read on to learn more about how NICI works before buying.
How Does NICI Work?
The way NICI works is by providing you with actionable insight into investing in the cannabis industry, through various 'yearly newsletter subscription services'.
As of writing this, there are four main publications:
Cannabis Profits Daily- free email newsletter
Cannabis Investor's Report/ NICI membership- $39, $79 or $129
The Cannabis IPO Insider- $1,950
The Cannabis Venture Syndicate- $4,950
You can also find a lot of useful information on the NICI website itself, for free, without ever joining a newsletter. But the idea behind this is that eventually, a percentage of people will at least subscribe to the free Cannabis Profits Daily newsletter.
In the following sections, I'll show you what each subscription is all about.
Cannabis Profits Daily- Free
This is a free newsletter that is sent to subscribers daily.
The content relates to industry news, movements in the market and general content that cannabis enthusiasts and investors will find interesting. Naturally, you'll also see pitches on joining the following 'paid' subscriptions within these daily newsletters.
Cannabis Investor's Report/ NICI Membership- $39 to $129 per year
The Cannabis Investor's Report is exactly the same as purchasing a yearly subscription to NICI.
As a member, you get access to research and monthly reports that detail the state of the industry. Which typically contain 'buy alerts', an indication of when to buy a given stock.
You also get access to the current portfolio of stock recommendations, including the current stock price and monthly percentage gains. So you can see how well their recommendations are going on a monthly basis, and keep track of your own stocks.
Here's a sneak peek of the members area so you know what to expect…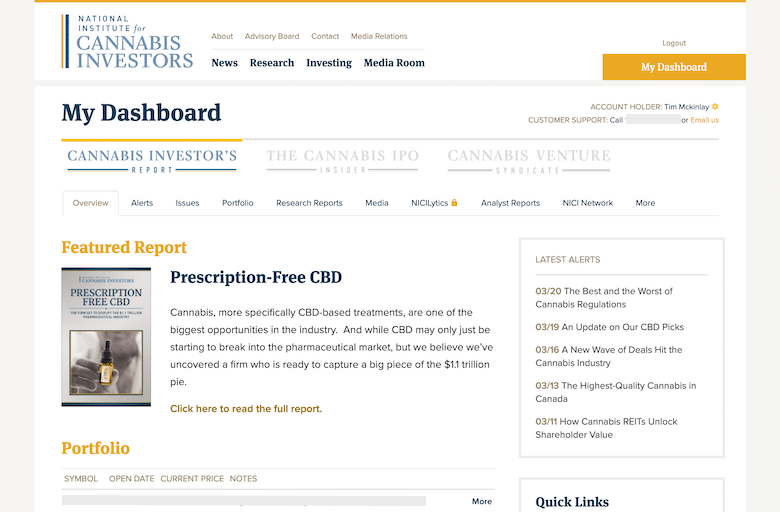 The members area is definitely chock full of information and tools you can use, so I think it was money well spent. Thankfully it is easy to navigate though, even for complete newbies.
Here's a breakdown of the pricing tiers of this subscription:
Gold Level- 1 year subscription for $39
Diamond Level- 2 year subscription for $79 plus 3 'diamond level reports'
Platinum Level- 2 year subscription for $129 plus 3 'platinum level reports'
Regardless of which membership option you choose, you also get access to several 'special reports' that discuss topics related to cannabis and CBD investing.
Also worth mentioning is that immediately after buying there's a couple upsells. The first one is a lifetime membership of this subscription for $495 and the second is for the following subscription- Cannabis IPO Insider.
The Cannabis IPO Insider- $1,950 per year
This is all about investing in IPOs (initial public offerings).
An IPO is essentially when a private company decides to 'go public' and launches their stock on the stock market. As a member of Cannabis IPO Insider, you apparently get 'inside' information about which companies, that are about to go public, are worth investing in.
According to the NICI website, members are seeing big gains from this.
And there are examples of how certain IPO opportunities got investors between 231 – 1,947% gains within a very short period of time. Something that is relatively unique to cannabis stocks, given how rapidly the industry is growing.
The Cannabis Venture Syndicate- $4,950 per year
This is all about becoming a private investor in cannabis companies.
So instead of investing in the regular stock market, you find private companies that are worth investing in.
As a Cannabis Venture Syndicate member, you receive 4-6 private investment deals within a 12 month period. And apparently, each deal has the potential to give you 1,000 – 100,000% returns. Which is a little hard to believe, but at the same time possible.
Obviously, if the information you are receiving about which companies to invest in holds up, a small investment could net you some serious cash.
Still, at $4,950 you are placing a lot of trust in these guys, so perhaps starting at the lower level options is the way to go. This way you can see if they are standing by their word on the lesser expensive membership options before going 'all in'.
Is National Institute for Cannabis Investors a Scam?
The National Institute for Cannabis Investors is not a scam in my opinion.
This is a real company, run by real industry experts, that provides you with useful information about investing in the cannabis industry.
If all you do is read the blog and subscribe to the free email newsletter, you are going to gain insight into both the industry and investing in cannabis.
The paid subscriptions build on this, offering more insight into various investment strategies. Along with tools you can use to help you invest in the right pot stocks, at the right time.
And considering a NICI membership is only $39 per year, I think it's worth it.
The higher level subscriptions are a lot more expensive though, and I chose not to purchase these. You would think costing roughly $2-$5k a pop, they must be packing some seriously value though. And from what I've seen so far, I have no reason to think otherwise.
I also did some digging on the companies BBB profile and other sites, to see what others are saying. And so far, there aren't many complaints or negative reviews at all, which is a good sign.
What didn't I like?
I personally found the 'American Cannabis Summit' video to be a bit disingenuous. As in, sitting in a newsroom delivering what appears to be some sort of 'report', when in reality it's just a sales pitch. I'm not a huge fan of this style of marketing in general.
To be fair though, I've seen a LOT worse in this space.
For example, a similar investment company launched a campaign called Freedom Checks. Which essentially told people they could start 'collecting checks' and that it was "like winning the lottery". When in reality, the company was just selling an investment newsletter.
Thankfully, NICI isn't resorting to this kind of hype which is a plus in my books.
Conclusion
The National Institute for Cannabis Investors provides regular folks with lots of great information for zero cost, about investing in the rapidly expanding cannabis industry.
Then there are the paid subscription services which range from $39 to $4,950. The NICI subscription I bought was worth the money, and definitely not a scam. And given the people involved in this, along with the sheer potential within this industry, the higher-level subscriptions look promising too.
If you are going to buy, I recommend starting at the lower end, seeing if you get value from the material, and then consider upgrading over time.
Either way, there's always a risk involved with any investment strategy.
You are not going to signup and start making ridiculous amounts of money overnight. So I think it goes without saying that you want to invest sensibly, and only what you can afford to lose.
Whatever you decide, I hope you found this review helpful.