Hello and welcome.
Today, we're going to be taking a look at Luke Lango's Innovation Investor.
This is a fairly new service from the team at InvestorPlace, and it's all about investing in emerging tech trends like AI, blockchain and autonomous vehicles.
I first stumbled across this service through a presentation featuring Luke Lango, who was talking about how the best way to make money in America is to start a successful business, and that the second best way is to back existing companies that are already successful.
This segued into a pitch about joining his Innovation Investor service for $99. So I thought I'd take a closer look at this service and share what I found with you in this review.
The Innovation Investor Pitch
The presentation for Innovation Investor takes place in Silicon Valley, and begins with Luke Lango talking about how much wealth is created by entrepreneurs in this part of the U.S.
He says that 1,700 new American millionaire's are "minted" everyday.
Which is actually true, I looked it up.
Anyway, Luke says that the best way to create wealth is to create an innovative new business, and provides examples of tech billionaires like Jeff Bezos, Elon Musk and Steve Jobs.
But let's face it, starting the next Amazon, Tesla, or Apple isn't exactly something most people are going to be doing anytime soon.
And that's where Luke begins talking about the SECOND best way to make money: by investing in tech companies like the ones I just mentioned, before they become household names.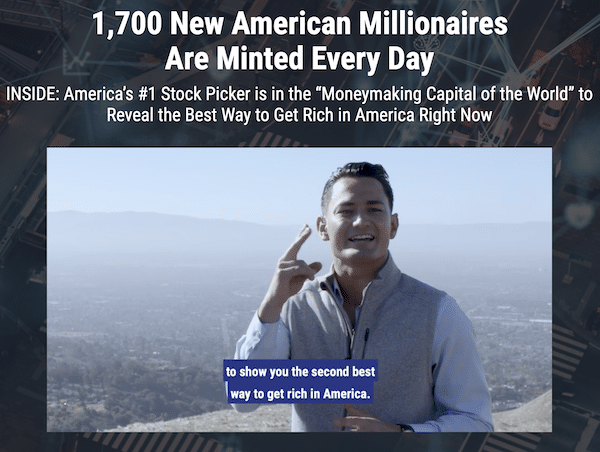 He then provides examples of the time it has taken technology to be adopted since the year 1900. He talks about how it took 73 years for the telephone to gain full adoption, 15 years for the cellphone, and only 8 years for the smartphone.
The reason he points this out is to illustrate that the rate of technology adoption is increasing exponentially. And he provides several examples of companies that have been disrupted by tech companies within a very short period of time.
For example, how Netflix made Blockbuster obsolete, Uber completely disrupted the taxi industry and how, thanks to Amazon, many brick and mortar stores are closing down.
He transitions into talking about how there's a new economy, and that the winners are the companies that don't actually make any physical products.
Instead, he says that the "new elite is made up of people who collect, analyze, present, and protect data." And he provides an example of a company called Shopify, which he recommended in 2017, that is dominating the ecommerce space – without making any products.
Shopify is a tech company that helps entrepreneurs sell physical products online.
And Luke says that because its costs are so low compared to traditional retailers, its profits can skyrocket and benefit investors in the process. Which has proven true so far.
In any case, Luke calls these "hyperscale companies" because they are in a position to grow very rapidly in the "new economy" he sees taking shape.
In his own words:
A company with hyperscale potential can go from tiny to $10 billion in the blink of an eye… These are the people you need to back with your money. If you don't, you'll get left behind.
And Luke says he can help you find these companies.
He says that he "lives and breathes" innovation, and that because he's a venture capitalist, he knows about all the deals going on in the startup world before most people do.
He says that by joining his service, Innovation Investor, you could have the chance to see the types of gains that some of his existing subscribers have.
For example, his recommendation for AMD, which Luke says helped subscribers turn $2,000 into $96,000. Or Blink, which he says could've turned $5,000 into $138,000 in just over a year.
Of course, not everything Luke recommends is going to make you money.
But I do think his pitch, and the results he's achieved, are quite compelling. So let's take a closer look at how the Innovation Investor service works, to get a better idea of what to expect.
How Does Innovation Investor Work?
The basic idea behind Luke Lango's Innovation Investor service is to provide subscribers with stock recommendations and insights into emerging tech companies.
Luke says he's all about sharing "hyperscale" opportunities that give you the "chance to get an inside look at tomorrow's cutting-edge opportunities today."
The types of companies he recommends vary in scope.
For example, his recommendations include innovative blockchain opportunities, companies in the autonomous vehicles space, supercomputing companies, ecommerce companies like Spotify, and even companies that are innovating the real estate industry like Opendoor.
The main thing all of his stock picks have in common, according to Luke, are that they're revolutionizing the way we use technology, they're hyperscalable, and they're not very well known. Which means there's huge potential for growth.
To sum it up… the Innovation Investor service is all about helping you invest in innovative new tech companies that Luke believes could see huge growth potential in the years ahead.
You don't just get a bunch of stock picks though.
Each month, on top of getting at least one new stock recommendation, you also get a detailed breakdown of the companies he recommends, as well as his analysis on the technology trends impacting the tech space. So there's a lot you could potentially learn from Luke.
On top of this, subscribers get access to the model portfolio, which shows you the details about which stocks Luke has already recommended, a Quarterly Conference Webcast where Luke reviews all of his recommendations to keep you updated, and six bonus reports.
Here are the bonus reports on offer as of writing:
7 Hyperscale Stocks to Buy Now
The Secret Startup Taking Driverless Cars Mainstream
3 World-Changing AI Stocks to Buy NOW
My EV Sleeper Stock of the Decade
The Unknown Disruptor Accelerating the Future of Batteries
The 3 Best SPAC Stocks for Space Race 2.0
How much does all of this cost?
The cost to join Innovation Investor is $99 for two years, which includes 24 issues of the Innovation Investor newsletter and access to everything I just mentioned.
That said, exactly which bonus reports you get, and the price you end up paying, can depend on which page you join through. It's common for companies like InvestorPlace (the company behind all of this) to run promotions and offer different bonuses at different times.
Either way, as of writing this, it costs less than $50 per year to join.
And there's a 365 day money back guarantee in place too, so if you join and aren't happy with the service, you've got a full year to request a refund. And they even let you keep the reports.
Is Luke Lango the Real Deal?
Luke is the man behind the Innovative Investor service, and other services published by InvestorPlace, such as Daily 10X Stock Report and Exponential Growth Report.
His main focus is on finding opportunities among small cap technology companies. In other words, smaller, lesser known tech companies with huge growth potential.
According to his profile on the InvestorPlace website:
Luke Lango is a growth-focused equities investor and analyst. He has regularly been rated one of the top stock pickers in the world by numerous outlets, and has developed a strong reputation for leaning into his technology background and "big picture" investment philosophy to regularly identify next-generation, small-cap stocks with huge upside potential.

Source: https://investorplace.com/author/lukelango
It's easy for the company he works with to say nice things though…
But does it really stack up?
Turns out, yes.
Luke Lango was listed as the number one rated financial blogger in 2020 on an independent ratings site called TipRanks (you can see his profile here).
The cool thing about this site is that you get to see exactly which stocks Luke has recommended over the years, and at what price. Along with all sorts of other useful information like his overall success rate and the average returns of his predictions.
You don't get to see everything he's recommended, but it gives you an idea.
And one of the standouts to me, at a glance, was his recommendation to buy Tesla when it was less than $40 per share.
All told, the InvestorPlace website states that he has recommended at least five companies that have gone up 1,000% or more from when he recommended them.
Here are the names and tickers of each:
Advanced Micro Devices (NASDAQ: AMD)
Shopify (NYSE: SHOP)
Tesla (NASDAQ: TSLA)
NIO (NYSE: NIO)
Chegg (NYSE: CHGG)
Aside from sharing tech stock ideas, Luke is also actively involved in the venture capital space, so he has "hands on" experience of actually working with smaller tech companies before they go public. Which would no doubt help him better evaluate up-and-coming opportunities.
Before working with InvestorPlace, he was the founding manager of an investment fund in San Diego called L&F Capital Management, LLC. And he worked at a startup called Scoutables that helped sports organizations better manage their cashflow using advanced data analysis.
So, from what I can see, Luke Lango is not only a real investing guru, but he's someone with a proven track record, especially within the emerging tech space.
That doesn't mean every prediction he makes is going to pay off big time. No doubt some of his recommendations have lost himself, and others, money over the years.
That's just the way it goes. But he's definitely a legitimate guru and someone who shares valuable insights with subscribers. He's also a senior investment analyst for InvestorPlace, which is one of the most respected financial publishing companies in the world.
Bottom Line
Innovation Investor is a stock advisory service headed up by Luke Lango of InvestorPlace.
The service is focussed on finding investment opportunities within the technology space. Luke specifically looks for smaller tech companies that he believes have huge upside potential.
The cost of joining the service is $99 for two years and, as a member, you get access to monthly newsletters containing stock recommendations, detailed insights and other resources such as the model portfolio and bonus reports, aimed at helping you invest successfully.
Is it worth joining?
I think it really depends on you and your own goals and circumstances.
On the one hand, I think it could be worth joining if you're looking to take advantage of small cap tech stocks with large upside potential.
And considering the low cost of joining the service, and that even a relatively small stake could grow substantially if his recommendations work out, the starting costs are fairly low.
That said, there are still risks involved when it comes to investing. And that is especially true when you're putting money into small cap tech stocks – these are among the most risky.
Why?
Because firstly, small cap stocks (stocks with a market capitalization of between $300 million and $2 billion) are inherently volatile. So the price can fluctuate rapidly and quickly. So just as you could make lots of money fairly quickly, you could also lose lots of money quickly.
Second, tech startups come and go all the time.
The tech space is full of companies that had seemingly great ideas that never worked out. It's just such a competitive, rapidly evolving space. Which makes it very unpredictable.
In no way does that make the Innovation Investor service any less worthwhile, but I do think it's important to keep these things in mind before making any decisions. That way, you can feel more confident about making the best decision for you and your own circumstances.