Quick Overview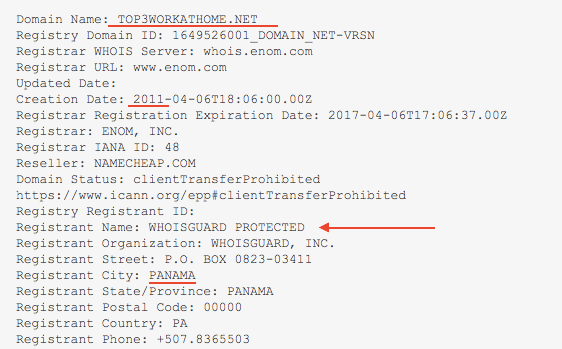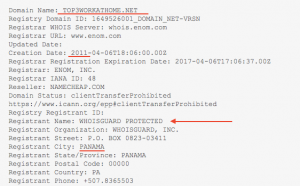 Website: top3workathome.net/index.htm
Summary: Fake review website that hasn't been updated since 2013, it's run by an unknown entity out of Panama. It claims to show people the best work from home programs online when in reality it is quite the opposite.
Price: Free/ many up sells
Score: Scam
The TRUTH About Sarah Johnson
The truth is she's not even real! This is a fake persona that has been around for a while.
According to WorkatHomeTruth.com (among others) this alias has been used in connection with at least two known scam websites including 'Web Fortune Vault' and 'Big Pay Jobs'. These programs are both defunct.
There are many fake alias's in circulation that are all connected to this same group of scammers such as Mary Johnson, Katie Johnson and Kerry Johnson to name a few. Sometimes they admit their use of a fake alias in the fine print, other times it takes having reviewed a lot of these websites find the connections.
As I am about to show, it is clear that this fake review site is directly connected to known scams.
The Top Three Turd List- Version 1
All of these are pushing one common fake job/ business model known as link posting.
Work at Home Edu: This is the old name used for a website I recently reviewed known as WAH Edu which runs the typical single Mum 'rags to riches' story they are so fond of using.
Online Riches University: A link posting scam no longer in operation.
Home Job Institute: Same as above, also defunct.
They claim you will "sign up and start making hundreds/ thousands of dollars in just weeks". Please don't believe that kind of rubbish guys I can assure you it is miles from the truth.

There is no such thing as posting links for anywhere near the kind of money they are talking about, if at all. For more information on the above programs and others, check out these reviews.
Here's the kicker… not one of the above programs is actually being linked to. They actually send people to one main website located at linkingonlinecash.com. That then sends people into the 'Free Bucket' website which promotes known scams by people the FTC have had dealings with such as Jeff Pauls.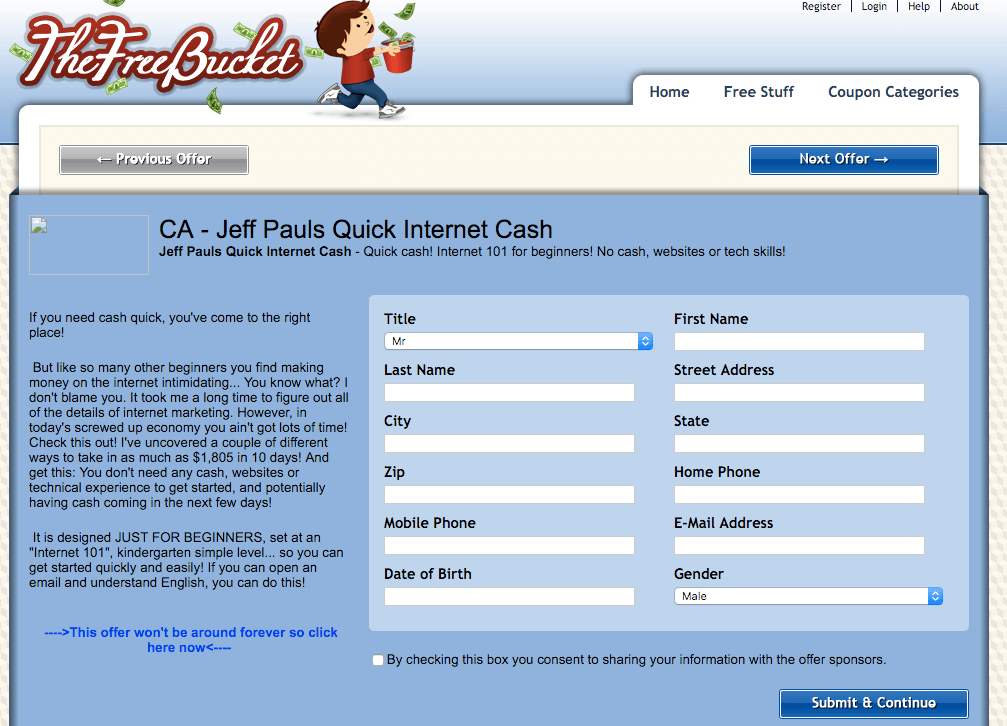 Yes, the FTC has fined this guy heavily and yet this so called 'top 3 website' recommends him! Read this review to learn more about the Free Bucket and Jeff Pauls.
Hint: do NOT give them your personal information!! The above might very well be a form to facilitate identity theft, I am not kidding. This is serious. Look at the sort of questions they are asking people… just to give out free 'coupons' for crying out loud!
The Plot Thickens
I thought I was going nuts at first but after I went back to this website during my research I saw a whole new set of websites being promoted… yep!
They should rename this scam to:
"Here's our top 3 programs depending on which version of our website you land on"
Version 2: http://top3workathome.net/
Program they are promoting: http://www.securebusinesssites.com/tpl/dgl/optin_dgl.php
This time all 3 (supposedly different recommendations) link people to the 'Cash From Home' (CFH) program. This is directly connected to a fake news website I reviewed a while back.
Have a look at this screenshot from the CFH sales page: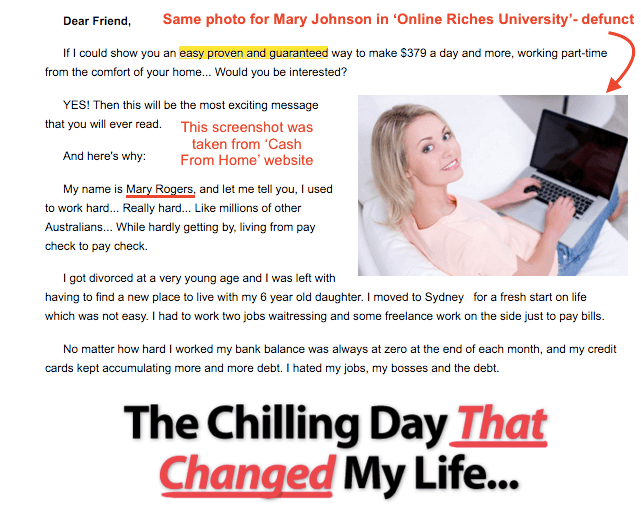 Now take a look at the disclaimer on that same website:


Programs 'version 2' is promoting:
Cash From Home
Online Cash
Online Riches University
Mary Rogers is featured on the CFH sales page and Online Riches University, along with who knows how many others.
By now you're mind is probably boggling at the sheer depth of lies and deceit, it really is quite extensive when you start digging into this can of worms I can tell you.
Ask yourself: why would a genuinely legitimate company need to constantly change names, alias's, URL's, use stock photos, fake testimonials, create fake news websites and alter site designs just to sell the same product?
I won't go on and on but everything on this website is fake and I urge you to continue your research through some of the links I've published above.
Extra Plot Thickening
Other review websites are reporting this website has been putting all sorts of other websites in it's top turd list. The list might change, but the scammers stay the same. Plain and simple.
The Sinister Reality Of This Scam
Apart from making money off front end sales, the main reason these guys have this string of scams set up is to get your personal information. Once they have this there are 2 main ways they make money:
Spamming and pressure selling you into much higher ticket products that also will not make you any money
Renting, selling and sharing your information to whoever they want
This screenshot taken from: http://top3workathome.net/privacy.html

This screenshot taken from the CFH system website: http://www.securebusinesssites.com/tpl/_disc/Privacy_Policy.php

TIMA (whoever they are) owns the CFS system apparently. They do not disclose any more info about who or what TIMA actually is.
Bottom line is that giving these people your private information is a big mistake. If you are concerned about identity theft or the misuse of your information please contact the relevant authorities.
I am not a lawyer. This is just my opinion as someone who reviews opportunities as to what might happen.
Final Thoughts
One word sums this up: SCAM
I do not recommend this or anything even remotely similar. As soon as you see a website with news logos on it that is not actually the official news network- run for the hills! That is the single biggest 'tell' I've seen with these to date.