Hello and welcome to my review of Postal Jobs Source.
I discovered this site after receiving an email about a USPS job opportunity. And I'm not sure why exactly, because I've never expressed interest in working for the United States Postal Service (USPS), nor did I give my email to the sender, so it was a bit odd.
In any case, after I started digging into it, I noticed that the site is getting lots of attention and that many people are asking if it's a scam or not. So I decided to take a closer look to see what it's about. And in this review, I'll show you what I found so you know what to expect.
Postal Jobs Source Review
As mentioned, this all started with an email I received. It was from a woman named "Sharon Hopkins" and the email took me to a job directory site known as job-motor.com:

I also found a similar advertisement, on a site called e4-employment-searcher.com. There could even be other sites running these ads too, these are just the ones I found.
In any case, at this point it looks as though you've found a real "job". The job site looks legit and the advertisement looks real, so there are no major red flags at this stage.
So I continued my research by clicking on the job advert link. At which point I was directed to the PostalJobsSourcewcs.com homepage: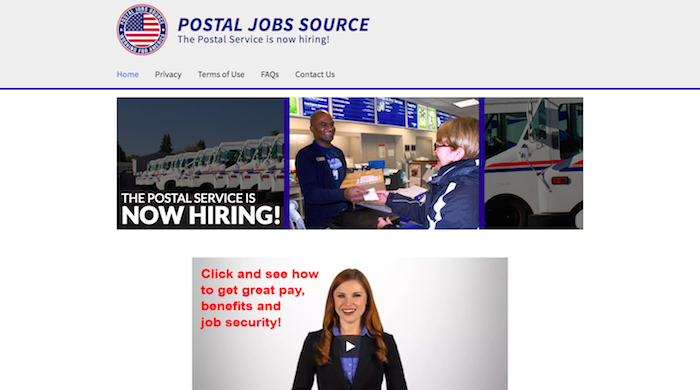 And that's when I found this video:
The above video is presented by a spokesperson, who starts out by discussing the benefits of postal service employment.
Benefits like great pay (around $56,700 per year on average) and job security. Along with benefits such as medical and dental insurance, paid vacation, sick leave and a retirement plan.
She also says that USPS offers paid "on the job" training. So you don't need any experience to be hired. As long as you're a US citizen (or have a green card), are at least 18 years old and have a high school diploma or GED. Apparently that's all you need.
Now I'm not an employee of the USPS, nor am I an expert on their hiring processes. But from what I found, it seems like most of what she's saying here is true.
Then what's the problem?
Well, in order to successfully land a USPS job, you need to complete their assessment and examination process. And while anyone can apply, not everyone will pass.
Which is where Postal Jobs Source comes in.
If you watch the video to the end, the woman says that the Postal Jobs Source "registration package" will help you gain employment with USPS. All the way from "exam to interview". As if they are giving you a "leg up" on the competition.
And all you need to do is pay them a one-time $48 fee.
Read on to learn more.
What's Postal Jobs Source About?
According to the fine print at the bottom of the website:
Postal Jobs Source is a private employment service that offers assistance in gaining employment and is not affiliated with the USPS, US government, it's agencies or affiliates.

postaljobssourcewcs.com
As you can see, the site discloses that they're really just a private company. They have no affiliation with USPS or the US government whatsoever.
So Postal Jobs Source is a website that sells a $48 registration package, that they say will help you pass the postal exam and become a Postal Service employee.
What exactly does this "registration package" contain?
According to the website, it contains everything you need to get hired. Including a step-by-step guide for the entire hiring process, personal job counselling, sample exam questions and answers, and access to current job openings.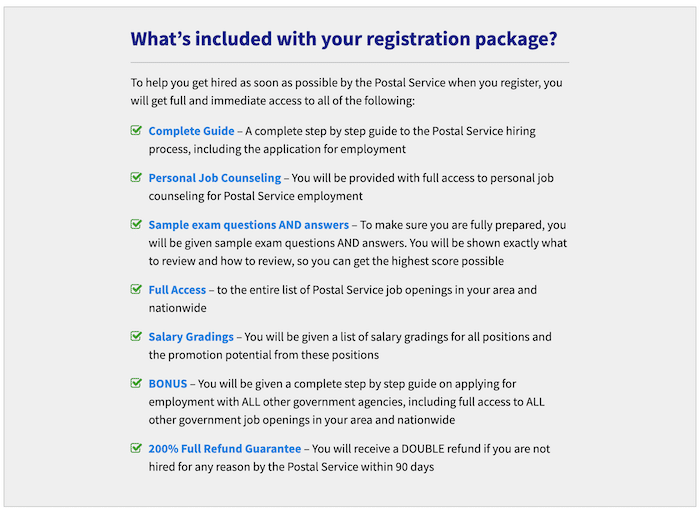 The cost of this package is $48 and it comes with a 200% money back guarantee. Which means that if you don't get hired within 90 days of purchasing, they refund double your money. Or $96 to be precise.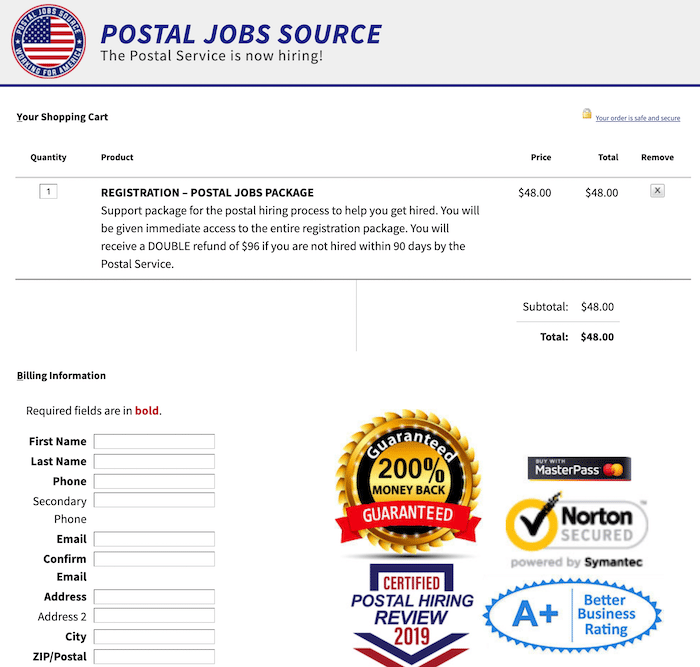 If you do decide to go ahead, you will need to provide some personal information and purchase the registration package for $48. At which point, I'm assuming they send you this information to your US postal address or via email.
Either way, the money back guarantee probably takes the risk out of this for a lot of people. Because if you can't lose, why not give it a try?
That might be true. But whether or not you actually get this refund, is another story. It's a very big "if". Especially when you consider the points I am about to share with you.
Who's Running The Show?
I was able to find two versions of this same site during my research:
postaljobssourcewcs.com
postaljobssourcegc.com
Neither of these sites provide any information about who's behind this. But they do provide the following contact information: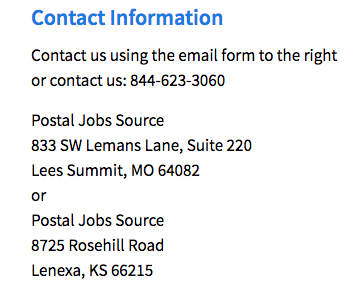 As you can see, the first address they list is in Lees Summit, MO. So I looked up this address using Google and found that it's registered to a UPS store in Jacksonville: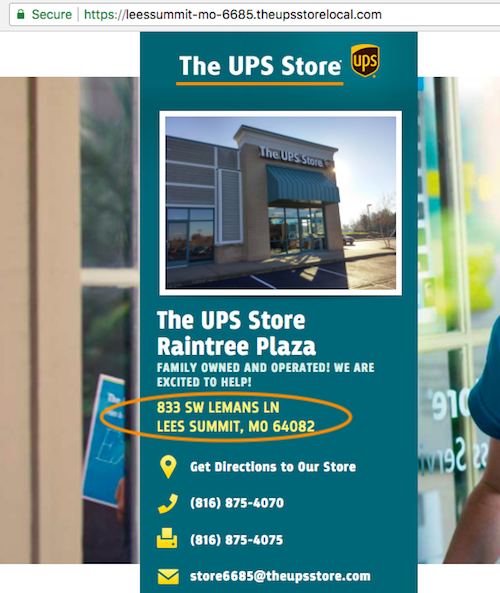 This is rather alarming for a couple reasons.
First of all, this is the address of a UPS store. Which is not owned or affiliated with Postal Jobs Source at all. So they are using an address that isn't even theirs.
Second, UPS is a package delivery company and it has nothing to do with USPS. The name is similar, but these are completely different organisations. And it's odd they even use this address, since they claim to be helping you get a job with USPS.
The second address they list on the contact page, is an address in Lenexa, KS. And after doing some research I found that this is the address of a debt collection company called Kansas Counselors:

This is a huge red flag in my opinion.
Because they are clearly hiding who they are and providing fake contact information. Which is simply not how legitimate companies operate.
And it gets worse. I went over to the Who.Is database to see who owns the domain. And it turns out that a company called "Web.com" is the owner of the domains I listed earlier: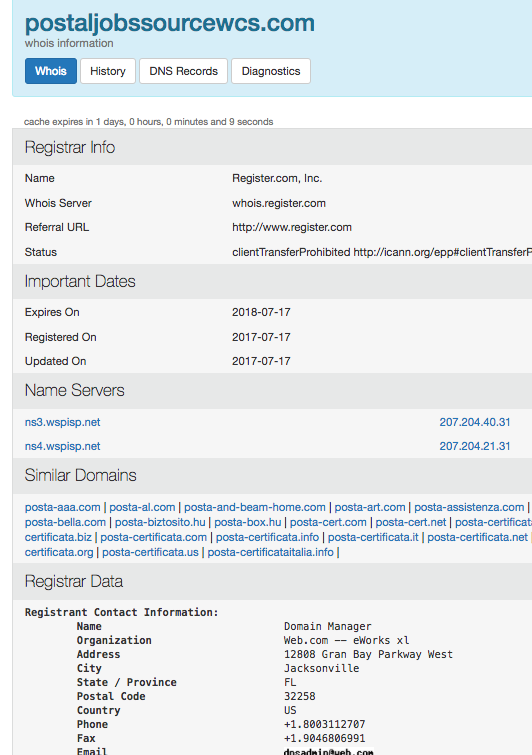 It appears as though this is an website development company that has registered the domains and runs the site to some extent. Probably a company they've hired.
So this is yet another dead end. Despite hours of research and searching, I was unable to find any real information about who's running this site.
All we really know is they're going to great lengths to hide who they are from people, and using random US addresses. Which is never a good thing.
Is Postal Jobs Source a Scam?
I am of the opinion that Postal Jobs Source could be a scam. Especially after I researched this further and found the following article on the FTC website: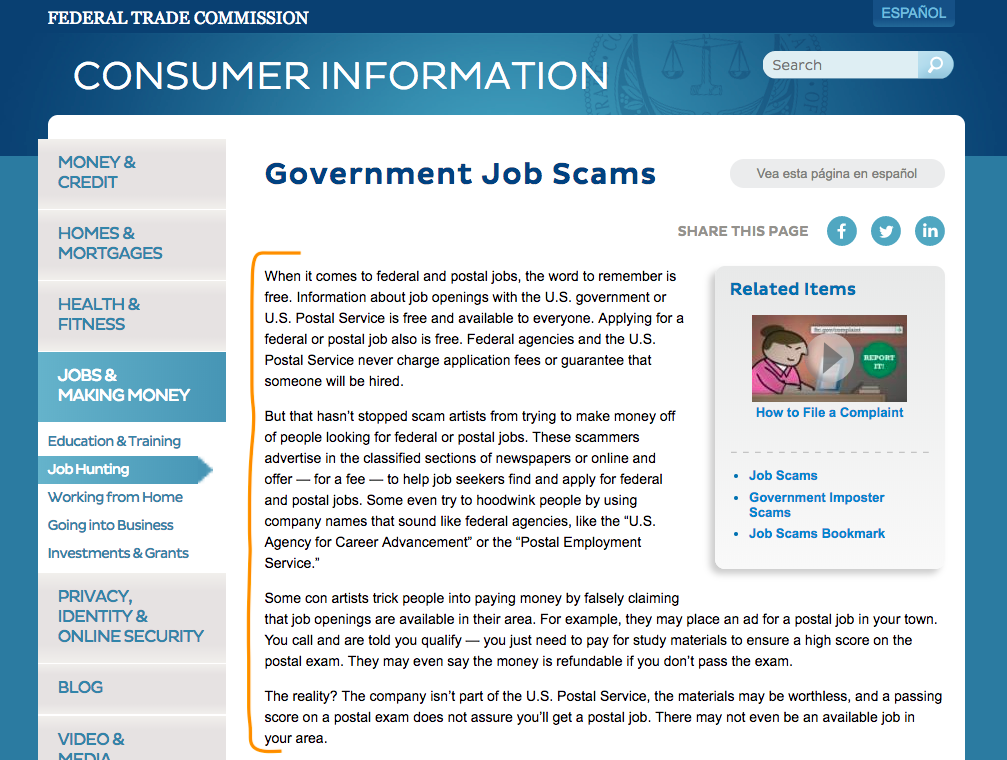 As you can see, Postal Jobs Source is doing all of the things the Federal Trade Commission warns people about. Here's a summary to show you what I mean:
First, they use fake "Postal Customer Service" job advertisements on job search sites, to target people who are looking for an actual job with USPS. And these are fake job listings because Postal Jobs Source are not employing anyone.
Second, they are (in reality) selling "study materials" that supposedly help you get a high score on the postal exam. And as a result, gain employment.
Third, they say that if you don't receive employment from the Postal Service within 90 days, you will receive a double refund of $96. Which is exactly what the FTC says scammers are doing.
In addition to these red flags that the FTC warns about, we know that they are not disclosing who they are. Instead, they are hiding who they are and using addresses they don't own on their contact pages.
I guess it is possible that their "registration package" actually helps you get a Postal Service job. And if it does, then I guess you could say it's not a scam. After all, $48 if not a lot of money compared to what you could make over the years.
But I'm not convinced this is a legitimate site based on what I've seen.
And even if it is, I have doubts that you even need to pay money for this information to begin with. Since there is lots of useful information about passing the postal exam online, and from the U.S Postal Service website itself.
Conclusion
In this review, we have taken a look at Postal Jobs Source, a site that claims to help you get a job with the US Postal Service. And unfortunately, there were some red flags that have led me to believe it's not a legitimate site.
Either way, they are using fake job ads to sell you something you probably don't need in the first place. Which is enough for me to suggest avoiding it.
I've reviewed other sites in the "work at home" space that use similar tactics too. So this is actually more common than you might think.
For example, sites like AOJ Work at Home Jobs, Easy Survey Jobs and American Consumer Panels pretend to be "hiring people" when in reality, they're just trying to promote something and make a profit off of you.
It's unfortunate that these sites exist. Especially considering they target people who just want a job. But this is what goes on. Which is why it's so important to do your research, just as you have done today.
I hope you found this review helpful. If you want to comment or share your experience with this Postal Jobs Source, feel free to post a comment below.