I've come across a lot of scams and low-quality products online over the years.
Hands down, the most prolific of all of these is the link posting scam which is responsible for ripping off countless people across the globe. To the tune of millions of dollars. They claim you can sign up and start 'posting links' as if it's a real job. It's not.
Almost every one of these sites tells people how amazing their so-called 'Wealth Development Center' and its Certification Program' is, and how it supposedly qualifies you as a 'link placement agent'.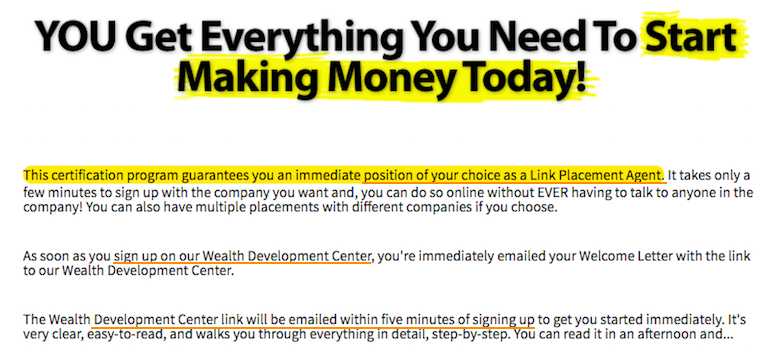 This is complete and utter nonsense. Every single word of it.
One of the main reasons these scams continue is because the people behind them remain anonymous. And they constantly (and I do mean constantly) change the details around. They change the name of these websites, the characters they use to tell their fictional stories, and the domain names of the websites among other things.
As soon as enough people catch on, and enough reviews expose them, they switch it up. There are literally hundreds of versions of these sites floating around. All very similar.
This is why it is difficult for authorities to do anything about it, and why it is difficult for consumers to find information verifying the credibility of these programs before making a purchase. And this is exactly what they count on.
They prey on desperate people in need of fast cash and use scam marketing tactics that suck people in to buy on impulse. They use fake news stories, fake testimonials and pretty much every trick under the sun. It works, and people lose money every day from this stuff.
Thankfully, you can avoid scams by educating yourself and doing your due diligence.
Read on to learn more about how this scam operates.
What Is The Wealth Development Center?
Put simply, it's just something these people made up.
The only thing the WDC does is make the people behind it rich. This is not a real training center and it most certainly is not there to help people create a legitimate income online.
To show you what I mean, I'm going to detail some of the background of the WDC and give you a glimpse into just how elaborate this scam truly is. Pay close attention as I prove what we are really dealing with here.
In 2011 the FTC took action against a company called Ivy Capital Inc and many interrelated companies who allegedly ripped millions of dollars from unsuspecting consumers. The premise was the same as it is today. Sign up for a relatively low-cost upfront to start an internet business, and end up receiving tons of spam email and telemarketing phone calls about upgrading to high ticket coaching.
The following screenshot was taken directly from the FTC website: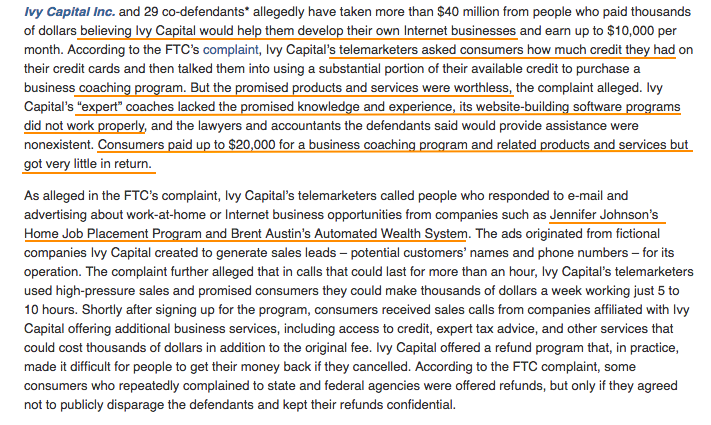 The FTC noted a particular program called Home Job Placement which was run by alias Jennifer Johnson.

Home Job placement (originally located at homejobplacement.org) has since been shut down and they now use a new domain name. As mentioned, this is very common as these people run 100's of similar scam sites. Read my review of HJP (linked to above) to learn about the current version, which is run by alias Kelly Simmons.
In any case, the WDC is clearly part of a global scam the FTC warns people about. Any website resembling these scams should be avoided at all costs. Not one of these websites is legitimate.
We are not talking about someone scamming a few people here, folks. According to the FTC's 2014 press release, these people have allegedly ripped off some $130 million dollars from everyday people. Disgusting.
They are actively targeting people who are down on their luck, desperate for money, and those who do not know any better. People who are just looking for a legitimate work from home job. Despite the sheer number of these I have seen and reviewed over the years, it still makes me mad.
Here are some some of the more recent versions of this scam going around:




These sites are run by known alias' Kelly Simmons and Karen Evans. But there are many more versions and alias' in operation.
For example, another version I encountered back in 2016 is called Cash From Home which was supposedly run by Mary Rogers, but I've also seen it associated with another alias known as Cynthia Sprinter.
Perhaps the most popular version at the time of writing this is called Home Wealth Remedy which I recently looked into. Many of their older websites point to this scam now, which is common. Once a particular version is working well for them, they redirect traffic from other versions into it so they can make more money.
I could go on and on, but I think it's abundantly clear at this point. None of these websites are for real, just like the WDC is completely fake. The only people getting wealthy are the scammers running it.
The Wealth Development Certification Is Non-Existent
It goes without saying that this is fake, there's nothing real about a 'link placement agent'.
These sites are designed to trick people into thinking that they are signing up for a certified program that is going to ensure they get a job posting links.

There is no certified link posting program, and there is no such thing as a link placement agent. The only thing that even comes close to 'posting links' is affiliate marketing. You see, you technically can get a unique 'affiliate link' and 'place' it online, which can earn you money.
However, this is a gross oversimplification of the real process of making money with affiliate marketing. It's like saying that in order to learn how to drive a car, you just need to put your foot on the gas! It's ridiculous.
Affiliate marketing is a real business, link posting is a fake job that does not exist.
Complaints About Wealth Development Center
I found many complaints about these guys online, but this is really just the tip of the iceberg. These scams use a seemingly endless number of different names. But I thought it was worth showing you what others have gone through all the same.
The oldest complaint I found dates back to 2008 when they were using the alias "Angela Penbrook" and were charging people $197 and not giving them access to their account. This was about 'processing rebates' from home as opposed to link posting.

Then a more recent complaint made in 2015: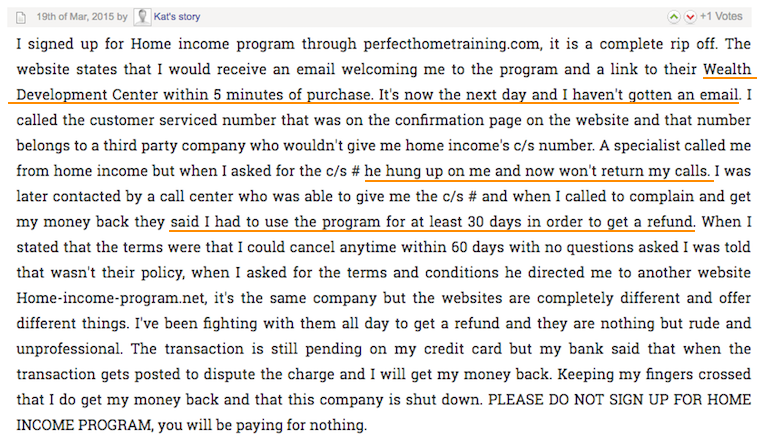 The following complaint outlines their true intentions once you sign up:
The above complaint is about 'Home Cash Access' which ripped a lot of people off. As you can see, the initial money is just the beginning. Their game is upselling people into the $10,000's with equally useless products and coaching. People were not getting what they paid for.
Final Thoughts
As elaborate as this operation is, we really have really only scratched the surface. Hopefully, this article helps to inform people about what they may be getting themselves into.
Unfortunately, the internet is full of low quality, and downright scam programs. Which is why knowing where to turn and what to believe is difficult when it comes to stuff like this.
How do you overcome this and find a real work-from-home program?
The key is to educate yourself and do your homework, as you are now. Thankfully, not everything is a scam, so by taking your time to weigh things up objectively, you can find good opportunities online.