3 Step Method is a new system that promises to help you earn $10k per month online, doing practically nothing. In just 3 simple steps, the money will pour in automatically.
3 Step Method Review
I came across the 3 Step Method website today (www.3stepmethod.com) after receiving a SPAM email. Which basically said I could easily make $2,000 today in just 3 steps.
Anyways, I clicked on the link and landed on the website. Which to be honest wasn't what I was expecting. I am used to seeing well presented, overhyped sales pages. In this case, the site was very low key, borderline low quality.
I decided to stick around and watch the video to see what it was all about. Which was kind of a waste of time, because the guy in the video never really explains anything.
He basically says that 3 Step Method was created for "ordinary people like you and me", as a way to earn money online. Then says "imagine if you had digital assets which automatically produce an income for you each month for doing next to nothing".
That is (literally) the only explanation he provides about how the system works during the entire video presentation. Which was the first red flag.
The second red flag was how they pretend like there are limited spots available in your country. This is nothing more than a marketing gimmick. The spots are not limited.
And the third red flag was how this guy isn't even making money with the system to begin with. He's really just an actor from Fiverr.com…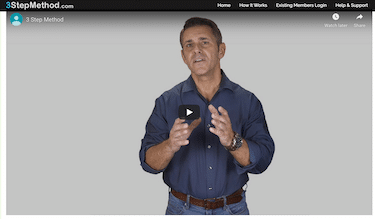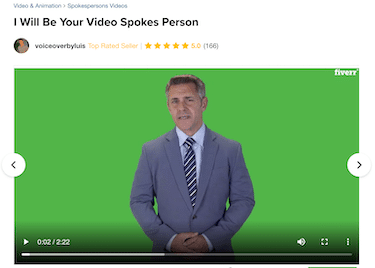 So there's definitely some of the usual red flags here. This is the sort of stuff I usually see on scam sites. But that doesn't automatically make it a scam either.
So we need to dig a little deeper…
How 3 Step Method Really Works
Let me start by saying that the way 3 Step Method works, is not by giving you access to a $10,000 per month money making system.
There is literally no such thing.
I earn 6 figures per year online. And I've reviewed 100's of systems on this blog over the past few years alone. Which is how I know this is nothing but pure hype.
What do you really get?
What you really get access to is a $37 ClickBank product that contains some basic training on making money online.
The whole "digital assets" thing is another way of saying you are going to be building websites. Which you can use to promote other peoples products as an affiliate.
Affiliate marketing is legit, it's what I do myself. It's a simple business model where you promote other companies stuff for a commission.
But you won't just create a digital asset in 3 easy steps and watch as it makes you money automatically. This is simply not going to happen.
Sites like this are just oversimplifying the process, to convince you to buy. In reality, the real "3 step system" is being used on you.
Here's how this "system" really works (on you)…
Step 1: You are lured to the sales page with a spammy email. Where you then have to put your name and email into the box. This is so that they can pitch you more offers down the road, even if you leave the site without buying anything.
Step 2: Once you've entered your information on the previous screen, you'll end up on the next page. Which contains a cheesy sales video created by a spokesperson from Fiverr.com. This is where you are being "sold" on the idea of an easy money making system.
Step 3: When you click through to the third page, you'll need to pay $37 to access the system through ClickBank. And if you do, you are immediately hit with $100's in upsells before getting access to the members area. Which doesn't contain "money making assets" at all.
That about sums up how this method really works. By making money off of unsuspecting newbies who are just looking for an honest way to make money online.
Pros
You do get some basic training
This is sold through ClickBank, which offers a legit 60 day money back guarantee
Cons
Oversimplify the real process of earning money online
I doubt this will help anyone make money online
Upsells immediately after you buy
Conclusion
On one hand, 3 Step Method is not a scam because you do get something in return for your money. And you can contact ClickBank for a refund within 60 days.
On the other hand, this system is not worth buying in my opinion.
The whole thing is about convincing you that within just 3 simple steps, you'll be making up to $10k per month on autopilot. Which is simply not the case.
I am a real person who actually earns a full time income online with affiliate marketing. And I can tell you from personal experience, that earning money doesn't happen overnight or automatically (lol). Real success takes time, effort and persistence.
Don't let some fake "guru" tell you otherwise.
Because quite often, when someone tries to convince you that you'll get instant results, they're looking to make a quick buck at your expense.