I came across My Survey Jobs today while checking my emails.
Some random person sent me a link to this site, claiming it's an easy way to make $100's per day doing paid surveys. Sounds good, but I've heard this sort of thing before, and in most cases it's a scam or pure hype at best.
I decided to take a closer look though, and in this review I'll show you exactly what I found.
My Survey Jobs Review
The website (mysurveyjobs.com) claims to be "the most popular place to earn cash and rewards for sharing your thoughts".
Apparently, within just 3 simple steps, you can begin earning real money doing surveys. They even provide you with an 'income calculator' which shows you how much money you can make…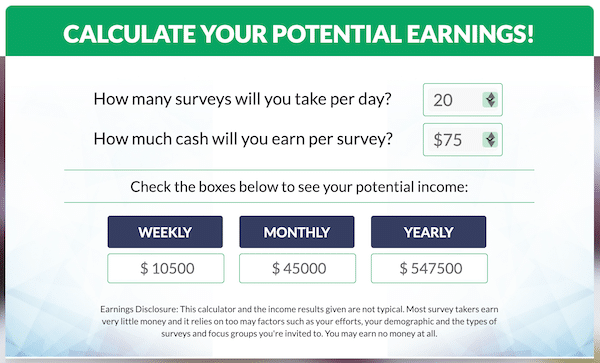 As you can see, at the maximum settings, they are implying you can earn over $500k per year.
I'm sorry, but this is a giant load of bullshit.
Period.
No one (and I mean no one) has ever made, or will ever make, anywhere near that sort of money doing paid survey work. This is purely misleading hype, nothing more.
It's a known fact that most people who do survey work earn between $1 – $2 per hour at best.
So even the moderate setting on the 'calculator' is misleading.
Anyways, I followed the 'steps' to see what would happen, and 'surprise surprise', this is nothing new. Truth be told, this site is very similar to one I recently reviewed called Survey Approved.
In short, this site doesn't pay you anything at all. It acts as a 'middle person' who simply refers you to other existing survey sites that you could signup for yourself.
Let me explain…
How Does My Survey Jobs Work?
The way My Survey Jobs works is by connecting survey takers with sites that offer paid surveys.
Although the site implies that you can make money 'by following 3 steps', this is simply not the case. What is really happening, is they are connecting you with third party survey sites, in order to get a kick back.
You see, the people running this site earn a commission for sending you to sites like Inbox Dollars for example.
So, what happens when you click on the 'get started' button?
First of all, you will be asked a series of questions. Such as how much money you want to earn, how much time you can put in and when you want to start.
Second, once you answer these generic questions, you then need to put your name, phone number and email into the form. This is then apparently going to give you access the survey sites they've matched you with.
However, in reality, they only want this information so they can send you more offers:
"We may use the personal information that you supply to us and share it with other third party businesses to bring selected opportunities to our members via email , direct mail, text message or telephone."
The above snippet was taken directly from the sites privacy policy.
And as you can see, they intend on sharing your information with other marketers who will also SPAM you with more offers.
This selling/ sharing of your information is big business, and it's also super annoying. Once your email and/ or phone is out there, it's near impossible to stop the never ending SPAM.
Anyways, if you submit this information, you wind up on a page that looks like this…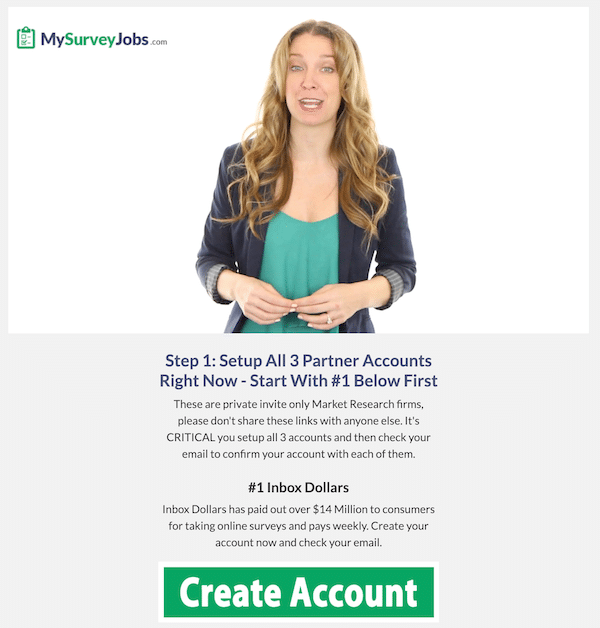 This woman tells you that it's her job to help you earn at least $100 within the next 2 hours. This is really just an actress from a site called Fiverr, she's certainly not the person running the show (they remain anonymous).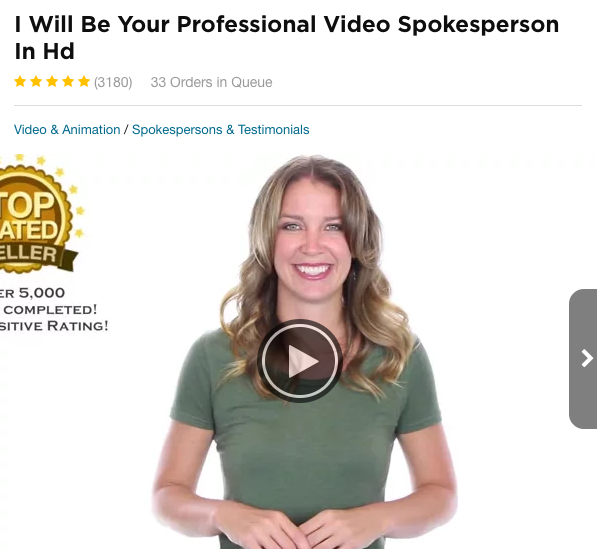 In any case, as you can see, the purpose of this 'first step' is to get you to signup for Inbox Dollars.
And if you proceed past this point, you are also asked to signup with Survey Junkie, another third party survey site.
This is how they make money off of you- by linking you to these sites that pay them a commission for referring new people.
Verdict – Is My Survey Jobs a Scam?
My Survey Jobs isn't really a scam, since they aren't selling you anything and in reality they're not really giving you anything either. The site is nothing more than a 'bridge' between you and third party survey sites.
The good news is, the sites they are sending you to are fairly legit. I say 'fairly' because there's no shortage of complaints on these sites, as with most paid survey sites out there. But you can make money with these sites either way.
The bad news is, you will absolutely not make anywhere near what the My Survey Jobs site claims. Most people earn VERY little money doing surveys because that's just the way it is.
Not only does each survey pay very little, but you need to spend a lot of time 'qualifying' for these surveys. So there's a lot of down time. And when you do the math, it works out to earning a very small amount of money on average.
Either way, I don't recommend using this site…
Because there is ZERO advantage in doing so. You can literally signup for ANY of the companies they're sending you to for free, by visiting the sites directly. The only thing you have to gain by going through MySurveyJobs.com is SPAM.
What you decide to do is up to you, I hope this review has been helpful either way.