Life's Abundance is a multilevel marketing company that specializes in health and wellness products for both humans and animals. The company was founded in 1999 by Dennis and Carol Berardi under the original name of Trilogy Online.
The founders of the company, Dennis and Carol Berardi, both appear to have seen quite a bit of success within the network marketing space over the years and there were no alarming red flags about them or their previous companies during my research. The company is based in the United States and (for a premium) on various online stores such as Amazon.
Read on to learn more about the company's products and business opportunity.
Pet Care Products
The core focus of the Life's Abundance (LA) product range is dog and cat food, supplements, treats and other related pet care products. They claim these products are of a superior quality, inspired by nature and informed by science. I want to make it very clear that I am not a dog food or animal expert and I've never purchased this stuff so I cannot tell you how great it is.
That said, I like how much information they give people on their website and there are tons of good reviews online. Given how long these products have been around and some of the genuine third part reviews I've come across, it's safe to say they must be doing something right. According to the website, Dr. Jane Bicks is the chief product formulator and is an animal lover who is passionate about providing quality products for our furry friends. I couldn't find anything to suggest this wasn't the case.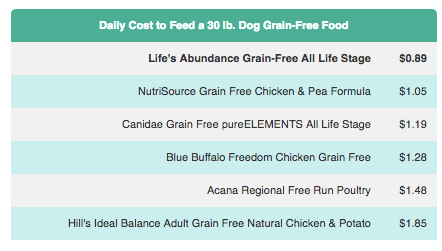 In terms of price, the company website provides a chart comparing prices between their products and competitors which I thought was pretty cool. Could this be one of the few mlm companies actually offering competitively priced and high quality products? The chart they provide certainly suggests this is the case.
I did some digging though and went straight to comparing it with Hills Science Diet since they are one of the most well known, respected and higher priced products on the market from what I have seen. How did it stack up?
Hill's Ideal Balance: 21 pound bag costs $41.24 excluding delivery ($1.96 per pound)
Life's Abundance Equivalent: 18 pound bag costs $42.20 excluding delivery ($2.34 per pound)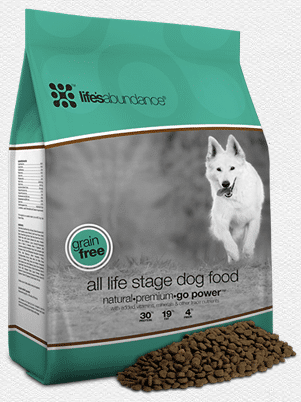 There's only a marginal difference in price between the 2 so LA must be very confident in their product to be pricing it higher than Hill's. How great these products are and how good the value for money is will be something only you can determine.
I managed to find a detailed product review by what appears to be an unbiased authority on all things dog food who claims it is above average and highly recommended. All of these things point to the companies legitimacy in terms of the products and also has a bearing on the oportunity. The more product focussed the company is the better.
Health Supplements
They also have a small range of health products for us humans created by a dietician and esteemed author named Keri Glassman. These products are on the high end in terms of pricing though. I mean paying $57.95 for a single 8oz bottle of fish oil! Really? They do state that the product is 2-3 times stronger than other brands though so perhaps the price is justified.
I'm personally very skeptical of any mlm selling health products because most of the time it's just well marketed snake oil. They look good, are priced highly, have a bunch of overzealous affiliates pumping them up and rarely have any real science to back up their health claims.
This company does not seem to fit into the same basket as most MLM companies within the health and wellness niche from what I have seen. One thing that stood out to me is how much information they provide and they also provide links to external sources to further your research instead of just presenting a bunch of flashy marketing hype and unsubstantiated health claims.
The Business Opportunity
The business opportunity is supposedly going to help you "live a life full of abundance" in all areas of your life. As a budding distributor you are encouraged to buy the products yourself and share your experience with those you know to help them benefit from the same products and business opportunity as well.
This is known as the warm market approach. This approach might work reasonably well for those looking to get reduced cost/ free pet products and make a few extra bucks, yes.
But for those looking to make a full time income with this company the warm market approach simply won't cut it. This is all about building a large team of affiliates who build a large team of affiliates and if you are relying on your friends and family to build your business you are in for a lot of dissapointment.
Compensation Plan Breakdown
This section explains how you will be earning money when you make sales and refer others under you. This company uses a unilevel model which allows you to refer new distributors infinitely wide and (in this case) 9 levels deep.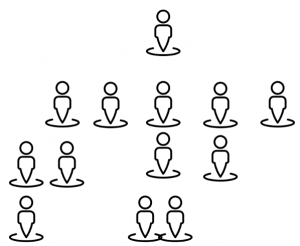 There are 3 main ways you can earn within the comp plan as explained below and I'll do my best to summarise them for you. For full details you can refer to the official compensation plan.
#1 Selling Products
QuickStart Bonus: The very first product of any kind that you sell to any one of your customers attracts a higher commission once only. How much this amounts to in dollar figures cannot be determined since the company does not provide a wholesale price list and supporting information.
Retail Sales: You will earn the difference between the wholesale price and the retail price when someone buys from you directly or through your replicated store.
Retail Bonus: This pays out anywhere from 5-20% of your total customer sales for any given month. The more sales you make, the higher the percentage.
#2 Building a Team
There are 9 levels and 9 ranks within this company. The higher your rank, the deeper you can earn within this comp plan as illustrated below.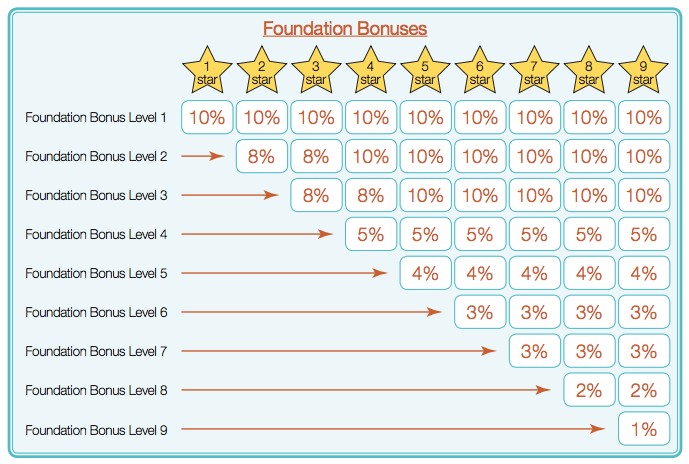 As a '1 Star' rep you can only earn 1 level deep which means any rep you sponsor directly. When you refer 1 person you will make 10% of their personal purchases and their customer sales each month. On the other hand, as a '5 Star' rep you would earn 10% on the first 3 levels deep, 5% on level 4 and 4% on level 5 based on your reps personal purchases and customer sales.
There's also a nifty little feature known as 'compression' which means if someone under you isn't making any sales but someone under them is, the system counts that person instead. In the example below Jane wasn't performing so the system counted Pat as your level 2 downline.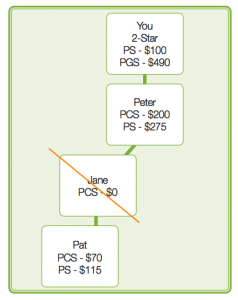 #3 Bonus Pools
This pays 7, 8 and 9 star reps and above a share in the companies global revenue each month of between 0.5-1.5%. How much you make depends on your rank, company earnings and how many other top dogs (no pun intended) are eligible for their slice of the pie.
Becoming a Field Representative
To sign up you'll need to go straight to the company website and fill out a form so someone can get back to you or click on a link provided by an affiliate website somewhere that will allow you to sign up right away. Either way, there are 2 ways to become a field representative at this point.

Basic: for $29.95 you'll get a starter kit and 1 month free access to the replicated website.
Executive: you are encouraged to go this route and there are 4 options costing up to $252.19 except you get a different set of products with each option. After doing some digging, it appears this option gives executive reps an undisclosed bonus for recruting other executive reps however I cannot confirm this.
Staying Active & Qualifying For Commissions
Most mlm companies have some kind of 'auto-ship' requirement or minimum sales volume in order for you to be eligible to earn commissions. In this case you are required to make $50 worth of sales to your customers OR buy $50 worth of products yourself each month to qualify for commissions.
In many companies this requirement sees the majority of affiliates buying products just to stay active and grow their downline. When this happens it cease being about selling products to genuine customers and becomes nothing more than a recruiting scheme. Such schemes are totally unsustainable and not worth joining.
In this case however, the cost is low, you are getting (what appear to be) high quality products and the company website does have a strong emphasis on the product as oppose to just the biz op. These are all things to watch for when evaluating an mlm opportunity.
Rank Advancement
The most important thing to understand here is that the higher your rank, the more money you are going to make. The first 4 star ranks do not 'technically' require anyone to be recruited but from 5 star onwards you'll need to build a team if you want to start earning the real money.
Looking at the illustration below you'll notice that you need $750 per month in PGS (personal group sales) to maintain '4 Star' rank. PGS just means your own personal sales and/ or those of your reps. The 4 star requirement could be fulfilled by your own purchases, your customers or anyone in your downline, it doesn't matter.

To achieve '5 Star' and beyond will require you to build a team. For example, becoming a 5 star rep requires you to have 2 separate '4-9 star' ranked legs. The term 'legs' just means your directly sponsored level 1 referrals and everyone under them. So you could have 11 legs in your organisation but only 2 of those need to be ranked 4 star or higher so that YOU can achieve 5 star rank. What a mouthful… the picture explains it better!
Put simply, the more people you bring into this who reach a certain rank, the more money you will earn.
Training, Tools & Support For Distributors
As part of your membership you get a replicated website for one month and some training materials. If you want to continue using your replicated site (essential) or give out product samples then you'll need to pay extra. How much extra I cannot say since they don't disclose this on their website.
Like most mlm's there are also conventions and seminars to help you which cost extra and in most cases you are told these are 'mandatory' to build true success. Sometimes they are good, most times they are full of 'rah rah' and hype instead of actionable training. For the most part you are being shown how to grow your business by hustling family and friends which is one of the key reasons so many fail with mlm.
Not to mention that approach is lame and can even isolate a person from those they care about. This is one of the key areas the company falls down for those looking to build a full-time income.
The Income Disclosure
One big plus with this company is how they provide people right on their opportunity page with an income disclosure. This document shows you how much the average affiliate is making with this company and in this case, it tells the same story as almost every other mlm throughout history- only a very small percentage make any decent money!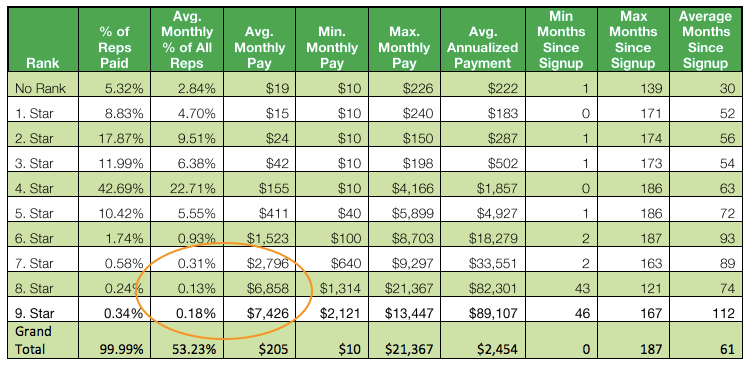 Only 0.62% of ALL representatives made an average of $2,796 per month or more which isn't even a full time income. Unfortunately, this is an all too common story. This does become a much greater issue when companies are actively convincing anyone who will listen of just how lucrative the opportunity is. In this case, I don't believe the company does this. In fact, the sales presentation was very ethical and did not mislead people with false expectations.
Bottom Line
Overall, I have to say this seems to be one of the better network marketing companies out there and they seem to be doing a lot of the right things. Life's Abundance is certainly not without its drawbacks but it does appear to be upholding best practice in a lot of ways. The products look solid and the prices not extreme either.
If you try the products and find them to be genuinely worthwhile then you could share this with people you know and probably work your way up to some free pet care products and a bit of extra cash.
If you want to make real money then what you are being given simply won't cut it. In order to build a successful business in mlm you need to build a large team under you which in itself is one of the drawbacks of the mlm model. Hustling family and friends is a total waste of time and is not the best approach.
Read next: Affiliate Marketing vs Network Marketing (Which is Best?)