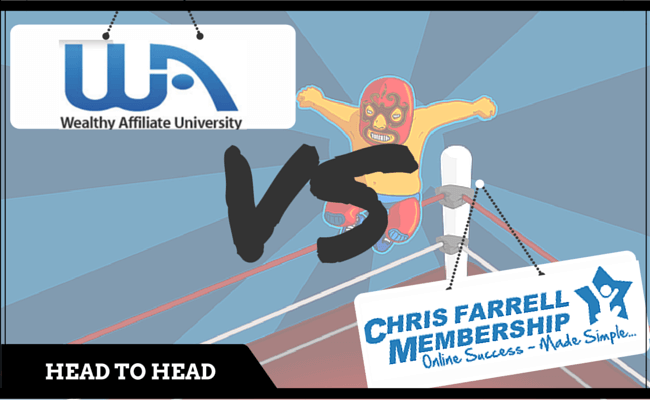 In this post I weigh up the main differences between the Chris Farrell membership and Wealthy Affiliate University. They are both good platforms to teach newbies how to build a profitable online business, but there are some pretty significant differences.
At the date of posting this I am a member of both platforms and can tell you exactly what to expect…
The Chris Farrell Membership

The Chris Farrell Membership costs $37 per month and is a decent platform for newbies trying to learn affiliate marketing.
Chris Farrell really has provided a decent platform for newbies to start from ground zero in Internet marketing.
I like how non-guru his sales page is, in fact I cannot emphasise this enough! It is really nice to see a guy that just tells it like it is and delivers a something of real value.
But like anything there are some drawbacks and I'm going to lay these out so that you can see for yourself what I am talking about… but first let's start with the good!
The Good Bits
Chris Farrell is not a typical Guru
Comprehensive training for newbies
Super easy to follow along with- literally anyone could do this
They have a forum for support and a Facebook plugin for people to post below each training video
You will learn some basic Internet marketing and website building skills
The Bad Bits
Forum activity is

very low

and the overall support is better than most, but not great
Chris Farrell himself is not present in the forum or anywhere that I have been able to see
It appears as though there are only a little over 2000 members with just 

one

main guy responding to questions and offering insight
Some of the active members have very spammy bio's to try and promote things to other members, annoying
Training is very basic, not a huge amount of room to grow, unless you buy the $997 up-sell
I couldn't find any

new or upcoming

webinars from Chris, one of his major selling points for me
My Thoughts
Ok so I'm not going to elaborate hugely on each of these points here, but I will round out my main findings…
I think this is a great platform for total newbies first and foremost. Chris does a great job at talking complete newbies through each process and makes it super simple and well organised. Thumbs up!
I think the platform is essentially a good starting point and a warm up to get people into his high priced up-sell mentoring program.
I also don't think the forum adds much value, I mean there is very low activity other than newbies introducing themselves and being auto-responded to. This is still better than a LOT of other programs online for a similar or even higher price so I'm not going to harp on this too much, but it needs to be said.
The forum is almost pointless and the comments below the trainings are rarely responded to. I saw multiple people asking questions with no response.
So to sum it up this is a good newbie platform with basic training at an affordable price, with a few key elements being a bit average.
Wealthy Affiliate
Wealthy Affiliate costs $49 per month or less if you buy a yearly membership. You can also create a free starter account without even having a credit card to test it out and see whats inside.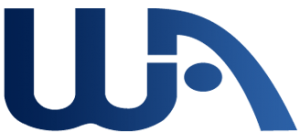 This is more of a university than a platform. It's hard to know where to start in terms of what is offered, there's a lot.
I always start with the sales page and this is no exception. The funny thing is though that I wouldn't even call it a 'sales page'. It's more of an informative guide of what you can expect on the inside.
Essentially a guru-free zone where the product speaks for itself. I love guru free zones personally, hence the name of my website!
The Good Bits
Free membership option with a lot of value including free websites and hosting
Training is newbie level to very advanced (I have never found a more comprehensive training platform online to date)
Extremely active community of like minded entrepreneurs. There's multiple ways to connect with others and it's simply ALIVE.
Powerful and value packed website builder, with a ton of very cool features and very easy to use
Unlimited and state of the art hosting included
Very up to date training, constantly being updated and built upon
Advanced keyword research tool to get traffic in Google and other search engines
The founders Kyle and Carson are active daily within the community and you can personally get 1on 1 coaching with them at NO extra cost
The Bad Bits
About an extra $2 per month (I'll explain this shortly)
You MIGHT feel a little overwhelmed at first with everything going on as this is a

very

active community
Let me know if you can think of something else in the comments because I can't, I'm not even kidding here
This is by far the most high value platform online for anyone looking to build a legitimate online business. The training is very comprehensive, the tools are powerful and most of all the support you will receive is almost hard to believe for the price.
I don't even think I'm doing Wealthy Affiliate justice here, I think the best way is for you to just try it out for free. There's no catch and you won't need a credit card. It's one of those products that just sell's itself really.
Wealthy Affiliate VS Chris Farrell Membership- My Final Thoughts
I think the biggest thing that stands out to me is that you are paying almost exactly the same price for both (once you purchase hosting going through Chris Farrell's membership) and what you receive is remarkably different.
The total difference is about $2 per month…
A Little On That One Point- The funny thing is that Wealthy Affiliate's hosting service is actually better than what you get at HostGator (Chris's recommendation). With WA you get SiteHealth, comment builder function, 24-7 ultra fast tech support and many other features.
It's not some cheap 'thrown in' hosting, and it is unlimited which is pretty incredible.
Yes Chris' platform is good, especially compared with a ton of other offers in this space, but it doesn't stack up against Wealthy Affiliate. It's like chalk and cheese in my opinion.
Why WA Wins The Battle (in my opinion)
Advanced website builder, not just standard WordPress
Way better value for money
Support and coaching are miles better
Not just newbie training, it will be all the training you will EVER need to be making your dream income, no more information products to buy
Free to try- stay free for as long as you want
Huge networking advantages
Having your hosting and website all under one roof actually makes this platform more newbie friendly
There's probably more but I think that covers it pretty well. All in all while Chris Farrell's membership is good value for what it is, but Wealthy Affiliate is simply better, hands down. I think anyone that tests out both would agree with me here, but I'd like to get your thoughts. Post a comment below and let me know what you think!