I've reviewed a number of programs created by Tom Gentile, and today I'm looking at one he dubs "The V3 Effect". Which he says can help you turn a small stake into $2.2 million within 12 short months.
Sounds good, but is it for real?
The V3 Effect is basically just a sales pitch to promote a paid financial subscription called V3 Trader, which was created by Tom Gentile and the team at Money Map Press. It's legit but I don't think the average person should expect to make millions from it.
Let's take a closer look at what it's all about, how it works, and whether or not Tom Gentile is the real deal.
What Is The V3 Effect About?
When you boil it down, the V3 Effect is just a sales presentation that Tom Gentile uses to promote his subscription – V3 Trader, which costs $5,000 per year. But as of writing this he's offering it for $2,000 per year.
It's not a product or service, it's a sales pitch.
But that doesn't mean it has no merit or that it's a scam. To the contrary, Tom Gentile is a respected stock market trader who has made millions of dollars over the years.
So he knows what he's talking about, which makes what he is saying in the presentation quite interesting, especially if you're considering investing in the stock market.
According to Tom, he has made a "40X discovery" that he says is "an unprecedented phenomenon with the unique potential to turn a small stake into $2.2 million."
In the video, he goes on to say that there's a $68 trillion dollar explosion of capital that is creating a huge profit opportunity. And that he, as America's top trader, knows exactly how to profit from it, and is willing to share that information with you.
But of course, only if you buy a subscription to V3 Trader, which you can learn more about in my full review of V3 Trader.
How Does V3 Effect Work?
As we delve deeper into the video presentation Tom explains to his colleague, Mike Ward, that he is using a special software he developed called the Triple-V Protocol to scan the market for anomalies.
And when the software picks these up he analyzes the results using the "three V's" of the Triple V Protocol to determine if these are going to be winning trades. Which are the volume, velocity and vector of the stock.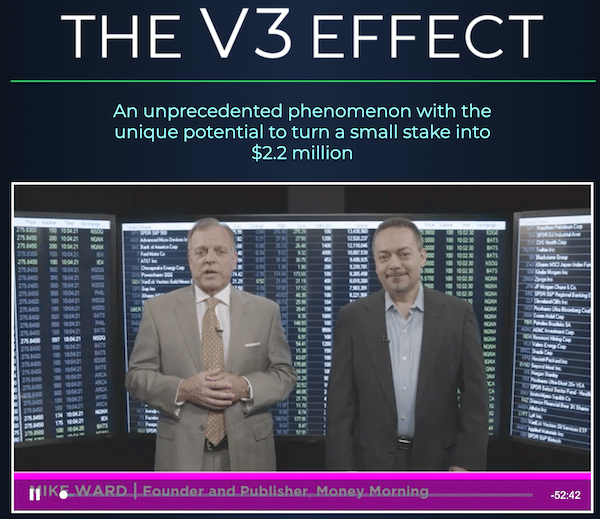 But he doesn't just scan the entire market, he specifically looks at 100 hand picked stocks and monitors these for daily movements. These include stocks of companies in the manufacturing, tech, energy, pharmaceuticals and other industries.
So with this system, Tom is looking to cash in on daily, fast moving movements in stock prices. A strategy which he says can make you $10-30K per month and one that can can allow you to turn a small $5K stake into $2.2 million in just 12 months.
How do you get started?
Well, as I mentioned earlier, V3 Effect is just a sales presentation, so this is really about V3 Trader. This is where you get access to Tom's daily trade recommendations and entire trading system.
Which means you need to purchase a $2,000 subscription to V3 Trader in order to get access. That is a steep price, and it's a yearly price that automatically renews, but members of V3 Trader do get a lot of value for this.
So if you are making the kind of money he's talking about, then $2,000 per year is nothing. But that's a very big "if" because nothing is guaranteed.
Is Tom Gentile Legit?
Tom Gentile is legit, he's an expert market trader who has been doing this stuff for decades. And he specializes in pattern trading, which is precisely what this system is about, taking advantage of daily anomalies in the stock market.
In the video, Tom is talking with a man named Mike Ward, who is the man in charge of Money Map Press, a company that publishes content in the finance and investing niche.
So Money Map Press is the company behind all of this. They helped Tom create V3 Effect and V3 Trader, along with other programs he's created such as Alpha-9 Trader, Fast Fortune Club and Money Calendar Pro for example.
My overall thoughts on Tom is that he is legit and provides great value to his subscribers. He even has a free newsletter subscription called PowerProfit Trades where you can learn some of his methods for free.
You can learn more about Tom Gentile and his services here.
With that being said, I do have some concerns about some of the bold claims used to promote this system. Which I'll go into more detail about now.
Is V3 Effect a Scam?
I don't believe V3 Effect is a scam because it's really just a sales pitch that is used to promote V3 Trader, which is a legitimate subscription service.
However, as I mentioned earlier, I do have some concerns about how it is promoted. I personally think the sales presentation could give some people the wrong impression.
I say this because a lot of the video is about how much money you could make, and how quick and easy it could be for the average person to make lots of money.
At least that was my impression.
The impression I got was that if I just followed his advice, I could turn a small stake into millions of dollars relatively easily. And make easy $10K payments along the way. As if buying the subscription is a golden ticket to financial freedom.
Maybe that's true, and call me skeptical, but I doubt it.
Either way, those who make real money in the stock market are educated about how it works. And they have developed real skills over time that allow them to take advantage of movements in the stock price. They also understand the risks involved and only invest what they can afford to lose. They certainly don't just plugin to a secret software and start making tons of money.
This is simply not the reality.
Now don't get me wrong, I'm not saying Tom is promising you'll get rich quick with V3 Trader. And he does provide a lot of value to members beyond just trade recommendations, such as training and community support. So I do believe it's legit.
What I am saying is that Tom and the team at Money Map Press are professional traders, but they're also good at selling stuff. So it would be easy to get swept up into the hype and forget that there's (very real) risks involved.
Summing It Up
Overall I think Tom Gentile's V3 Effect presentation was interesting and given his track record of success in the stock market, could end up being profitable for those who follow through with a subscription to V3 Trader.
At the same time, I think trading the market is a risky business, especially when you're placing short term trades, rather than investing in companies you believe in long term.
Even by listening to experts like Tom and Mike, there is still the possibility of losing money. So I think it pays to keep this in mind before rushing in and regretting it later.
One option to consider before buying is to check out Tom's free newsletter service first, and learn more about him and his trading methods. That way, you can be more confident about what you're getting yourself into before spending anything.