Today I'm looking into a newsletter subscription service called The James West Letter, which is headed up by a man named James West.
I originally found out about this service through the Wealthpress website, where James was talking about what he calls the "work from home economy" and how to profit from it in a video presentation.
However, after digging around, I found that there's actually another site (jameswestletter.com) that he uses to promote this service. On this site, he talks about "the race for the cure" and how he knows about a company with a vaccine that could help you turn a small investment into $1.1 million.
So, when you boil it all down, his aim is to make money off of trends that are currently impacting the economy and stock market. And, as a member of his newsletter service, The James West Letter, you get to learn from James and see which stocks he's interested in.
Is it the real deal? Well, I decided to take a closer look to find out. And in this review, I'll show you exactly what I found to help you decide if this is right for you or not.
What Is The James West Letter About?
The James West Letter is an investment newsletter subscription that costs between $5 to $7 per month (depending on where you buy). And as a member you get access to monthly insights and stock recommendations from James West.
James is an investing expert with decades of experience and he mostly focusses on what he calls "explosive emerging investment opportunities" that "you'll only see in the mainstream media when it's too late."
That's similar to what most financial gurus say though, so I normally take that sort of thing with a grain of salt. Either way, James does seem to be a very knowledgable man and for five bucks it's not as if you're taking a huge gamble on joining up.
That said, most popular newsletter services cost around $49 per year or thereabouts, like Hidden Alpha and The $1K Club for example which are services I recently reviewed. So even though it's fairly cheap, in reality it's a little more expensive than most similar services, it's just broken down into monthly payments.
I actually like that they allow you to pay monthly though. Because that way, you're not risking as much of your cash if you join and decide it's not for you.
What do you actually get by joining?
Each month you remain a member, you get access to an email newsletter from James West which provides insights into the economy, the stock market, and specific investing opportunities that he's interested in. And James promises to provide you with one new stock pick each month so there's always a new opportunity coming up no matter when you join.
The types of stocks he recommends varies but it's mostly geared towards taking advantage of upcoming trends across a broad range of industries, from tech to medicine to cybersecurity, and everything in between. Basically anything James believes could help you make a lot of money as an investor.
Of course, there are no guarantees but he paints an exciting picture of the kind of potential you could expect as a member. And not just with respect to his stock picks, but also through the insights he shares in his newsletter and weekly market update videos.
How Does It Work?
The way it works is similar to most newsletter services. The idea is to signup to receive insights and stock picks which, hopefully, you can use to make money investing in the stock market.
To get started, you just need to signup on the Wealthpress website and pay the joining fee, which gives you access to the members area and everything you need to get started.
As I mentioned earlier, the cost of joining the service varies from $5 to $7 depending on which page you buy through. And this is fairly common because financial publishing companies like Wealthpress use multiple marketing campaigns to sell the same product. And each campaign uses a different "hook" to get you in, offers you different bonuses and often can be priced differently.
For example, when I went to the jameswestletter.com website and followed the prompts, I was taken to a page that was all about making money off of the recent pandemic. And, if you join through this page, you pay $7 per month and get a bonus report entitled "The Race for The Cure" which the site says could help you make $1.1 million.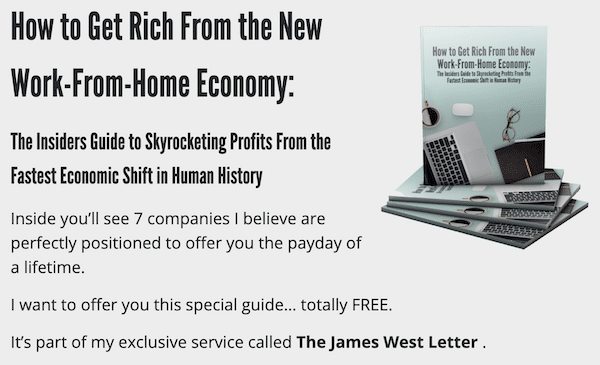 Or if you navigate to the another page I found on the wealthpress.com website, you find a different campaign about "The Work From Home Economy." If you join through this page, you still get the same James West Letter subscription, but it costs $5 per month and you get a different bonus report entitled "How to Get Rich From the New Work-From-Home Economy: The Insiders Guide to Skyrocketing Profits From the Fastest Economic Shift in Human History."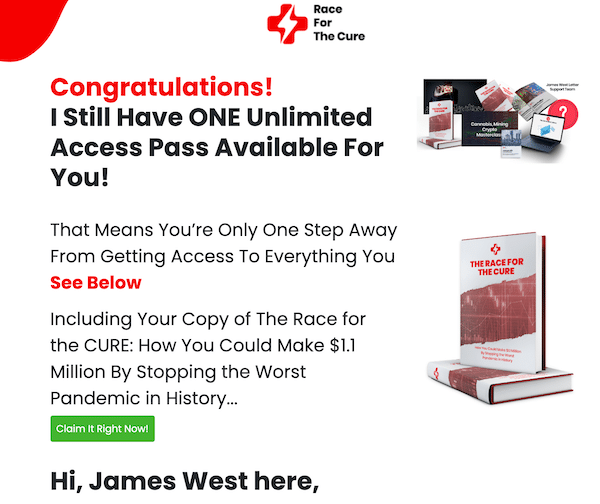 Either way, whichever page you join through, you get access to the same James West Letter subscription which provides monthly stock picks, James West's research analysis and other benefits.
Here's a breakdown of what you get:
Monthly insight and stock picks: Each month, members get access to a new stock pick from Jame, along with his research and analysis into the market and why he chooses each stock, via email.
Training: Members get access to some basic training on how to place and exit the trades that are recommended.
Weekly Market Updates Videos: In addition to the monthly newsletter, members also receive weekly videos that provide updates on the current market environment as well as interviews with the CEO's of the companies he's interested in.
Bonus report: Depending on which page you buy through, you will also get access to a bonus report as well as some other bonus material.
For less than ten dollars per month that is a fair bit of value. And, while I'm not sure that there's a money back guarantee, you can cancel the service at any time which in my mind reduces some of the risk.
That said, investing can be very risky in and of itself, and you do need money to invest into the trades James recommends. So even though the service is inexpensive, you may need several thousand dollars to actually implement what you learn.
Who Is James West Anyway?
James West is the main editor of The James West Letter, which is published by a company called Wealthpress (or WealthPress Holdings LLC).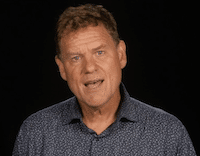 Prior to working with Wealthpress, James founded a newsletter called Midas Letter in 2008 which provides investment insights into small cap companies in the United States and Canada. As well as research and commentary into things like commodities, crypto, global economic issues and monetary policy, among others.
One of the cool things about James is that he's not just a writer, he actually participates in the market and provides insights into what he is doing and how he is positioning his own money. And to me, that is a good thing because I like to learn from people who are actually walking the walk, so to speak.
Anyway, at some point, James began working with Wealthpress. Which is a financial publishing company run by a man named Roger Scott. The company is similar to other popular financial companies, such as Money Map Press for example, in that it provides both free and premium content for subscribers to learn how to invest successfully.
Is The James West Letter Legit?
I do believe The James West Letter is legitimate, yes.
It's a real newsletter service aimed at helping subscribers profit from emerging trends and it is run by a respected investing professional, James West. It's also relatively cheap considering what you're getting access to and I like that you can pay monthly because that way, if you're not happy with the service you can simply cancel it.
Does that mean you'll make tons of money?
No. Regardless of how good or legitimate a given service is, nobody can guarantee you will make any money at all. There's a lot of talk about the "potential" to profit from what James shares with subscribers, but at the end of the day it's speculation.
Anything can happen in the market, including the possibility of losing money. Which does happen. Millions of people lose money trying their hand in the stock market each year, so it's not a sure thing.
However, there's a good chance you will learn a lot from James and be in a position to use what you learn to create a successful portfolio.
Either way, I don't consider this to be a scam. And as long as you're aware of the potential risks involved, then it could be well worth checking out for the right person.
Bottom Line
The James West Letter is an investment newsletter subscription headed up by James West, who works with a company called Wealthpress.
The aim of the service is to provide subscribers with insights into emerging trends in the economy and financial markets that you could use to profit from. As well as specific stock picks from James and his team.
I personally wouldn't join expecting to get rich overnight, because that's not likely to happen, or without understanding the potential risks involved. But if you're looking for insight from James West, who's a professional investor, then you may find this to be worthwhile.