Facebook Bonanza claims to offer people a newly released social media job opportunity.
Unfortunately, this is NOT a Facebook job or business of any kind. These people have zero affiliation with any news network or social media company and exist solely to rip people off.
Facebook Bonanza Review
According to the sales page (http://orbitnews.online/trendfbb) this is a new job "recently announced by FB founder Mark Zuckerburg and Microsoft founder Bill Gates".
This is simply not true. Zuckerburg and Gates probably don't even know this exists and they sure as hell aren't responsible for it.
To make their story more believable they showcase a success story from a 37 year old father who apparently lost his job: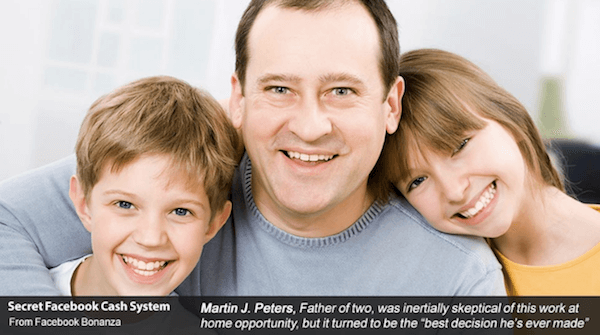 "They asked me to post links, share stories, review sites and some other simple tasks. I got to choose my weekly hours and work a schedule that fits my lifestyle as a father. I feel blessed I get to spend more time with my son, my parents, and of course my beautiful wife. Giving this a try was the best decision I have ever made. My parents are so proud of me!"
Here he is on a popular stock photography website: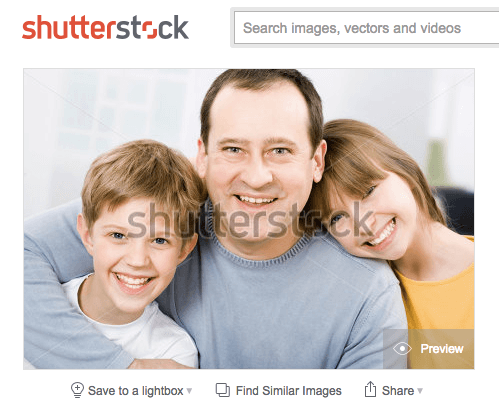 As you can see, that story is a fake. In fact, if you scroll down to the bottom of the page you'll see their confession about the whole story being a fake.
The Hype & Deception Continues
Once you land on the actual sales page you are met with a CNN video of an interview done between a reporter and Lili Gil.
While that video is in fact a real CNN video and Lili Gil is legitimate- it has NOTHING to do with this program whatsoever. I prove this in a review of an almost identical gig known as Explosive Paydays.
It is simply placed on the page to build trust with people, which equates to more people buying into this. This is the same reason they post pictures of news network logos, it's nothing more than a trick. They are not affiliated with CNN, USA Today, ABC or any other legitimate company for that matter. The term "ads seen on" does not mean they have been featured or endorsed in any way.
How The Product Works
The product itself is advertised as 'Facebook Cash Kit' and is just another link posting scam. It is presented by a known fake alias I've come across before named Emily Young.
They provide some basic (and outdated) videos on how to make money as an affiliate marketer and people are left having no clue what to do. Which is the whole point.
You are then called by a 'success coach' who's primary objective is convince you to spend $1000's on additional products that are 'necessary' to make this system work.
It is important to note that there is absolutely nothing wrong with affiliate marketing as a business model. Not at all.
The scam lies in the promotion and the fact that the system they provide does not help you build an online business.
Fake Testimonials
You've probably already gather this by now but the testimonials are also a crock.
Heres the sales page testimonial: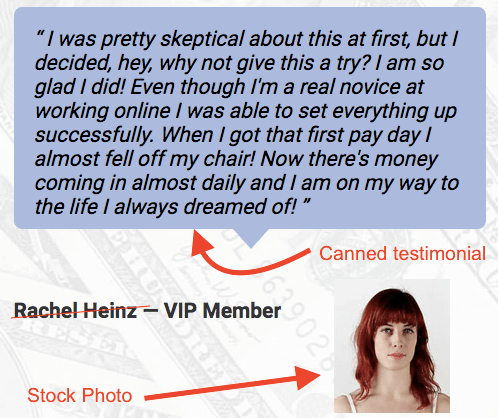 Now here it is on an entirely different website using an entirely different picture:

They're just stock photos and the content has absolutely zero credibility.
Protect Your Personal Information
As with every single one of the websites these anonymous scammers create (there are many) they all intend to rent and sell your personal information to whoever's buying.
This screenshot was taken directly from their privacy page:

If they only have your phone number and email, I wouldn't stress too much. But if you've handed these people your credit card info I highly recommend contacting your financial institution.
Of course, I'm just a blogger so please don't cancel your card on my advice! It's just what I would do in that situation is all.
The Never Ending SPAM
If you have given them your email and phone then you're in for a treat.
They'll be calling, texting and emailing you as much as possible to get you to buy more stuff and then other marketers are going to be doing the same thing when they get their hands on that data.
Be aware, these telemarketers range from barely understandable to extremely convincing and highly trained salespeople. Some people have been stitched up for $10,000's with similar websites over the years.
Is There Really a Time Limit?
Nope. Nothing happens when the timer runs out. That is a trick they use to stop you from doing your homework. Placing a sense of urgency on something is a very common (and highly effective) marketing strategy, nothing more.
What I Liked
What I Didn't Like
Extremely misleading and deceptive marketing
Product does not help people build a business
Your information is sold
Very poor support
They convince people to buy yet more equally useless products well into the $1000's
Final Thoughts
This is operated by a group of anonymous scammers that are responsible for 1000's of similar sites. Things like web address, business name and personas change but many similar traits connect them together.
Unfortunately, there are a lot of folks losing money to stuff like this so I am always looking for new versions as they pop up. Let me know if you've been scammed and if you have something you'd like me to review. Hope this helps!