I was browsing the InvestorPlace website earlier when I noticed an ad popup for the "Crisis & Investment Opportunity Summit".
So I clicked on the link to see what I could learn, which took me to a video presented by Matt McCall about how to turn the current stock market chaos into a profit opportunity.
It was quite an interesting video and one where I think Matt shares some great insight. But I also think it's a bit of a sales pitch, albeit a fairly subtle one.
Read on to learn more.
What Is The Crisis & Investment Opportunity Summit?
The Crisis & Investment Opportunity Summit is a video presented by Matt McCall on the InvestorPlace website, where he addresses the volatility we are experiencing in the stock market right now due to the virus.
He talks about how you can protect your investments and potentially use this as an opportunity to profit.
All in all it's an hour long video that he breaks down into four main parts:
State of the Markets
Road Map
What to Do Now
Create a Buy List
The purpose of the video is to show you what is going on in the stock market and basically how you can navigate the extreme ups and downs we are seeing to make a profit in the coming months.
This is something many people are interested in given the stock market has plunged dramatically since February 2020, and many people have lost considerable amounts of money as a result.
For instance, the Dow recently had its worst point drop in history, and trillions have been wiped off the stock market overall. It's pretty scary to say the least.
But McCall believes it'll bounce back, as do other respected investors like Warren Buffet who believes in "buying the dip".
And he talks about the different ways you can position yourself to not only ride this out but turn it into an opportunity to make money.
Is It Legit?
The Crisis & Investment Opportunity Summit isn't a scam, it's a free video where Matt McCall talks about what is happening in the economy and stock market right now, and shares his opinion on what he thinks you should do next.
With that being said, I think it's pretty obvious he's using this as an opportunity to get more customers. Nobody works for free. Which is why there's a subtle pitch at the end to call the customer service team "if you have any questions", and to consider joining their newsletter service.
That doesn't make it a scam though.
I mean, I personally do think it's a bit opportunistic. Because, at the end of the day, that is the true purpose of the video. Profit. But the content within the video is worth watching so he's giving people value. And the subscription services he mentions are legitimate.
Not to mention, the company he's working with to present this material, InvestorPlace, is a legitimate and respected source of information when it comes to investing.
So for these reasons I don't consider it a scam.
Who Is Matt McCall?
Matt McCall is a well-known stock investor and founder of Penn Financial Group. He really got started in investing almost two decades ago when he worked as a stock broker for Charles Schwab.
He's been featured on the Fox Business Network, a national radio show called Winning On Wall Street, and has authored two best-selling investment books, including The Next Great Bull Market.
So he's a well known and respected investor who knows what he's talking about when it comes to investing in the stock market.
These days he works with the site I mentioned earlier called InvestorPlace, where he publishes financial content (free and paid). Some of which I've reviewed, like his flagship newsletter Investment Opportunities and Cannabis Cash Weekly.
Highlights from the "Summit"
In this section, we'll take a closer look at the four main parts of the Crisis & Investment Opportunity Summit video, so you know what the video is about in more detail.
State of the Markets
This section of the video is all about the impact the virus is having on the economy, particularly the United States, and Matt's opinion on this.
He talks about business closures and the ripple effect this is having on the economy. As well as government stimulus, federal bank stimulus like quantitative easing, and how all of this is leading to sheer panic and uncertainty in the markets.
Road Map
The "Road Map" part of the video is where Matt says he believes the market will bounce back, just like it always does.
He talks about crazy times in history like wars and the financial crisis of 2008 where eventually stocks rallied again. He says the pattern is the same then as it is now.
According to Matt, it starts with an upward rally, followed by a "gut punch" which was the recent selloff, followed by extreme volatility and finally, an upward trend.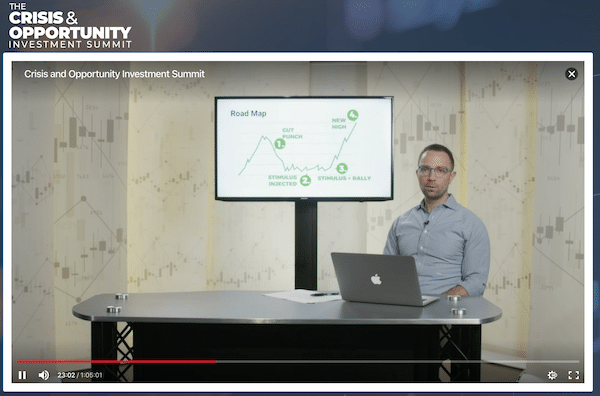 The take home here is that Matt says there will come a time when you can profit from this. Because stock prices are so low right now.
But in order to make those potential gains, you need to invest now, before the price goes back up. Which according to Matt is probably about 12-18 months away.
What to Do Now
In this section of the video, Matt talks about what you should and shouldn't be doing now, to prepare yourself for what is to come.
He makes the following recommendations:
Avoid selling stocks you already have
Build a list of quality, beaten down stocks
Start buying these progressively over the next 10 weeks
So he talks about making sensible decisions and preparing yourself to buy stocks that could lead you to profit in the coming year or so.
Create a Buy List
This is where Matt gives example after example of some of the stocks he's bought and recommended over the years, during downturns. And how he was able to use these as opportunities to create (in some cases) significant profit.
He also uses this as an opportunity to talk about his newsletter service, Early Stage Investor, and some of the strategies he uses to pick winning small cap stocks.
The remainder of the video is basically Matt discussing what he says is a huge opportunity to profit right now, and how you can potentially benefit.
Bottom Line
The Crisis & Investment Opportunity Summit isn't really a "summit", it's a video where Matt McCall talks about making money off of the current crisis.
Overall I think there's some great insights here and if you are wanting to invest in the stock market then you might do well to take his advice. After all, history shows that the stock market goes up and down, so why not buy when the price is low, and profit down the road when it goes back up?
Makes sense.
But on the other hand, things may not recover quite so well. So I think it's always important to learn from other people too, who have opposing outlooks. That way you can make a more informed decision.
Either way, I hope you found this article helpful!