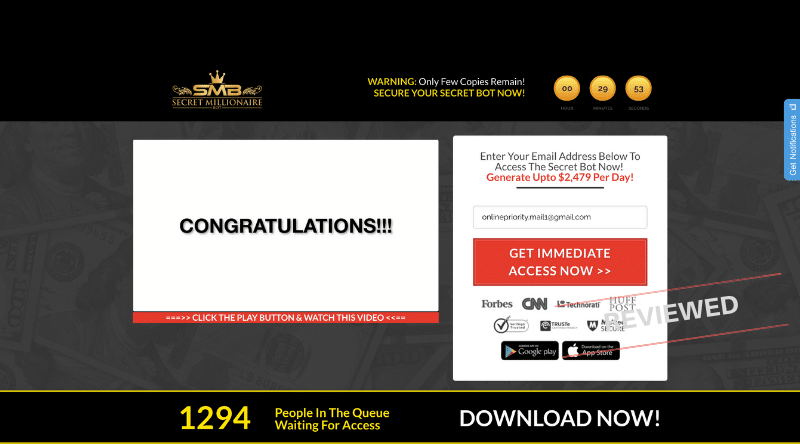 Welcome to my review of Secret Millionaire Bot.
This is a new ClickBank product that promises to help you generate up to $2,479 per day, using a "secret bot". Apparently, this special push button software does all the work for you.
Sounds a bit too good to be true, doesn't it?
Let's take a closer look to find out if this is legit, or really just another scam…
Secret Millionaire Bot Review
I came across this site (secretmillionairebot.com) today via a spammy email telling me how much money I could make on auto-pilot.
I clicked the link in the email, and wound up on the sales page which is presented by "Charles Allen" (which is an alias). He claims to be part of a an "elite secret society of millionaires" who make a fortune online, using an automated bot.
Now he's sharing it with you, so that you can make tons of money online.
Sounds cool. But I've reviewed hundreds of programs on this blog over the past few years, so I know this is really just HYPE.
Anyways, if you continue watching the video, you'll notice there are lots of testimonials from people who claim to be making large amounts of money with the system.
For example, the girl below claims she made $221k and the guy on the right claims he made over $350k, in a few short months…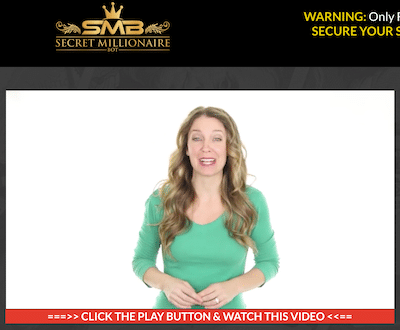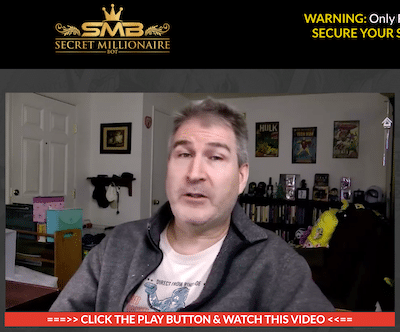 To be honest this made me even more skeptical, because often the testimonials on these 'make money online' sites are fake. And in this case, I actually remember these exact people from other sites I've reviewed.
Which is how I know they are really just actors…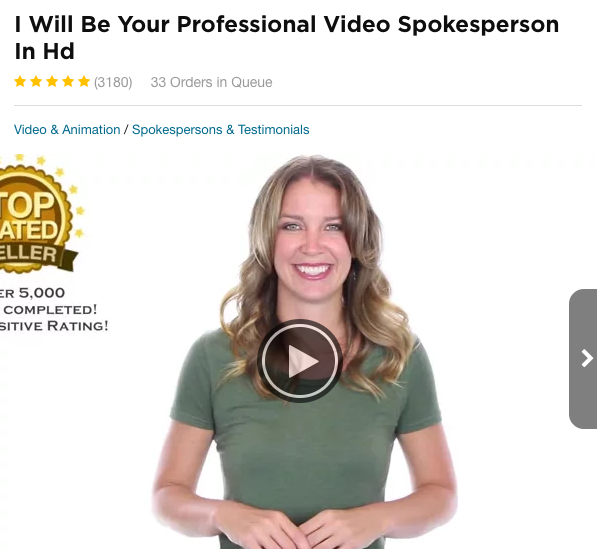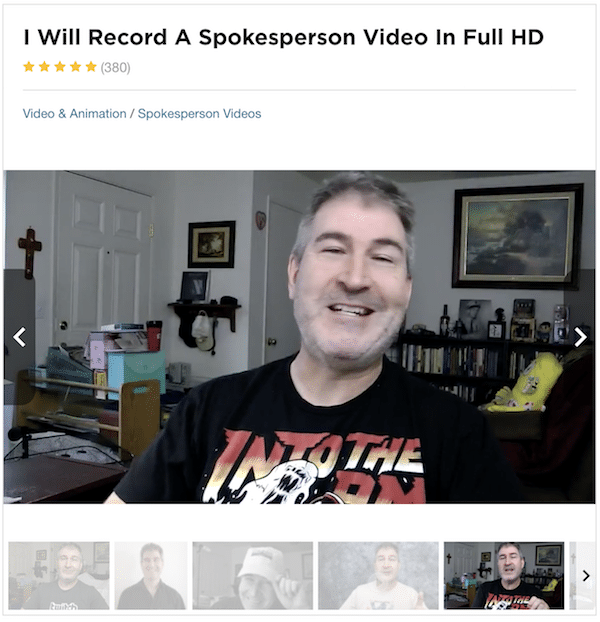 Neither of these people have made a single cent with this system. They are provide fake testimonials for a living, on a site called Fiverr.
So we're not off to a good start here.
They are using SPAM emails, to send people to a BS sales page, that uses fake testimonials to convince you it's real. Essentially the same nonsense as I see on sites like Bulletproof Profits and Auto Online Sites for example.
So what's the program itself about?
Secret Millionaire Bot is a basic training on how to make money online, primarily with affiliate marketing. This is nothing new, it's not a secret, and as I will now explain, it almost certainly won't make you $1,000's per day.
Let me explain…
How Does Secret Millionaire Bot Work?
The way Secret Millionaire Bot works is by using extreme hype to sell you a mediocre product.
It all starts with a SPAM email, that leads you to a "get rich quick" sales video, which takes you to the ClickBank order screen.
If you do decide to purchase, you are immediately hit with upsells running into the $100's. This is how the people behind this make their money. By immediately pressuring you into buying right after you spent the initial $37.
The program itself is absolutely NOTHING even close to what the sales page claims.
Instead of getting some "secret money making software", you get an old, generic training on making money with affiliate marketing.
Affiliate marketing is where you promote other people's products for a commission. So if someone clicks on your unique affiliate link, and buys that products, you earn a commission.
I earn a full-time income online doing just this, so I know exactly how this business model works. Which is why I can safely say that (at absolute best) you may learn some very basic concepts you would learn for free on a decent blog.
You will not learn how to generate $1,000's per day on auto-pilot. Period.
I also want to point out that there are not 'limited copies' either. This is a sales tactic scammers use to pressure unsuspecting people into buying on impulse, so don't buy into that.
This product will be selling for as long as it's making the people who made it money, or until it gets shutdown. One or the other.
Unfortunately sites like this are very common online.
They tell you exactly what you want to hear, and once you buy, hit you with upsell after upsell. When you do eventually get access to the product, you find it's something that wasn't even worth buying.
Verdict – Is Secret Millionaire Bot a Scam?
Yes, in my opinion Secret Millionaire Bot is a scam.
This is a classic case of an incredibly misleading sales pitch. One that leads you to a generic training program about 'making money online'. Even though you do get some value after buying, it is absolutely nothing as advertised.
And then, after you buy, you are hit with immediate upsells and an endless stream of SPAM emails. Emails that are all about buying more, higher priced programs.
After looking into this closely, I seriously doubt if anyone who buys this will make any money at all, let along $2,479 per day!
The good news is that if you did already buy, you may be able to get your money back within 60 days of buying, through ClickBank. This is the third party marketplace the product is sold through.
That's pretty much the only positive here.
You can create a substantial income online, I've done it myself. But it takes hard work, time and persistence to get any tangible results. Making money online does NOT happen at the push of a button, or by using some 'autopilot system'.
This is just what scammers say to make money off of you. The only people making money off of this, are the people who made it and those who are promoting it.
What you decide to do is up to you, but there's no way I could recommend this to you in good conscience.