Creating wealth is something most people aspire to, and it sounds like Matt Badiali's "Real Wealth Strategist" newsletter could be the answer.
But is he (and his service) legit? Matt Badiali is a real person and a legitimate expert when it comes to investing in natural resources in the mining, energy and agriculture sectors. And in his newsletter, Real Wealth Strategist, he recommends stocks in these sectors that he thinks are worth investing in. So it's not a scam, but it's not a way to get rich quick either.
In this review, we'll take a closer look at what Real Wealth Strategist is about, who Matt Badiali is, and at the end I'll share my opinion on whether or not I think it's worthwhile.
What Is Real Wealth Strategist?
Real Wealth Strategist is a newsletter subscription service created by Banyan Hill and Matt Badiali, which includes a monthly newsletter and other resources to help you invest in the stock market.
The newsletter is mostly about investing in stocks within the natural resources sector, such as mining, energy and agriculture. Which extends to stuff like cannabis stocks.
How does it work? Well, basically, Matt Badiali shares his monthly trade recommendations and insights via the Real Wealth Strategist newsletter. So the idea is to signup, learn the basics, and invest in the companies he's currently recommending.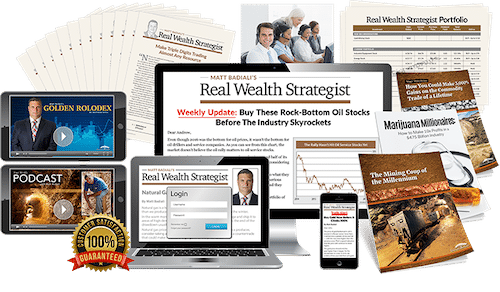 On one hand, I think it's super risky to just blindly follow someone's trade recommendations, no matter how knowledgable or legit they are. So even though there's a lot of value within this subscription, it's still only based on someone's opinion of what "might" be a good investment option.
On the other hand, within each newsletter, Matt does elaborate on why he's chosen a given stock, and he provides resources like weekly updates, bonus reports and some basic training. Which I think is a good thing if you want to make more educated decisions about where you put your money.
Of course, none of this matters if the person you're listening to isn't really an expert, or is giving you bad advice. So let's dig a little deeper into Matt to see what he's about.
Who Is Matt Badiali?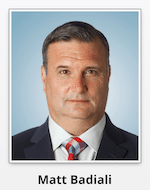 Matt Badiali is a geologist turned investing expert, who works for a company called Banyan Hill Publishing to produce newsletters like Real Wealth Strategist, Apex Profit Alert and Front Line Profits.
According to his Banyan Hill profile page, Matt has a "B.S. in Earth Sciences from Penn State University and a Masters in Geology from Florida Atlantic University."
And that, prior to working for Banyan Hill, he was a "geologist for a drilling company and a consultant to an environmental company" before learning about investing.
The reason his stock picks are so valuable, at least according to him, is because he knows how companies in the natural resources industry work from first hand experience.
Which makes sense. He's been all over the world, visiting mines, oil wells and farms for example. So he has "boots on the ground" knowledge which is something the average investor doesn't have.
Over the years Matt has provided a lot of value through his newsletters and has an impressive track record of successful investing. So overall I think he's someone who's worth listening to.
But he has been part of some (in my opinion) unsavoury campaigns like Freedom Checks for example, which was a presentation he used to promote Real Wealth Strategist a while back. This wasn't exactly a scam, but it didn't leave me feeling all warm and fuzzy, to say the least.
What's Included in a Real Wealth Strategist Subscription?
The main element of the Real Wealth Strategist subscription is the monthly newsletters, but subscribers also receive lots of other resources, so in this section I'll walk you through these.
Monthly newsletters: Each month, for the entire 12 month subscription period, Matt sends a newsletter outlining a new stock he recommends within the natural resources sector. As well as details on why he chose it, and when he recommends investing.
Model portfolio: This is basically a list of stocks Matt Badiali currently recommends buying, and includes every stock on his "buy list" from the beginning. And subscribers can access this within the member only website, like every other resource.
Weekly podcast: Each week, for about 10-20 minutes or so, Matt updates you with what's happening in the market, and what he currently recommends buying, holding and selling.
Trade alerts: If anything changes in between the newsletters or weekly updates, you receive an email "trade alert" updating you. This way you can keep informed about what Matt is buying and selling at any given time.
On top of these core subscription services, Matt Badiali and the team at Banyan Hill also give you the following bonuses:
Marijuana Millionaires: How to Make 10x Profits in a $475 Billion Industry (PDF report)
The Mining Coup of the Millennium (PDF report)
"Magic" Metal Riches: Make 3,000% Gains on the Commodity Trade of a Lifetime (PDF report)
The Golden Rolodex Series (interview recordings)
Alpha Investor Report (3 month trial to paid subscription)
The first few bonuses are basically just written PDF reports on various stocks Matt is recommending.
The fourth bonus, which he calls "The Golden Rolodex Series", is where Matt shares interviews he's conducted with CEO's of natural resource companies he's connected with.
And the final bonus is a three month trial to Charles Mizrahi's Alpha Investor Report. Which is probably the most valuable, but it's also kind of sales hook. Because it is setup to automatically renew at $97 per year unless you cancel.
How Much Does It Cost?
The cost of a Real Wealth Strategist subscription is $47 for the first 12 months. But there are actually three subscription options which can bring that up to either $79 or $129.
Here are the membership options:
Standard: $47
Premium: $79
Deluxe: $129
The main difference between these is that with the higher level memberships you get both digital AND physical copies of the monthly newsletters. As well as some extra bonuses within the Deluxe subscription.
One thing I want to point out is that, regardless of which option you select upon check out, Real Wealth Strategist renews at $97 per year.
Is there a money back guarantee?
Yes, Banyan Hill has a refund policy in place so that if you're not happy with your subscription within the first 12 months, you can call them up and request a full refund.
Is Banyan Hill Publishing Legit?
Banyan Hill Publishing is a legit and reputable company.
They bring investment experts together (like Matt Badiali, Paul Mampilly, Ted Bauman, Ian King for example) to publish quality investment based services.
Each "guru" has their own unique skillset and approach to investing, so you can benefit from different strategies depending on what you personally take to.
For example, Matt Badiali focusses on stocks within the natural resources sector, while Paul Mampilly focusses no new technology and consumer trends.
That being said, not every service they provide is going to be worth it for everyone. And no company is perfect so there are complaints about them online. But overall, based on my experience and from what others are saying, I don't consider them a scam.
Conclusion
In this review, we've discussed what Real Wealth Strategist is about and who's behind it, but ultimately whether or not you choose to subscribe is up to you.
On one hand, it could be a great option for those who are interested in investing in mining, energy and/or agricultural companies. Because Matt Badiali is an expert in this space and shares a lot of value with subscribers.
On the other hand, I think it's risky to just sign up to something like this and follow one person's trade recommendations without educating yourself first. Nobody is perfect and nobody can predict the future, so it would be wise to do your own research before following anyone's investment advice.
Either way, there is a full money back guarantee which I think does reduce the risk of purchasing the subscription itself. Just make sure you only invest what you can afford to lose.