Hello and welcome to my review of Le-vel Thrive, a health and wellness MLM company that claims to have "ultra premium products" and a great business opportunity to go with it.
Is it the real deal?
Well, after doing some digging, I did find some good points with this company, but I also found some things I didn't like. And in this review, I'll show you what I found.
Company Overview
Le-Vel Thrive is a health and wellness multilevel marketing company that was co-founded in 2013 by Jason Camper and Paul Gravette. The company claims to give people the products and opportunity to live an "ultra premium lifestyle with ultra premium products."
The company doesn't have a physical headquarters which I feel is a little odd for a network marketing company, but they say they are operating with state of the art cloud technology. And apparently, they're one of the fastest growing wellness companies in North America.
So they must be doing something right, right?
Maybe. But there's no shortage of controversy out there. Some people call Le-vel Thrive a scam and pyramid scheme, while others practically worship the ground the founders walk on.
What should you believe?
Well, I think it's important to make your own mind up. And the best way to do that is to start by looking at the company's products and compensation plan, because these are the foundational components of the Le-Vel Thrive business opportunity.
Le-Vel Thrive Products
To understand what kind of opportunity this offers, it is important to look at the products.
The company claims that millions of people within the United States have started the 'Thrive Experience' so no doubt it's getting attention, the health and wellness industry is huge so there's money to be made. So what exactly is this "experience" about?

The Thrive Experience is their flagship health and wellness system and it comprises of three main products designed to be consumed every day over an 8 week period.
#1 Premium Lifestyle Capsules: Health capsule designed for either male or female. It costs $74 for a one off purchase for 60 capsules or $60 if you choose the monthly auto-ship option.
#2 Premium Lifestyle Mix: This is a supplement shake available in various flavours and costs $52 for a one off purchase or $40 if you choose the auto-ship option. This is for a 16 serving pack and I'm pretty sure you are supposed to take this every day for 8 weeks, I could be wrong here though.
#3 DFT Patch: This is a 'Derma Fusion Technology' patch to put on your skin each day and costs $62 for a one time purchase or $50 on auto-ship for 30 patches. They also have an 'Ultra' and "Black Label' patch which apparently provides better results.
8 Week Cost Without Auto-Ship: $406
8 Week Cost With Auto-Ship: $320
I was unable to find pricing info or purchase the products from their website, no matter where I clicked I kept on getting this message: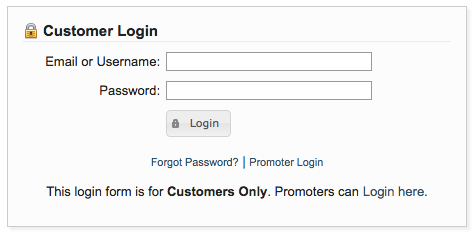 Turns out you must find a distributor and access their replicated website, otherwise it's no go. This is fair enough I suppose but it would be nice to give people an easier way to find a rep or something of that nature in my opinion.
They also have other products available and some combo packs to reduce the price overall. One thing I did find is that you can purchase these products directly through Amazon for less than you could if you buy through a distributor on their website.

So you can buy the DFT patch for $50.40 delivered through Amazon but it's $62 through the company website? You can buy the patch for $50 on auto-ship which is cheaper but after shipping I'm not sure if how it works out.
This could obviously reduce a distributors chance of making a good income promoting the products which isn't cool. I don't know, maybe I am missing something here?
Are The Products Worth Buying?
Before I attempt to answer that, I just want to point out that I am not a health expert. I think this goes without saying but I wanted to be clear about this.
I'm simply sharing my opinion based on what I found.
So, how do you know if the products are worthwhile or not?
Well, probably the best way to decide if they're worth at least trying is to research as much about the products as possible. Learn about the ingredients, learn what others are saying (positive and negative), and try to decide if you think the products are worth trying from there.
I found two quite passionate schools of thought with respect to the products. On one hand there are some positive reviews and on the other hand there are quite negative reviews.
So that's probably a good place to start, by reading thoughtful reviews of the product.
Then, if you decide to give them a try, the key would be to analyze the results you are getting as objectively as possible over a period of time. And perhaps even consult a medical professional or dietician to see what they think.
Either way, I think it pays to do your homework on the facts instead of just buying into a companies word for it. Obviously, as with any company, they are wanting your money, so they are most likely only going to tell you how amazing the products are.
If you've tried the products and you love them, awesome. I personally haven't tried them so I can't say for sure how good they are or aren't. But hopefully the information I've shared here, and the links I've provided, help you make a more informed decision though.
Le-Vel Thrive Compensation Plan and Business Opportunity
The general idea behind the business opportunity is to try the products yourself and if you love them, share your experience with others.
And since the company uses the network marketing (MLM) business model to distribute their products, your main objective will be to build a team under you. So it's not just about selling products, it's also about building a team of distributors.
This can be quite powerful if you can get enough people on board.
The compensation plan determines who goes where in your downline and how much each affiliate gets paid. The downline system being used is known as the 'unilevel' model.
This places an affiliate at the top of his or her own organisation and each person they refer is placed on their first level, then each person they refer will be on the original affiliates' second level and so on. See below example: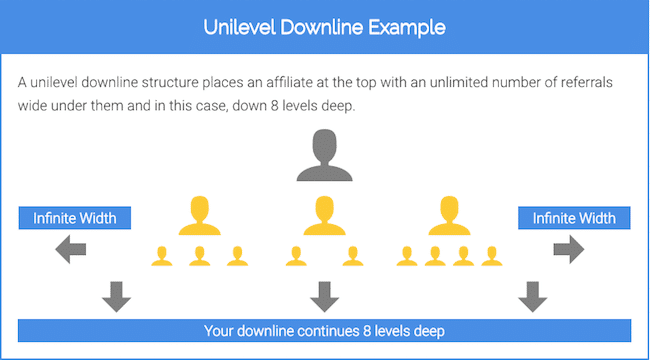 Basically, the higher your rank within the company the deeper levels you will earn on within your downline. The commissions are based on the product sales of your referrals.
Promoter: Earns 4% on up to 3 levels
4K VIP: 4% on up to 5 levels
12K VIP: 4% on up to 6 levels
40K VIP: 4% on up to 7 levels
80K VIP: 4% on all 8 levels
200K VIP: 8% on all 8 levels
​Ways You Can Earn
There are various ways you can earn within the company and I'll break these down for you now.
Selling Product
You can earn 20% commissions on all direct customers and if you are active and qualified then you can earn on all customer orders 3 levels deep.
Infinity Fast Start
When you recruit someone who buys one of four start packs you'll get a set commission, the same is true if they purchase an upgrade package. This is called the 'Infinity Fast Start' (IFS) and it goes 4 levels deep.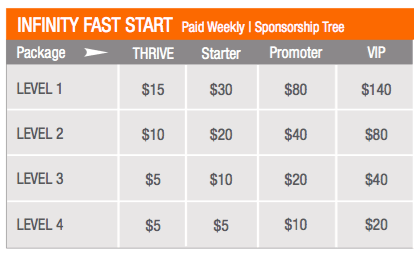 You can also earn between 10-20% bonus based on your direct referrals bonus that they earn. For example, if you recruit John who gets a $500 IFS payment, you'll make $50-$100.
Team Commissions
These range from 4-8% depending on what level you are at within then company and is based on your organisations purchasing 8 levels deep. Much like the IFS there is matching bonus paid to you based on the team commissions your direct referrals earn of between 20-40%.
Various Bonuses
There are various bonuses according to how well people perform like cars, holidays and iPads. These vary depending on your performance. You can check out the comp plan to learn more about these.
Starting Your Business
Joining the business as a 'promoter' is free however, if you want to start earning commissions you'll need to become an active and qualified affiliate with 100PV.
This essentially equates to buying a minimum of $100 worth of product. As you can see on the chart below, there are various other options to enrol with the company offering 4 main starter packs with varying levels of PV and price.

Staying Commission Qualified
To stay active and qualified to earn commissions you will need to purchase or sell $100 worth of product per month. A lot of affiliates end up buying the product themselves on starting out since they don't yet have the customer base.
This is also why an auto-ship may be the better option as you'll get your products cheaper. If you are not active you cannot earn beyond the 20% retail commissions.
What I Like
They have a 'waiting room' function within their system that allows you to sign up reps and then place them wherever you like within 60 days which is cool
The back office is very well put together and useful for affiliates
You can join for free and earn 20% retail commissions on product sales
What I Don't Like
They primarily teach the warm market technique which I'm not a fan of
Lot of controversy surrounding the products and a fair amount of complaints
You can buy the products straight from Amazon for almost the same or less price
Final Thoughts
Overall, I think if you love the products and you like the idea of sharing them with those you know, then this could be a good way to get the products at wholesale pricing and make a few extra bucks on the side.
Or if you're more ambitious, you could possibly even build a thriving online business (no pun intended). Just keep in mind, however, that doing so will take a good amount of effort. You're not just going to join and make lots of money. Be prepared for a proper, sustained hustle.
On the other hand, I'm not a huge fan of the MLM business model, especially the "warm market" approach of trying to recruit friends and family. So if you do decide to join the Le-Vel Thrive opportunity, I recommend working out a better strategy to build your business.
Whatever you decide, I hope you found this review helpful.