Investing has long been one of the strongest ways to build lasting wealth – regarded much more highly than simply working and saving up. But because the stock market is daunting, many people turn to experts like Matt McCall for investing tips and insights.
But is Matt McCall's Investment Opportunities legit? McCall's monthly newsletter is a legit way to get tips, valuable insights, and investment recommendations (mainly U.S.-based stocks), plus a few bonuses. It only costs $99 a year and has a 30-day full refund policy.
Let's take a closer look at what the newsletter is all about, what you get with a subscription, who's behind it, and whether or not now is the right time to get involved in it.
What's Investment Opportunities About?
Matt McCall's Investment Opportunities is a "general interest" newsletter – self-described as a "club" – that focuses mainly on giving you stock recommendations each week.
The newsletter is published by InvestorPlace and costs $99 for one year – which is a lot cheaper than his other subscription service, Cannabis Cash Weekly. 
If you try it and decide within 30 days that you don't like it, you can get a full refund. Which is a cool aspect, especially considering some other trading experts don't offer such a straightforward refund policy.
The first thing you come across before you sign up for the newsletter (after reading about McCall's accomplishments) is a list of successful investment recommendations that were made to the readers of Investment Opportunities. These include:
611% gains from shares of Liquified Natural Gas Unlimited in less than one year
324% gains in less than two months from shares of Bitcoin Services Inc.
253% gains from shares of Elbit Systems Ltd in five years
So, two of those are impressive, the third one a little less so. Maybe they put it on the marketing page to show they aren't just about short-term investments, or maybe they only had three relatively impressive gains to show.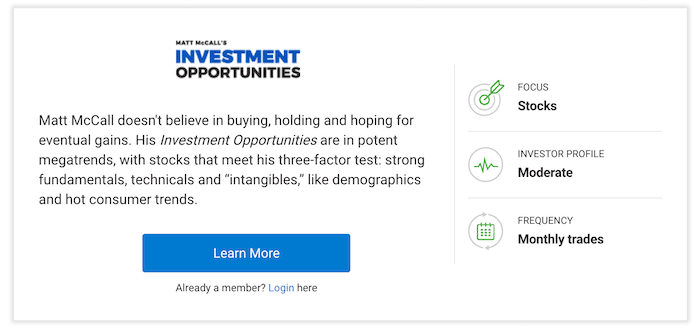 Honestly, I would doubt the latter is the reason, but I would think that they would put forth their very best gains if they were trying to get you to buy something from them.
McCall also promotes sales of his newsletter by video presentations – such as this one about his 5G stock prediction. This is one of his common marketing techniques, which he's used for his other subscription services as well.
Once you sign up, you'll be getting lots of different stock recommendations and reports about why McCall chose certain stocks. The goal is that, if you take his advice, you'll see positive returns and make a lot of money.
And while the majority of the newsletter's focus would be on U.S.-based stocks, they do occasionally recommend investing in other things, like:
Commodities
Real Estate
Bonds
Gold
How Does McCall's Investment Opportunities Subscription Work?
Once you subscribe to McCall's newsletter, you'll get access to:
12 Investment Opportunities Newsletters: once a month newsletters that detail the "world's biggest investment opportunities." Issues include the latest recommendations, the current portfolio, and expert insights
Special Reports: 12-36 page reports going into detail about new tech and worldwide business trends that could deliver "triple-digit" gains
Urgent Position Updates: if something big is happening that impacts their position on investment choices, they'll give you an update even if it isn't within the regular monthly schedule
Investment Opportunities Owner's Manual: a short manual that explains McCall's approach to the market, how he finds opportunities, the "right" way to buy and sell stocks, and other tips
There aren't any bonuses – at least not any listed on the signup page. But for such a low price, you still seem to get a lot.
Who Is Matt McCall?
Matt McCall is a well-known stock investor who got his start 17 years ago when he worked as a broker for Charles Schwab.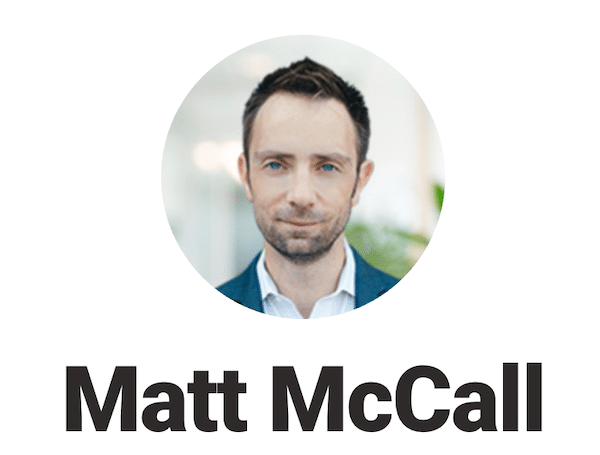 It's easy to understate the amount of experience and accomplishments McCall has garnered over the years. Some of those are:
Founding Penn Financial Group, an RIA similar to Charles Schwab
Founding CrowdVest.Co, an equity crowdsourcing platform
Founding Point B Publishing
Founding Crowdvest Securities
Authoring two bestselling books, including The Next Great Bull Market
Getting an MBA in Finance from the University of Colorado
Getting a bachelor's degree in Finance from Kutztown University
Co-hosting and being chief technical analyst for Winning on Wall Street
So, it's easy to see why people would be turning to him for advice – he's got successful experience and a lot of knowledge about investing.
And yet another of his many accomplishments is that he currently works as a senior technical analyst for a company called InvestorPlace.
What is InvestorPlace?
InvestorPlace was founded in 1974 and is an independent financial research firm – one of the biggest in the U.S.
They employ expert investors and researchers to give investment recommendations. And they've actually been successful at it (to say the least). A few of their successful stock recommendations have been:
Amazon: Recommended purchasing stocks in 1997 when shares cost $1.73 – now they're valued at over $1,700
Apple: Recommended investing when shares were trading for only $0.56 – now they're trading at $277.00
Nvidia: Recommended purchasing stocks at $4.39 – now they're valued at over $240
These are just a few of the examples listed on their website. And while these build a very strong case for them, they (obviously) don't give details about any bad stock recommendations they might have made over the years.
Their analysts – Matt McCall being one – are highly regarded in the investing space. In fact, MarketWatch – a financial information site published by Dow Jones & Co. – called one of their analysts "the advisor who recommended Google before anyone else."
Can You Really Make Money With Investment Opportunities?
Whether you can make money or not with this newsletter is an educated shot in the dark.
What I mean is that investing in stocks is always a risk in some way or another – and that includes investing in bonds, real estate, etc.
Granted, it's always wise to seek the advice of someone like McCall who has a lot of knowledge and expertise (not to mention a strong personal track record). 
But no one can predict what will happen with 100% accuracy, and the stock market can be extremely volatile.
We're seeing that now more than ever. At the time of writing this, the U.S. stock market – which is what most of the recommendations from Investment Opportunities will be for – is going through some huge ups and downs.
And yes, some companies and some stocks will do well, no matter what happens. But can anyone – even someone with as much experience as Matt McCall – truly predict which those will be?
Maybe he can, and maybe he and everyone who listens to his recommendations will make a lot of money. But there is always risk involved, because nobody can predict the future.
My Overall Opinion
In the end, McCall's Investment Opportunities newsletter is a legit way to get tips and insights from one of the foremost experts in investing. And it's a smart move to look to the experts instead of going at it alone.
Plus, the cost is so low compared to other subscription services that it might be worth it. Not to mention that you can try it for 30 days and, if you don't like it, you could always get a full refund.
Ultimately, whether or not you decide to become a member of this "club" is a personal choice. Just remember that, with the stock market, no one's recommendations are infallible and there's always a risk involved.