In this post I am going to share with you how I do keyword research for blogging and how you can use the same techniques to maximise your blog posts chances of ranking well in the search engines.
Different Types Of Content
There are several different types of content that you can add to your blog and I just want to briefly go through a couple of these before I get into the nuts and bolts of keyword research.
Knowing this can be really helpful in creating your overall writing strategy and can affect how you go about doing your keyword research.
Pillar Articles
You may have heard this term being thrown around. Essentially it's content over 2000 words (not mandatory), it's very authoritative and well researched. Something that really captures the essence of you blog and that you would want to link other blog posts to.
Writing this kind of content will take considerably longer than your typical blog post and would really want to cover a particular topic well. They are typically about 'evergreen' topics which just means stuff people will be searching for for quite some time.
A pillar article is also something that other blog owners would want to link to in the future, some people also call these articles 'link bait'.
The bottom line is it will be your best work and something you write other content around to support it. Pillar articles can also target slightly higher competition keywords than your typical blog post and like I just mentioned, would target evergreen keywords.
Blog Posts
Blog posts can be about anything you like really. You could do training, tips, reviews, comparisons, commentary… pretty much anything that will add value to your target audience. The keywords can be evergreen but also about recent or hot topics.
You could target keywords about particular product models or trending search terms.
The key to writing blog content that will rank is ultimately writing to help your audience, publish consistently and write naturally for real people rather than search engines.
You also need to know how to find the best keywords to target, the ones with low competition and reasonable search volume.
Keyword Research
Once you have decided on the type of content you are writing, in most cases a blog post, it's time to find a worthwhile keyword.
There are many different ways of doing this but ultimately, this is what works for me.
Finding A Keyword Using The 'Alphabet Soup' Technique
For todays example let's pretend we have a blog about weight loss. If you have no idea what to write the best thing to do is to go to Google Instant (the search bar in google) and type in your main keyword or a general idea.
In this case I'll punch in the word 'weight loss' with an 'a' in front of it, you would then go right through the alphabet until you find an idea you like.

See how easy it is to come up with a list of 5 different blog posts on terms people are actively searching for? This is free and a great way to come up with ideas.
Personally I use Jaaxy because it just makes this process miles quicker and easier for me, but the method above works just as well ultimately.
Here's what it looks like doing the same technique in Jaaxy…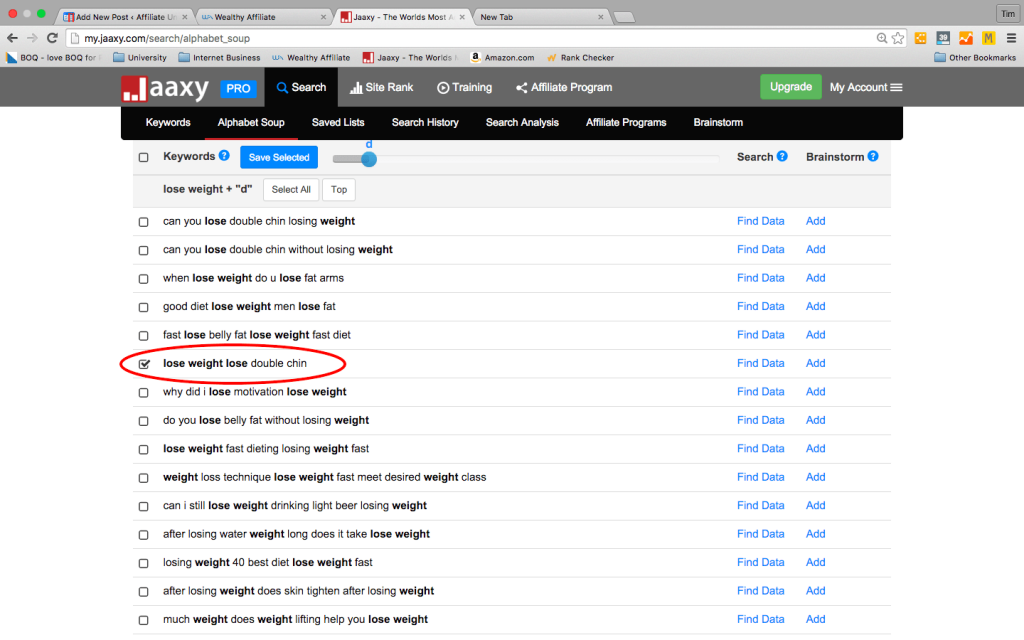 You'll get every possibility from A-Z right there in one screen, hundreds of ideas in seconds.
I scrolled down to 'd' and decided on writing about something to do with double chin weight loss, seems unique and people are searching for it so why not.
Who doesn't want a nicely chiseled chin right?
Start Drilling Down
From there I did some digging and came up with 'Exercises To Lose Your Double Chin'.
This has a very low QSR (direct competition), a good monthly search volume of 152 and a green KQI (keyword quality indicator). Basically these things determine how worthwhile a keyword is in pursuing.
The most important element here is a low QSR and at least 50 or more average monthly searches. Any QSR under 300 is good but for a blog post under 100 is awesome in my opinion.
The SEO number is telling you how well this will rank based on a number of factors, as you can see my chosen keyword has a 96 SEO score which is really good.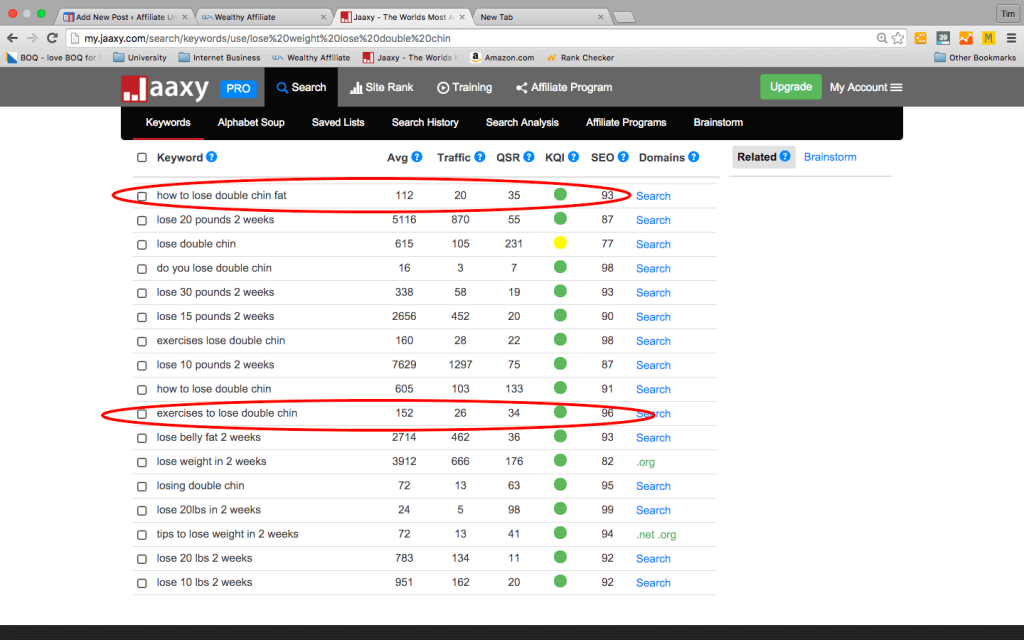 Another reason I chose that keyword is that it makes sense to a human which is very important. Google loves it when we design our websites and posts for actual people, not search engines, so this is a key factor.
Of course the word 'your' was not in my keyword but you will still rank for that keyword as Google knows what people are really asking for.
You'll also notice I also circled the keyword at the top because it too is a worthwhile keyword, the one I chose was just slightly better.
In fact there's a few worthwhile ideas in this one list alone that you could go for but the one I chose I think is targeted, easy to rank for and will get you some decent traffic in combination with other low competition keywords.
It really is that simple to find great keywords that are easy to rank for and if you put enough effort into writing enough of these kind of targeted posts with low competition keywords, you will be getting a ton of awesome traffic in no time.
If you want to learn more about how I do keyword and niche research using the methods I just explained, check out my full Jaaxy review. The great thing about this tool is it pulls data from all the major search engines, not just Google, and it is very easy to use.
Other Useful Points
When writing your article it is important not to just jam your target keyword in all over the place. In fact the best way to go about writing is to focus on writing good website content for your audience first and foremost.
You should include the keyword naturally within the:
The post title
The url of the post
The first paragraph
In the first image alt tag (alt text that describes the image), the image should be relevant to your keyword and what is immediately around it
In the meta description that appears in Google (the bit under the title)
Write naturally after that, forget about the keyword and just write good content. I can't stress this enough
Another good practice is to check your keyword in the search engine results and see what websites are ranking for your chosen keyword. If you are trying to come up against very authoritative and well established blogs, it may be worth re-thinking your keyword.
Don't go overboard here but just make sure you are not competing with entire page full of government websites, wikipedia, hugely authoritative blogs and that kind of stuff. Most of the time with these lower competition keywords I haven't had an issue but this is just something to keep in mind.
Hopefully this article helps you do better keyword research and if you have any questions please let me know in the comments!