When it comes to the stock market, there seems to be so much information floating around on the web that it appears daunting for those just starting out. Which is why many people turn to the publications of experts when trying to figure out where to put their money.
Jeff Yastine is one of those experts. And maybe you've come across his Total Wealth Insider and are wondering if it's worth subscribing to.
So, is it a scam? No, the Total Wealth Insider isn't a scam. It's a legitimate subscription service that gives you Jeff Yastine's insights into his top stock picks, how they're performing, and how you could get in on some potentially profitable (and not-so-well-known) options.
Let's take a closer look at what the Total Wealth Insider is, the man behind it, and whether or not it's worth it to invest your money on it!
Who Is Jeff Yastine?
Jeff Yastine is an investing expert and editor or co-editor of multiple publications, including the Total Wealth Insider and Profit Line. He's also a weekly contributor to Banyan Hill's Smart Profits Daily.
Yastine's interest in the stock market began back in 1987 when he was only 23 years old. He was working at an NBC affiliate TV station in Florida at the time of the stock market crash that year.
The crash piqued his interest as to how the stock market worked, and how the value of stocks is based on the volatile sentiments of investors.
Soon after that, he purchased stock in Wal-Mart, where he learned that the largest gains are made when people are patient and hold stocks for multiple years.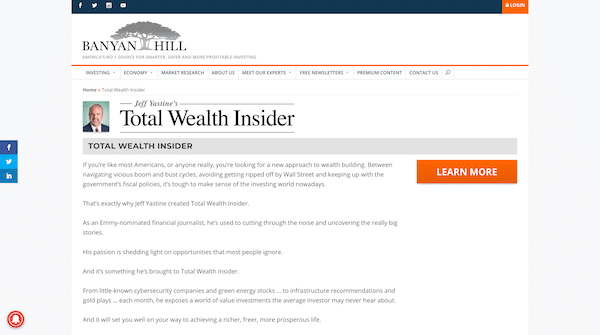 Having studied journalism at the University of Florida, he was able to join PBS's Nightly Business Report as correspondent and anchor in 1993.
During his time as a financial journalist, he interviewed financial giants like Warren Buffett, Michael Dell, Frank Perdue, and others. He learned and took to heart their investing advice, becoming a successful investor himself.
In 2015, he joined Banyan Hill Publishing as an executive editor. Now, he offers his knowledge and insights to others in the form of his multiple publications.
What Is Banyan Hill?
Banyan Hill is the company that people like Jeff Yastine work for. It's the platform where they sell their newsletters – like the Total Wealth Insider.
Banyan Hill was founded in 1998 as the Sovereign Society, and is based on the "ideals of self-reliance and sovereignty."
The name changed to Banyan Hill in 2016 when they decided to focus more on U.S.-based investment opportunities.
They claim they want the average, hard-working American to have freedom of wealth – to be free of the plague of financial concerns.
And they seem to be quite popular, because they're currently one of the fastest growing publishers of independent advice in the world, with over 700,000 daily readers.
And Yastine isn't the only investor who works with Banyan Hill, either. Big names like Paul Mampilly and Charles Mizrahi also offer their publications through them as well.
What Is Total Wealth Insider All About?
Now that we know a little bit more about Jeff Yastine, let's talk about his publication Total Wealth Insider.
This is one of his main publications that he edits. Basically, it's a subscription service.
He claims that through the investment tips and insights it gives you, it will set you on the path to a freer life. So, it seems to be based on the idea that more money equates to more freedom.
It also claims that it will give you the best way to make a million dollars with just one stock.
A subscription to the Total Wealth Insider includes:
Jeff's Model Portfolio: A portfolio showing every stock that is on his "buy now" list, the price they were bought at, and the returns made so far
Monthly Dispatch: an eight-page report explaining the "why" of the current stock pick Yastine recommends
Weekly Updates: a weekly webinar keeping you up-to-date with Yastine's stock recommendations and how they're playing out
Monthly Podcast: a podcast released by Yastine and his colleague Brian Christopher once a month reviewing current market positions, the Total Wealth Insider portfolio, and other things they're keeping an eye on
Trade Alerts: alerts you get via email letting you know when you should buy or sell something
Daily Briefings: Yastine's daily email newsletters (you get automatically subscribed to), which include insights from his entire team
24/7 access to the Total Wealth Insider site
You also get 5 "bonuses," which are:
One Stock Millionaire: a report about a company in the 5G/broadband space
Ten-Bagger Collection: a report about four companies that supposedly will return 1,000% or more
Kennedy Accounts: info about an investing "secret"
Form 4 Decoded: an easy-to-read report about finding out where to look to see when insiders file Form 4s
Better Than Bitcoin: how to invest in blockchains that could lead to gains of 1,500% or more
You also get three free issues of Automatic Fortunes which is a report written by Ian King that gives under the radar investment ideas.
As a side note, these "bonuses" that he offers are actually also used on the side to promote the Total Wealth Insider subscription.
For example, Yastine's Kennedy Accounts presentation is essentially a sales pitch for this subscription – albeit one that does have some good information in it. And more recently, he created a bonus/pitch called The Hypernet, which is about investing in a technology he says could rival the internet.
In fact, when you go to the Total Wealth Insider page on Jeff's website and click on "Learn More," you get redirected to a presentation about the Kennedy Accounts (and it disables the "back" button on your browser).
How Much Does It Cost?
There are three membership levels you can buy:
Standard: $47 a year – you get digital copy of the Total Wealth Insider and the five free bonuses
Deluxe: $129 a year – you get a digital and print copy of the Total Wealth Insider and the five free bonuses
Premium: $79 a year – you get a digital copy of the Total Wealth Insider, the five free bonuses, and 3 extra bonuses
With the Premium level subscription, you get three extra bonus reports, which are:
The Next Wave of Defense
The Trillion Dollar Payout
Privacy Code 2.0
Something worth noting is that the subscriptions are set to automatically renew, so you want to keep an eye on that in case you don't want to purchase it again next year.
They do offer a money-back guarantee, which is a cool option.
Is It A Scam?
No, the Total Wealth Insider isn't a scam. It's a legitimate subscription service that actually gives you the reports and newsletters it says it will.
That doesn't mean, however, that Jeff Yastine – or anyone for that matter – can accurately predict what will happen in the stock market.
So, while it's good to do your research and take advice from the experts who are successful, there's still a risk involved that you should consider when taking their advice.
On the plus side, this isn't a crazy expensive subscription if you're serious about wanting to invest in the stock market (especially compared to some of Tom Gentile's subscriptions who works with a similar company called Money Map Press).
You'll probably get a bit more information than you would if you just stuck to free newsletters, but you also won't be breaking the bank. So, it could be a good middle ground in that sense.
Conclusion
So, Jeff Yastine is a successful investor, and probably does have some good insights that he's gained from some big names during his time as a financial reporter.
And the Total Wealth Insider subscription isn't a scam. In fact, there's a good chance you could find some valuable nuggets of information in the reports he gives out.
However, the stock market is notoriously volatile, and there's always a risk involved when it comes to investing. No one can predict any trends with certainty.
Plus, these kinds of subscription services tend to hype up expectations and under deliver. That doesn't necessarily mean everyone loses money, or that that's the case with everyone, but it does mean that you shouldn't expect to become a millionaire overnight.
In the end, whether or not you purchase this subscription is up to you, and hopefully this article provided you with some helpful information!