Quick Overview
---
Company: Pure Leverage
---
Owner: Joel Therien
---
Startup Cost: $24.95 - $44.90 p/m
---
Review Summary
The tools you are given are not the best value for money in my opinion. In particular, the 'authority blog' you are given is poor quality and generic. I've seen these cookie-cutter websites around and they simply don't rank in search engines which is a massive drawback.
What is Pure Leverage?
As always I like to analyse the sales page and work out what sort of claims the owners are making. In this case there are some mixed results. The main website seems to take a clean, relatively non-hyped approach to promoting the products.
On the other hand there are quite a few different capture pages, videos and cookie cutter blogs out there with plenty of enough hype to go around. I have to admit though, they are very entertaining and original…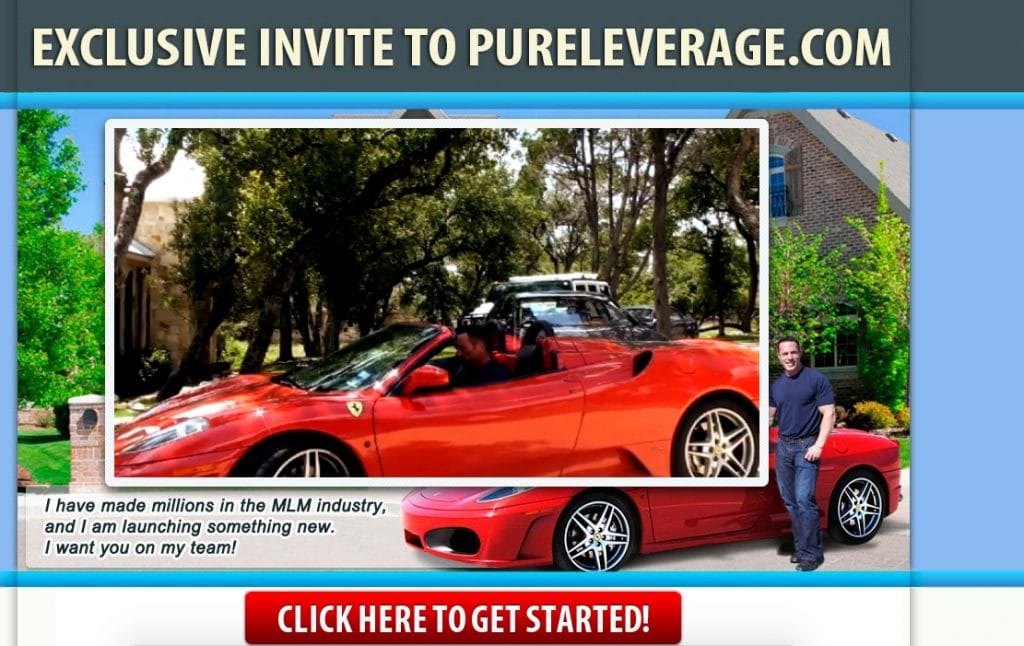 "Hey everyone look at my super fancy red sports car and huge mansion… you can have the same thing by using my system!"

Nexxxxt….
This kind of product and promotional hype go hand in hand though, so it certainly isn't anything new or particularly 'scam worthy'. I want to briefly touch on something here, the fact that this is an mlm business model.
The Product
Ok so I'm going to give you the run down on the product itself, in particular I will look at what I consider to be the main 4 products you will be getting for your $24.95 worth talking about.
The Lead Capture Pages
You get a bunch of generic pre-made squeeze pages to get people to opt-into your list and some done for you email copy to use to promote Pure Leverage. Nothing new, many make money programs do this exact thing. As if people haven't seen enough of the same old squeeze pages from this company already, no thanks.
The Auto Responder
Not a bad product for an auto responder, it works. I also think this is not bad value for the price. I suppose this makes the product somewhat reasonable for the $24.95. Email marketing can be a very effective way of making money online if done correctly, this is an essential tool do it. Personally I think there are better quality alternatives but again, not bad value for money.
Live Conference
This is nothing more than what you can get for FREE from Google Hangouts. In fact Google's system is much better in my opinion. Bottom line… this is nothing to write home about.
Authority Blog
This is really a total waste of your time. You should know that this is simply a done for you, cookie cutter website that will NOT rank well in the search engines. You are 'plugging in' to a generic and pre-branded blog promoting Pure Leverage.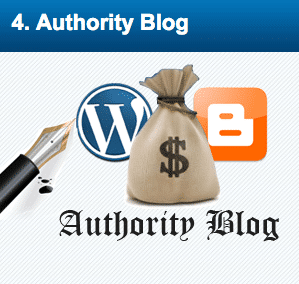 I've seen a bunch of them and they all show the same cheesy and fake looking 'testimonials' and opt in forms. I'd be surprised if people even joined up through them anymore. There is nothing of value in this whatsoever in my opinion.
Any decent online marketer will tell you the value of creating a unique blog with unique content, and how by doing that you are establishing a real online business. This is the only way the search engines will rank your website, by adding real value with a unique website or blog.
So I guess the point is here, don't expect any free and lasting traffic by ranking in the search engines. Your best bet will be paid traffic and that is a dangerous game if you have no idea what you are doing. In my opinion the authority blog is nothing more than a gimmick. The funny part is that you could start a free blog yourself that would deliver much better results.
Why The Product
Really

Costs $44.90 Per Month

I was not very fond of how they make out that you get so much value for $24.95 when in fact to really get the benefit of the tools on any worthwhile level, you will need to become a Pure Leverage re-seller. To become a re-seller will set you back another $19.95 per month, the total is now sitting at $44.90 p/m.

This is what most of the training revolves around, what the pre-done blogs and capture pages are designed for and pretty much the only way you will ever make any money with this system… by promoting the system itself.
What I Liked
You will get some squeeze pages
You get an auto responder
You get training on how to promote Pure Leverage
There is a 30 day money back guarantee 
What I Didn't Like
Apart from the auto responder, the tools aren't great value for money
I don't like how they show you all the 'value' you are getting for the initial sign-up cost, when the blog and lead capture page system is only designed to promote pure leverage. This means to use those tools properly you need to pay them more money. I think this is a little sneaky
Your 'authority' blog will not likely rank well in the search engines as it is a cloned, copycat website. Google is not a fan of generic content
Get ready for a barrage of emails from Joel Therien, many people have reported 50 emails in the first month alone… I personally unsubscribed after a while out of sheer annoyance
There are a lot of up-sells throughout your journey with these guys, you might want to keep a credit card handy
Who Is This Designed For?
People interested in the online version of an mlm business and cookie cutter web sites and squeeze pages to promote it. Primarily the front end offer is for newbies to Internet marketing. 
Tools, Training and Support
Average tools overall, you get trained how to promote Pure Leverage and the support is standard. You do not get personal mentoring for your initial sign-up fee from what I can see.
Final Verdict
To be fair I think it's an ok idea for an mlm business in general, at least you can leverage the power of the Internet instead of chasing family and friends.  That said, I think a lot more Internet marketing training is needed to make it work, either that or a boat load of cash to spend on paid advertising.
You are certainly not going to just plug in and make money with what you are given in my opinion. If you're into mlm and want to give it a try, proceed with caution. Do I personally recommend this to people? Nope.