I came across payhourlyjobs.com today via a spammy comment someone left on this site.
Since I review a lot of programs, I decided to check it out to see what it was all about. And the moment I landed on the site, I knew I was looking at yet another 'referral link scam'.
At least, that's what I call them anyway.
Here's what you need to know before sharing this 'online job' with your friends…
PayHourlyJobs.com Review
The Pay Hourly Jobs website claims that you can start making money fast, simply by sharing your referral link with others. It honestly doesn't get much easier than that, since you don't need to make any sales. You just need to convince people to click.
However, this is not real and I will now explain why I say this…
First and foremost, because I earn a full-time income online doing affiliate marketing (which is essentially what this would classify as IF it was legitimate). Which is how I KNOW that no company on earth is paying you $10 per click on your referral link.
This is total bullshit- plain and simple.
The second point I want to make is that the website seriously lacks credibility…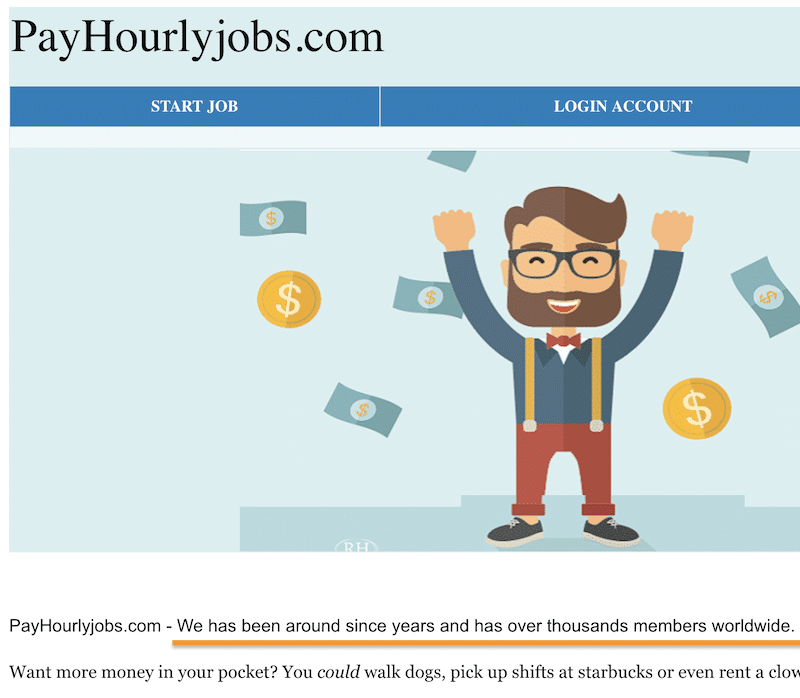 I mean, this site claims to be paying amazing money to members, as a result of the profits they are making. Yet they can't even string a sentence together!?
I'm sorry, but I wasn't born yesterday.
Don't get me wrong, there are real companies that do pay affiliates for leads you send them (not just clicks).
But the vetting process is MUCH heavier than this. And there is absolutely no chance ANY legitimate company is paying top dollar just for random clicks.
I understand that some of you reading this are new to making money online though. In fact this is the sort of people the site is targeting.
So you may still be hoping and wanting to believe this is real.
And if so, I get it.
This is why it's so important for you to continue reading…
No One EVER Gets Paid For Sharing This…
The reason I knew at the outset that this was a scam (apart from what I mentioned earlier) is that I've seen this scam before.
In fact, I have seen this exact same scam run under 7 different names already.
If you click on the above link you will literally find 7 different reviews for this same scam dating back as far as April of 2016.
And this is just the tip of the iceberg so to speak.
There have been hundreds, maybe even thousands, of these sites come and go over the years.
It's just that I rarely review these sites anymore because they come and go so often it is ridiculous. And they deliberately use generic names like "Pay Hourly Jobs" which makes it near impossible to rank in Google and actually warn people.
Anyways, the latest version of this scam I reviewed was called Best Cash Job which is essentially the same site. And which is now defunct. In fact, ALL of these sites are defunct now.
And more importantly- no one ever got paid a single cent.
You may see the 'dollars' rising in your back office but this is not real money. It simply goes up with every click on your link automatically, even if you are the only one clicking on it.
I am yet to see or hear about ANYONE who joined ANY of these sites actually receiving a check.
How Does The Pay Hourly Jobs Site Work?
This site works by first of all luring unsuspecting newbies into creating a free account.
The process is simple and easy. And once inside, your job is then to start sharing your link. For example on sites like Facebook and Twitter, forums, websites and so forth. Basically anywhere you can share your link.
At first this looks cool and relatively risk free. Because it didn't cost you anything and according to your back office, you are earning money. And once you reach $300 you are apparently paid what is owing to you.
Except you never get paid and there is a hidden agenda here…
The reason this site exists in the first place, is to build a massive email list of people who want to make money online. This is why it is free, yet still makes the scammers running it a LOT of money.
This is why you need to give them your name, address and email to signup. And this is why there is NO privacy policy in place- anywhere on the site.
In any case, there are BIG profits in selling personal information online.
So unethical marketers like this create fake home jobs, literally in an effort to build a huge email list to rent and sell to other sleazy marketers.
And this particular scam works so incredibly well because the people running it are using people like you to do their dirty work for them!
Well meaning folks like you are literally going out and convincing their friends and others to join this site. You might think you are earning money and helping others do the same. But in reality, you are helping these scammers build their SPAM list (for free).
This is the unfortunate reality of how this site works.
Verdict – Is PayHourlyJobs.com a Scam?
I think it is pretty obvious by now that payhourlyjobs.com IS a scam.
Here's why I say this (to sum it up)…
First of all, no company is paying you $10 per link click. This is beyond ridiculous when you understand how internet marketing really works.
Second, there are MANY versions of this scam site that have come and gone over the years. Which is simply not how legitimate businesses operate.
Third, no one ever actually gets paid. This is precisely why they need to continue changing names and URLs so often, because eventually people start catching on.
Fourth, the real agenda is clearly to rent and sell your personal info (name, address and email). This is the only reason a site like this exists, which is further proven when you consider the complete lack of ANY privacy policy on the site.
It is clear to me that this is a scam so I certainly won't be recommending it.
If you decide to join and share your link, I do not recommend using a real email to signup. I also don't recommend spamming this all over your social profiles because you will end up losing your account, and maybe a few friends along the way.
Hope this helps.