Today I received an email about a "hidden innovation on boats" that Charles Mizrahi says will "mint more millionaires than any time in modern history."
I eventually discovered what it was really about – selling me a financial subscription to Alpha Investor Report. Which apparently shows you how to profit from a $15.7 trillion revolution, and turn every $1,000 you invest, into $26,100.
Is it legit or just another scam? Alpha Investor Report isn't a scam, it's a legitimate investment subscription created by Charles Mizrahi and the team at Banyan Hill. The membership costs $49 to $129 and gives you access to monthly newsletters and bonuses. Which includes a report on how to profit from the upcoming AI (artificial intelligence) industry.
With that being said, most "newsletters" I review tend to sound more amazing than they really are. So let's take a closer look at how this really works.
Profit From a $15.7 Trillion AI Revolution?
The way I found out about Alpha Investor Report was through a video featuring Charles Mizrahi. Who basically says there's a "hidden innovation" on boats about to hit our shores, that is going to make a lot of people rich.
Which naturally leads you to wonder what this "innovation" is, right?
Well, I watched the video and researched further, and it turns out it's all about artificial intelligence (AI for short). And how this industry is going to surge over 142,672% in the coming months and years, and disrupt the entire market.
And he says it's not going to take as long as other industries like electricity, phone, internet or social media either. He shows how the rate of change is increasing (which is true) and points out that AI could change the world very quickly.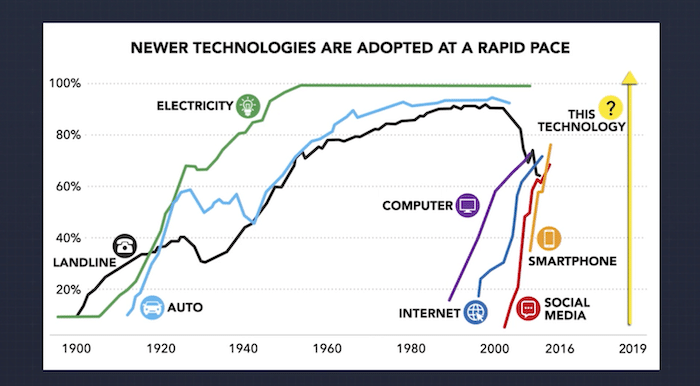 What is AI?
It's basically an advanced technology that is far superior to regular computing systems. It's a form of "intelligence" that mimics humans natural intelligence. Which is why it's automating many industries and replacing lots of jobs.
And according to this article about AI on Forbes, it will add $15 trillion to the world economy by 2030. So there's definitely some truth to what he's saying.
In any case, Charles says he knows ONE company that has 3,849 patents on AI related technology. And that by purchasing an Alpha Investor Report subscription, he'll show you what that company is. And how to turn every $1,000 you invest in it, into $26,100.
Sound too good to be true?
Maybe, but I think we need to dig a little deeper to find out…
What Is Alpha Investor Report?
Alpha Investor Report is a monthly newsletter service presented by Charles Mizrahi, that shows you how to make money in the stock market.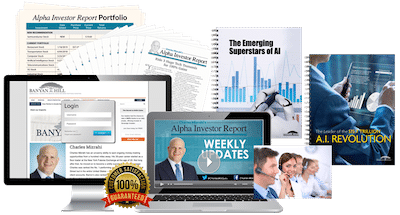 As a member, you get access to 12 months worth of research reports from Charles, with a new one being delivered to you every 30 days. You also get access to a member only website, weekly trade alerts, and his model portfolio. So you know exactly what to buy and sell at any given time.
In addition, you get access to the following bonuses…
The Leader of the $15.7 Trillion AI Revolution (PDF report). This is the main bonus as of writing this, that shows you how to profit from the upcoming AI revolution, by investing in Charles' chosen stock.
The Emerging Superstars of AI (PDF report). This PDF walks you through an additional three companies that Charles says are set to profit from AI technology.
The Alpha Investor Report Trading Manual (PDF report). This is a manual that shows you how Charles actually places trades and essentially the mechanics behind the trading process.
Real Wealth Strategist subscription. Real Wealth Strategist is another 12 month subscription that was created by Matt Badiali. It is a similar deal to Alpha Investor Report in that it's a monthly newsletter that shows you how to make money trading the market.
How much does it cost?
The cost of becoming a member is between $49 to $129 per year. It is $49 for standard subscription, $79 for premium, and $129 for deluxe. Basically the more you pay the more bonuses you get on top of what I just mentioned.
How Does It Work?
The way this works is pretty straightforward.
The idea is to first of all choose which subscription to Alpha Investor Report you want (standard, premium, or deluxe). And once you've done this, you will get access to a members area that contains the newsletter for that month, and all of your bonuses.
At this point, you are going to be getting access to the stocks that Charles recommends, including the AI stock he talks about in the video. So you can then invest in that company and (hopefully) make some great returns.
You will also be learning about other companies and be able to educate yourself on how everything works, to potentially make even more money.
Here's an overview of how it works:
Choose a membership option (standard, premium or deluxe).
Access the members are where you can learn how to trade, and see what stocks Charles is recommending.
Decide what you want to invest in, based on this information and all going well, turn a decent profit.
One of the cool things about this is you get to see Charle's "model portfolio". Which means you can see all the stocks he has recommended in one place and research these to see if they've gone up or down.
This way, you can do your own due diligence before investing anything and as a result, reduce your overall risk.
Not to mention, you get access to lots of other great resources like educational content which helps you grow your knowledge. And trade alerts which show you when to invest and when to sell.
Who's Behind This?
The person behind this is Charles Mizrahi, who works for a company called Banyan Hill.
Charles Mizrahi is an expert trader and money manager, who got his start back in the 1980's. According to Banyan Hill, he's the top performing market timer in the United States. Meaning, he knows when to place trades and when to sell.
Which he demonstrated in 1987 when he helped his clients avoid the crash of 87 and successfully profited throughout subsequent ups and downs. Including the dot-com bubble and financial crisis of 2008.
Aside from Alpha Investor Report, he also created subscriptions such as 8-Figure Fortunes and Winning Investor Daily.
So he has been doing this stuff for a pretty long time (over 30 years) and knows his stuff. Which means he's probably someone who you could learn a lot from.
Here's a video I found of Charles to give you an idea on what to expect:
Where does Banyan Hill come into the picture?
Banyan Hill is a publishing company that guys like Charles Mizrahi work for. They sell many different financial publications and work with many different industry experts.
For example, Real Wealth Strategist that I mentioned earlier, which is a bonus you get when you purchase a subscription to Alpha Investor Report, is presented by Matt Badiali. Who also works for Banyan Hill.
And I am familiar with Matt Badiali. He is the guy behind Freedom Checks and 1 Minute Windfalls. He's certainly an expert in the field but if I'm being completely honest, I wasn't a fan of Freedom Checks.
It was in my opinion a bit misleading in the way it was presented. It basically implied that people would signup for free checks from the US government, when in reality it was about investing in stocks (lol).
So sites like Banyan Hill have a track record of using hype to sell stuff. That doesn't mean what you'r buying isn't valuable, but it does pay to exercise caution.
Is Alpha Investor Report a Scam?
No, Alpha Investor Report is not a scam. It's a real newsletter service created by an expert with over three decades of experience. And he's showing you how to profit from something that could easily be huge in the coming months and years.
AI is going to be disrupting virtually every industry on the planet. And if his recommendations are correct, you could be set to profit from this trend.
I also think that, for the price of $49 per year, it's not a huge risk. At least, not in the respect of buying the actual subscription. And they offer a full year money back guarantee. So if you buy and decide on day 364 that you don't like it, you can contact them to get your money back. Which I think is cool.
With that being said, there certainly are risks involved here, as there are with any type of investing. Because nobody, no matter how good they are, can predict the future. Which means buying shares in the stock market does present a very real risk.
And either way, I wouldn't expect to just signup and turn $1,000 into $26K like clockwork. Or make 142,672% in gains like he says. I mean, sure, some people might see these gains. And there is potential to make this sort of profit.
But I don't think it's wise to signup expecting this, as it's almost certainly the exception to the rule and not what the average person should expect.
Summing It Up
I believe Alpha Investor Report could be a great newsletter service for the right person. Especially since it is presented by an expert in trading the market. Specifically, someone who has a proven track record of placing the right trades, at the right time.
So I think there's a lot of value here. And it could be great for someone who is interested in trading stocks or even just someone who wants to jump in front of potentially game changing trends like AI.
I wouldn't expect to get rich overnight though.
Like any type of trading it definitely can be risky. Even if it looks like a "sure thing". So I would approach this in a sensible manner and only invest what you can afford to lose.
Whatever you decide, I hope you found my review helpful. And if you have anything you want to share, feel free to do so in the comments below.
FAQ
What Is Alpha Investor Report?
Alpha Investor Report is a monthly newsletter service presented by Charles Mizrahi, that shows you how to make money in the stock market. And how to profit from the coming AI revolution.
How Does It Work?
To get started you need to purchase a subscription, which gives you access to training, tips, trade alerts and recommended stock picks.
Who's Behind It?
Charles Mizrahi is the man behind Alpha Investor Report, who is also behind subscriptions like 8-Figure Fortunes and Winning Investor Daily. He works with a company called Banyan Hill Publishing, who actually sells these.
How Much Does It Cost?
The subscription costs $49 for the Standard subscription, $79 for Premium, and $129 for the Deluxe edition.
Is It Legit?
Yes, Alpha Investor Report is legitimate in my opinion. I just wouldn't expect to join and start making tons of money overnight.