You're looking for a way to earn money from home, and you're hoping Freedom Cash System is the answer you've been searching for.
Well done. I admire anyone who strives to break free from the 9-5 drudgery, and it's smart to be doing your research. But unfortunately, this 'system' is not what it seems.
Pay close attention as I show you exactly why I'm saying this…
Freedom Cash System Review
Before we dive into the program itself, I wanted to briefly discuss the page people visit beforehand. Which is a fake news article featuring Bill O'Reilly…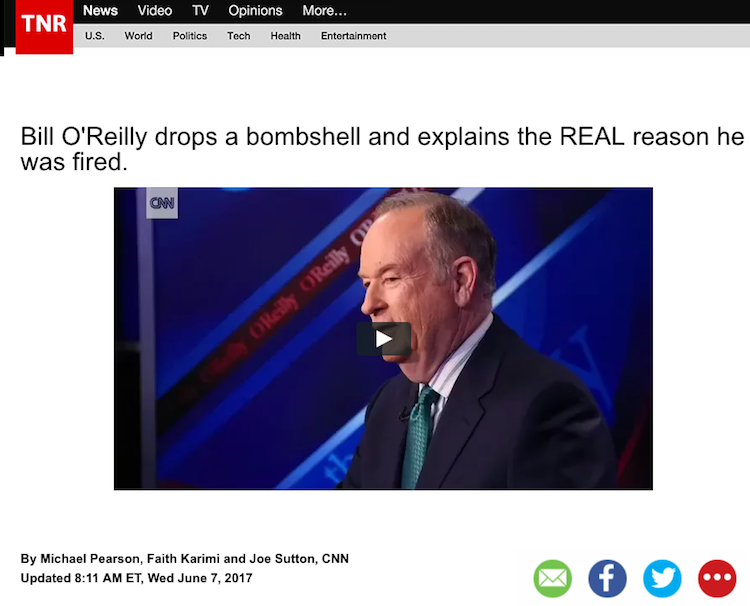 The people behind this program, setup a fake news article about Bill O'Reilly to pretend he is 'endorsing' Judy Greer's Freedom Cash System.
The article claims that the reason O'Reilly was recently ousted from Fox, was because he was about to tell everyone how amazing the system is, and they didn't like it…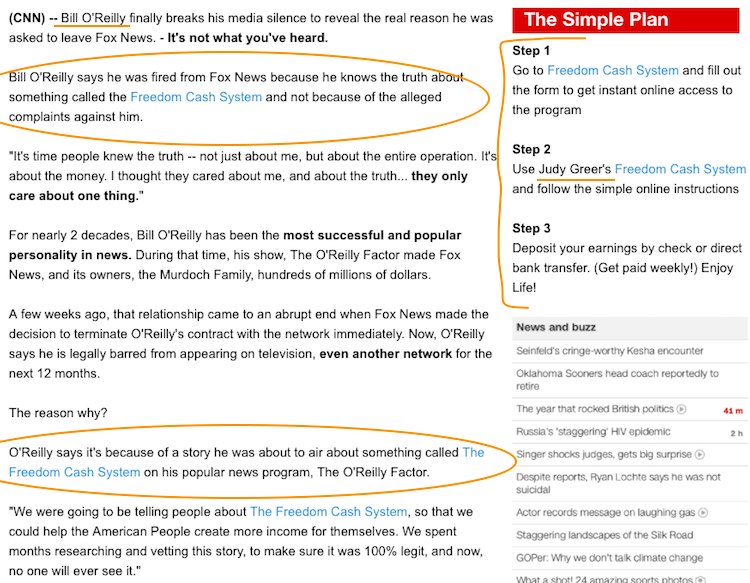 This story is completely fake, and it's a common trick used by scammers to give their program credibility.
To top it off, the article even includes a fake tweet from Donald Trump: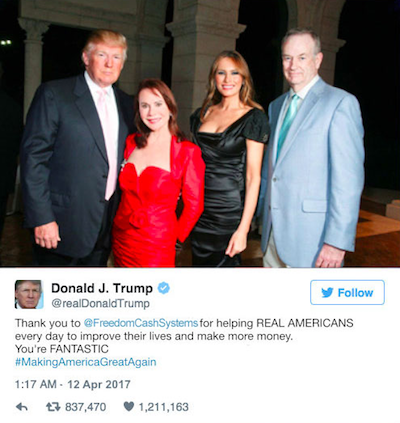 This isn't the first time the reputation of a successful, respected member of society has been taken advantage of. Often, the scammers take parts of real news stories, use stock photos, and make enough changes to make their story somewhat believable.
In the world of marketing, this is known as an 'advertorial'. A super sketchy one at that!
It works because it catches people off guard, and it builds trust with unsuspecting people very quickly. People who are in too much of a hurry to take a closer look, people who want to believe it's true. From there, they link these folks to whatever they are promoting at the time.
At one point, this article was being used to promote a similar program called Complete Profit Code. I discovered this after watching the video they've placed on the very same page.
Here's a screenshot of that video to show you what I mean: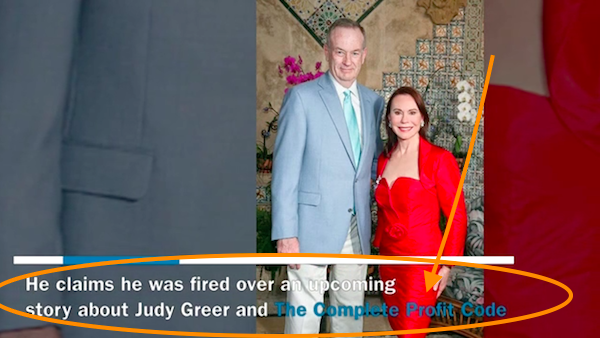 In other words, the article itself is promoting the Freedom Cash System. But the video mentions "Judy Greer's Complete Profit Code".
In any case, this blows a pretty wide hole in their story.
What Is The Freedom Cash System?
Put simply, the Freedom Cash System is a link posting scam.
I've reviewed many similar programs on this site, and there's nothing good about them. They're all the same.
This particular 'version' was created by Karen Evans, which is an alias.
She uses the same story as all the other fictional characters… she was a struggling mother who lost her job, ran into a man at a doctors office, and discovered the 'secret' to posting links online. Now she's rich, and wants to help you do the same. She claims you will easily begin making hundreds of dollars per day by following her simple system.
She even gives you an income calculator to work out your potential earnings: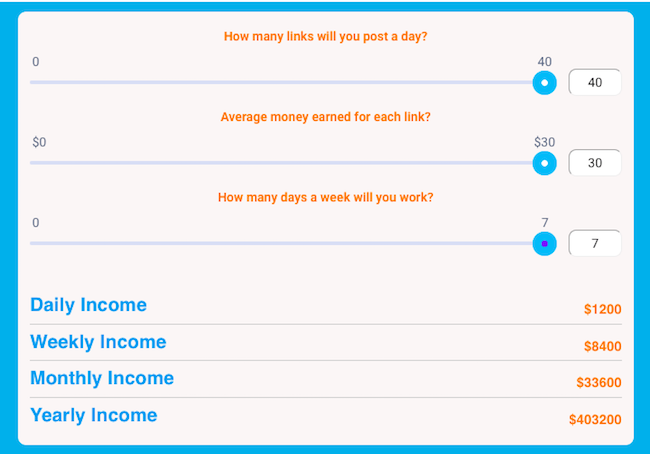 The default setting shows you'll make $1,200 per day posting links.
Cool story Karen! But it's fake. All of it.
For starters, Karen Evans is one of many fake alias' used by these programs. One of the most common characters I've seen is Kelly Simmons, who has an almost identical story.
Here's Karen's story: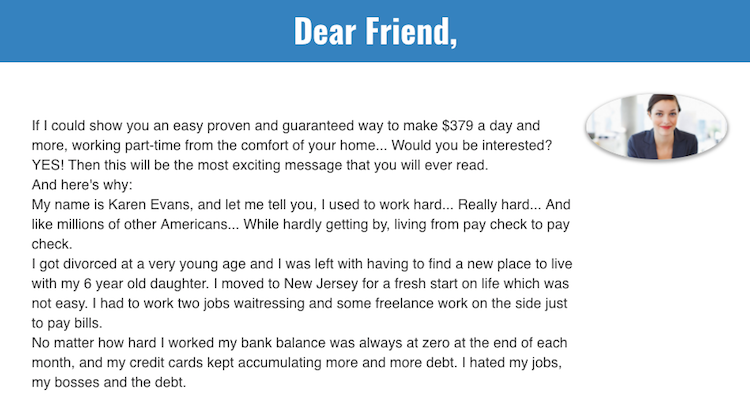 Now here's Kelly's story: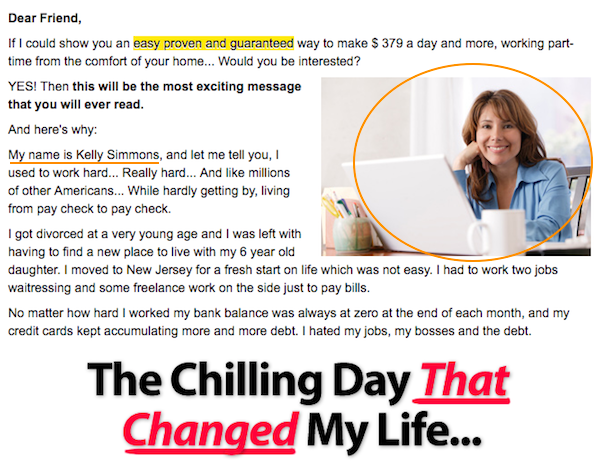 See the similarities? Yup.
This is the first time I've reviewed a program who uses the 'Karen Evans' alias, but a simple Google search reveals some of the other programs she's been involved with.
Anyways, link posting is not a real work from home job. Period.
The so called Wealth Development Certification Program they talk about, is completely fake. There is no certification, because there's no real job.
What is link posting?
In short, link posting is something these people made up to make affiliate marketing (a legitimate business model) seem like a simple and easy job. It's not.
Affiliate marketing is a business, and there's a lot more to it than 'posting' affiliate links online. If you want to learn affiliate marketing properly, avoid this program.
Beware of the SCAM Sales Tactics
I've already shown you the fake news story they use to lure people into this program. But it doesn't stop there. Not by a long shot. The Freedom Cash System sales page is full of misleading hype designed to trick you into buying.
Here are some of the common scam tactics used to convince you to buy…
Misleading News Endorsements
Right at the top of the sales page, you are greeted with a news video: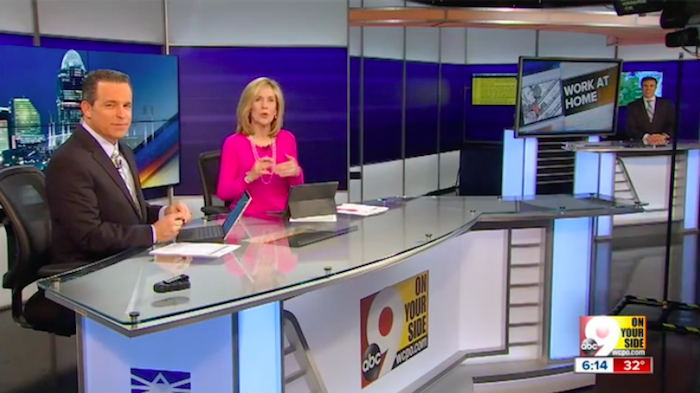 In and of itself, the news video is real.
It features people who work from home and some of the popular work at home jobs being offered by well known companies.
Unfortunately, this is exactly why it catches so many people off-guard.
The important thing to understand is that this news video is NOT endorsing this work at home program. Many people who land on these sites, who've come from a fake news article, believe the news has featured this program.
Especially when you scroll down the page and see this:
URGENT UPDATE: Recently this work at home opportunity has received a lot of national media attention.
Make no mistake, this is just another trick designed to gain your trust. It's not real.
Do You Really Get $500 Just For Joining? Nope.
Another tactic this program uses, is convincing you that you will receive $500 just to join the system. Kinda strange when you think about it, why do they need your money if they're going to give you all that cash right away?
It makes no sense.
I decided to do some research to see if I could uncover the truth about this. Here's what I found on their 'terms and conditions' page: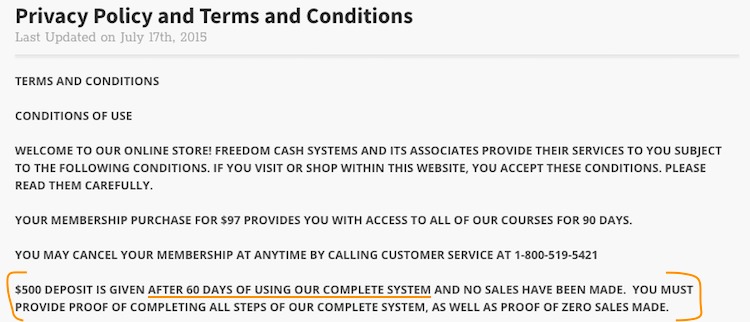 I reviewed a program called Countdown To Profits a while back, which also costs $97 and offers this guarantee. In that review, I show you how that offer comes with some serious strings attached.
For one thing, you must purchase over $2,500 worth of addittional products to qualify!
I'm not saying this is the same deal, but it's possible given the similarities. In any case, the whole $500 thing is BS. No one's going to give you that amount of money, just for buying their $97 program.
The 'Limited Spots Available In Your Area' Is a Hoax
One of the ways programs like this get people to buy on impulse, is by making the offer appear to be scarce. This is a proven marketing strategy and it can be used ethically.
In this case however, it's a flat out lie…

No matter how many times you navigate back to the sales page, it will always say the offer is 'limited'. I can assure you, there's nothing limited about this. Their goal is to sell this crap to as many people as possible.
The Testimonials Are 100% Fake
The testimonials on the page might appear to be from real people who are actually using this system, but they're not. I don't expect you to take my word for it though, so I'm going to show you proof.
Here is one 'testimonial' from Veronica: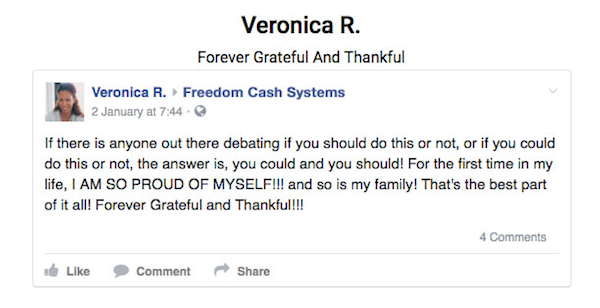 Now here she is in a stock photo directory: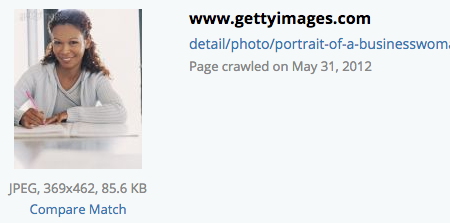 This same tactic is used for all of the testimonials given on the page.
Why? Because no one is actually making money with this system, so they just make it up to trick you.
What Really Happens After You Buy
Once you join this program, you do get some VERY basic training. The training is a series of short, generic videos that talk about affiliate marketing.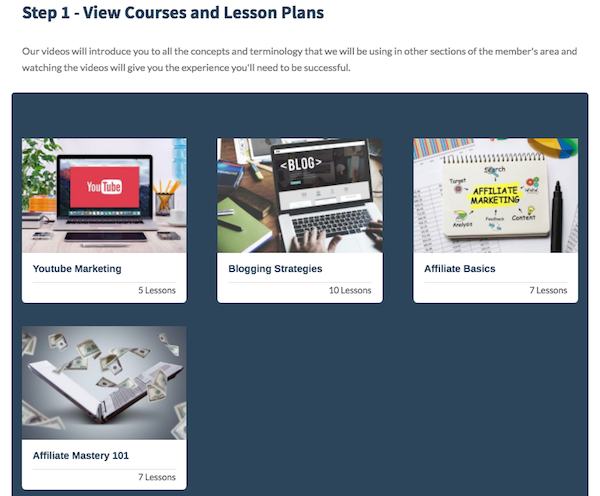 As you can see, this is not a job.
In total, there's just over 3 hours of material that covers Youtube marketing, blogging and affiliate marketing basics. Once you've finished watching these videos, that's pretty much where it ends.
The next step will leave you guessing: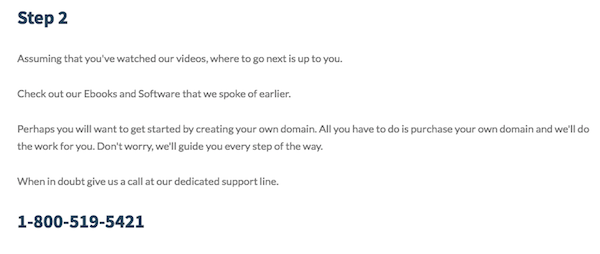 According to 'step 2'… "where you go next is up to you". Cool. Thanks guys!
This is done purposely. Because at this point, their primary goal is to get you to call the number on the screen, so they can 'coach' you.
In reality, their plan is to up-sell you into much higher ticket products.
Since no one knows what to do after watching the videos, many people do call that number. And many people do lose a LOT more than $97.
On the plus side, there is some useful information contained in those videos and at least your money is going towards an actual product. The downside is, you're very unlikely to actually make money following this stuff.
As someone who actually makes money as an affiliate, I can safely say that 3 hours of generic training ain't gonna cut it. Not to mention, you need proper tools and support if you want to succeed.
And that was the good part…
Another thing that happens after joining, is your information gets shared with other marketers.
As with all of these link posting schemes, your information is also up for grabs. When you give these people your email address, expect to be spammed by them, and anyone they share your info with.
Their privacy policy discloses this:
Freedom Cash Systems reserves the right to charge third parties a fee for accessing your information. 
It doesn't get much more clear cut than that, they're going to sell your email to the highest bidder. This is big business online amongst unethical marketers.
Is Freedom Cash System a Scam?
The ONLY thing that separates this from being a complete scam, is that you do get SOME training for your money. But that's about it.
Here's why this program is not something I consider legitimate:
The marketing is completely unethical, fictitious and grossly misleading
Link posting is not a real job, or business
They lie about giving you $500 for signing up
The training is not enough to help you start a real home business
They employ aggressive telemarketers to up-sell you more programs
You are spammed from the moment you give them your email
Your information is sold to the highest bidder
That pretty much sums up why I'm not a fan.
Conclusion
Many people love the idea of working from home. Having more freedom and living life on your own terms is certainly a goal worth striving for, and it's entirely possible.
While there are some great programs that actually do help you do this, there's also a lot of sketchy ones too.
For the most part, these low quality 'link posting' programs prey on desperate people who do not know any better. They make everything seem ultra simple and easy, and set people people unrealistic expectations of earning money online.
It's not until you've lost money, that you learn this the hard way.