You've got a website, but how do you market your site without spending a fortune?
There are many ways to do this, some good, some not so good. The basic concept is that advertising costs money, but costs you very little time. While free online marketing costs you nothing, but will take time to learn and implement.
The great thing about the following methods however, is that (while they are free) they are by no means low quality. In fact, some of these methods can arguably produce the highest quality results possible. In other words, free does not mean cheap.
Rather than waste your time with a bunch of half baked methods that you'll probably never use, I'll simply show you what works. By learning and applying the following online marketing strategies to your website, you will get results.
Local Marketing
If you have a local business and a website you use to market it, there are some very effective ways to get your site noticed.
One way is through local citation websites that are both general in scope, and specific to your type of business.
The following are good examples of these sites:
FourSquare.com
Yelp.com
Google My Business
BingPlaces.com
YellowPages.com
There are many more examples of citation sites worth getting your website listed on. This is easy to do, and completely free. The more you get your business out there, the more chance you have of landing customers.
By far the biggest of these sites is Google and it's also the one I recommend spending the most time learning about. When you claim your listing on Google My Business, your business shows up when someone searches for it.
Here's an example to show you what I mean: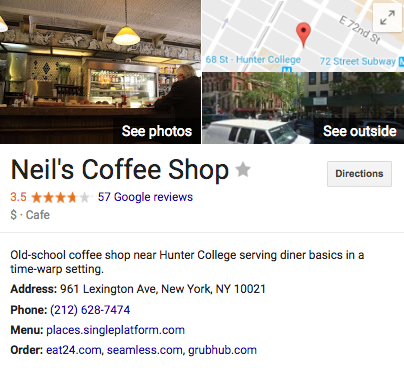 Not only can you get a free local listing, but you can learn to get your website ranking in their "organic" search results as well. This means that whenever someone is searching for "product/ service X" in your location, your business shows up! This can be an extremely powerful strategy to attract new customers and beat the competition, and I'll delve into this now.
Content Marketing
Regardless of what kind of website you have (local, affiliate marketing, blog, ecommerce etc.) content marketing is (hands down) one of the best strategies you can leverage for free.
This is all about creating useful and relevant content targeted at specific keywords and getting that content ranking in Google, Yahoo and Bing. When you get your site ranking in those search engines, you will get traffic (AKA visitors) to your website.
But how do you do this exactly?
If you have a local website, or an online store for example, you could create a 'blog' section within that site. Alternatively, you could create a separate website altogether just for your blog content.
Whatever the case, the ideas is to create useful and relevant content for your target audience that helps them solve a problem. Your content should be targeted at certain keywords that are relevant to your audience, so that when they are searching for answers within Google- your site shows up.
Let's say you had a website about health and fitness for example. You learn how to do some basic keyword research and discover that people are searching for "how to lose weight by doing yoga" and that the competition surrounding this keyword is low. Awesome. You post this content following the right process, and within a relatively short period of time (varies) your content will show up in the search results for this term.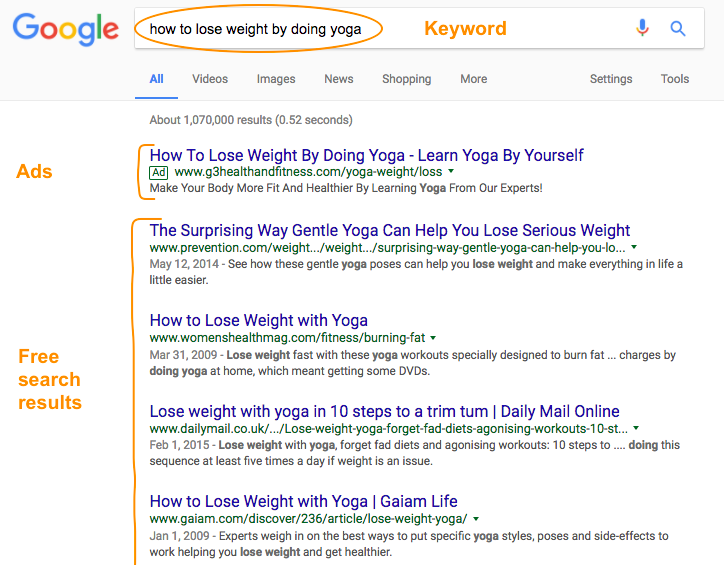 As you can see, there are a number of results that showed up once someone typed this keyword into Google. This is where your site would be. Of course, nobody can guarantee you ranking results since this is an 'organic' process, but you can learn to get good at this. Even as a complete newbie.
How did I know this was a good keyword?
I look for keywords with a decent number of searches each month, and low competition. There are many different tools you can use to identify these 'good' keywords, but the tool I personally use and have seen awesome results with is called Jaaxy.
They give you a free trial account with 30 free searches, and after that is costs $19 per month which is what I use.
You can use free tools to find keywords, or 'guess' what keywords to target. But the results will be hit and miss.
For example, the Google Keyword Planner is 100% free, however it is not the most helpful tool for "organic" keyword research. This is because the results they give you are broad and the competition factor only takes into consideration people using paid ads. Since you want to rank for free, that isn't going to help you very much.
YouTube Marketing
Done correctly, YouTube video marketing can be incredibly powerful.
Much like content marketing, your goal is to create useful and relevant content that will engage your audience. You can post many different types of content, and target it to certain keywords, much like how I just showed you. Since Google owns YouTube and YouTube videos show up in Google search results, it pays to learn about keyword research.
There are many different types of content you could create, such as educational, industry/ business updates, entertainment, and pretty much anything your target audience would want to watch.
The idea is to create a YouTube channel, post quality videos targeting the right keywords and place a link to your website in the video description for people to 'learn more' about whatever it is you offer or are promoting.
Social Media Marketing
Learning how to use social media to your advantage is well worth your time. Not only can this be a very powerful way to market to your audience, but it can also be a great way to learn about them too.
At the very least, you will want to add some social share icons to your website so you can get free traffic when people share your content. I personally use a WordPress plugin called Social Warfare which I find is very effective. It's loads fast on your website, it can increase the number of shares you get and it's very cost effective. But there are many free options worth using as well, such as SumoMe or AddThis for example.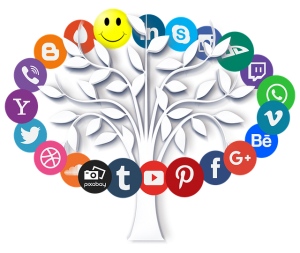 As you likely already know, popular social channels include Facebook, Twitter, Pinterest, Instagram and Google Plus, but there are many more. The social media platform you choose will depend on your business and your audience.
For some, using Pinterest and Instagram is the best option. These are visual channels that resonate well with certain audiences and within certain niches more so than others.
For others, focussing on Facebook, Google Plus or Twitter are more beneficial. Personally, I recommend focussing your efforts on one or two until you master those.
As a general rule, Facebook is a great option and there are several ways this platform can help you as I explain below.
Facebook Business Page: While obvious, this can be an effective way to share your content and boost traffic to your site. This is free to setup and you can share your posts for free, although it is best to have a small budget if you want to reach your target audience effectively.
Join or Create a Facebook Group: This is all about connecting with folks within your niche. It's easy to do this, and can be a good way to introduce people to your content. Creating a FB group takes a little more work, but can be a good way to create a community of people who are interested in what you have to say. The idea is to connect with people, and direct them (tastefully) to your website.
Facebook Tracking Pixel: Marketing isn't just about promoting. It is equally (if not more so) about learning about your target audience so that you can launch profitable campaigns. The more you understand your audience, the better you are going to be able to help them. The more you can help them, the more money you will make as a result. Facebook gives you a special 'pixel' which you can install on your website. This sends aggregated data to FB about the type of folks who visit your site. Not only can you learn a lot about your audience this way, but you can then 're-market' to these same folks while they are on FB.
Forum Marketing
This is often overlooked, but a very effective strategy.
The idea here is not to SPAM anyone. Period. Doing this is going to reflect poorly on you, your business, piss people off and get you nowhere. No one likes a spammer, so avoid this (or appearing like this) at all costs.
What you DO want to do, is add value to people who are discussing relevant topics within you niche. Look for relevant forums, or general forums where discussions are taking place about a relevant topic to your niche, and add valuable content/ insights to help people.
One strategy is to look for questions people are asking, and answer those questions in the most comprehensive way you can. When you do this, people begin to trust you, they will want to connect with you, and a percentage of them will click through to your profile description where you have a link to your website.
This is highly targeted, free traffic.
In some cases, people are going to 'upvote' your answer to a specific question or your post on a certain topic. This can lead to more authority, trust, views and ultimately, clicks and sales on your website.
Again, this is not about spamming. This is about adding value. This concept can be applied to any number of forums and can eventually generate a lot of traffic. Like anything, you can learn to master this with time and practice.
Useful Tips To Boost Your Results
There are many ways you can improve your website to increase the results you get from your free traffic, and also to improve your marketing so you can get more free traffic.
Here's some simple and effective ways to boost results…
Improve Your SEO: One of the best ways to ensure your website ranks well in search engines, is to improve it's SEO (search engine optimization). You don't need to hire someone to do this if you don't want to, it's really not necessary depending on which website builder you are using. For example, website builders like WordPress are great for SEO 'out of the box'. There are many options out there, but the good builders will have a good framework for SEO in place. Apart from creating useful, relevant content focussed on the right keywords, here are some other useful SEO tips.
Reduce Page Load Time: There are so many good reasons to do this, including SEO related reasons. Most people will abandon a website if it takes even 3-4 seconds to load… yep. You should aim to reduce your page load speed time to under 2 seconds if possible. Free tools like Pingdom and GT Metrix are useful for analyzing your page load time. One of the most important is making sure you use a good web hosting company, but factors such as optimized images, and not installing plugins or add-ons that slow down your site are very important also.
Create Good Content: I talk about this a lot, I know. But regardless of what many so called 'SEO gurus' will tell you, creating useful and relevant content is (hands down) the most important factor in getting your content ranking in search engines. Spend time learning about what good content means in general, and for your audience, as this can pay off in spades over time.
Engage With Your Audience: When someone posts a comment, reply to it. It is important to engage with your audience on social media, and on your website. Not only does this build trust and a loyal following, but (in my opinion) it can help your SEO. When Google sees people spending time reading and engaging with your website's content, it can only help.
Test, Track and Tweak: Free tools such as Google Analytics are very useful to learn and understand all kinds of useful information about your audience, and their interactions with your website. Understanding how long people spend on the pages of your site, what links they are clicking on, and all kinds of other useful metrics,  can help you improve your site for your visitors. It can also give you a good indication as to what content you should be publishing to get the maximum results. The better content you publish, and the better you make your site for your visitors, the better results you will see.
Include a Call To Action (CTA): Every page on your website, including other elements, should be directing people to the ONE page you want them to visit the most. If you don't have one page you want people to visit… get one. You want people to know (beyond any shadow of doubt) exactly where you want them to go on your site. Having a messy, chaotic website with poor CTA's will be a massive detriment to your website's marketing performance. Keep it simple, and you will maximize the value of each visitor and keep people happy because they know where to find the core value your site offers them.
The Bottom Line
The most important thing to do, above all else, is to focus on giving your audience a valuable experience with your brand. Regardless of the channel, the tools you use, or the marketing strategy you implement, giving people value on all fronts is paramount.
When you do this, search engines will love your site, you will get more visitors, your visitors will love your site and ultimately, you will see a much better return on the time you put into your marketing campaigns.