A reader recently requested I take a look into Federal Account Recovery and their work from home job involving 'worksheet processing'.
I do a lot of reviews on this site so I was keen to see what it was about.
Anyways, I spent some time looking into this and I have to say it doesn't look good. It appears as though the people behind the Federal Account Recovery website are running a scam. One that rips people off for $5 per worksheet submitted.
Granted, that's not a huge sum of money. But it's enough to make the people behind it a good chunk of change at your expense.
In this review, I'm going to break down the reasons why I don't believe it's legit. This way you can make your own mind up before investing your time and money.
What Is Federal Account Recovery?
Federal Account Recovery claims to help people make money processing worksheets.
According to their website (federalaccountrecovery.com) they "reunite people across North America with their lost bank accounts, insurance policies, stock dividends and other missing property".
In other words, they re-connect people with their lost assets, such as money or property.
In doing so, they claim to earn 30% of the amount they help recover and share 75% of that with you- the "worksheet processor".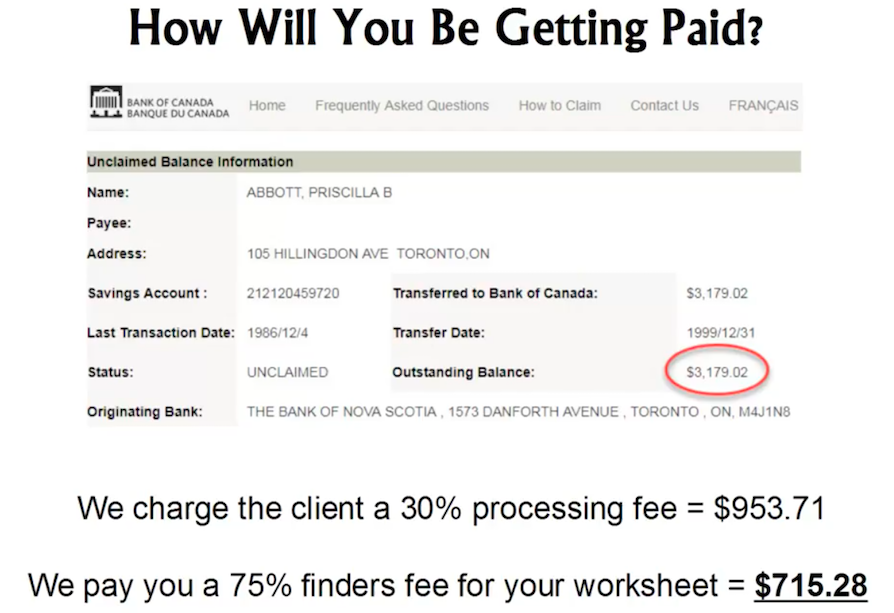 There are legitimate asset recovery companies out there of course. And people really can claim their lost funds through the appropriate channels.
According to the NAUPA website, billions of dollars in lost assets are collected and returned to people each year. Within the United States and Canada alone. NAUPA stands for 'National Association of Unclaimed Property Administrators' and they're the primary authority for unclaimed property within the US and Canada among other countries.
Anyways, the process of finding and obtaining your lost funds is free and can be done through the above website or through the Missing Money website.
However, the folks at Federal Account Recovery say the process of getting your lost money back is quite tedious. So they make life easier by finding lost funds for people (with your help) and charge a fee to the recipient for doing so.
I guess their story does sound somewhat believable at this point. So it's understandable if you've fallen for it. But as I will now explain, there's some serious holes in their story…
How 'Worksheet Processing Jobs' Supposedly Work
The Federal Account Recovery website itself doesn't serve much of a purpose. The home page consists of some generic information, stock photos and (oddly) a link for people to buy web hosting. Which makes zero sense for people looking for a work from home job. The only 'useful' part of the site is the FAQ page which clarifies some aspects of the program.
Further research reveals that the real website used to lure people into this is called Legit Flex Jobs Academy (legitflexjob.com). This is where you sign up, follow the instructions, and begin processing worksheets.
Here's the process of making money according to the Legit Flex Job website:
Create a free account at LegitFlexJob.com and watch the 'training' videos
Search the various databases to find random accounts over $500
Use that information to fill out the worksheet they give you
Submit your worksheet along with a $5 'shipping and handling' fee (per worksheet)
Within 3-5 days of the company receiving your worksheet, you apparently get paid
Sounds simple enough, and going by the example, you can make $100's per worksheet you submit. But the scam here is that no one ever gets paid. Which means you are essentially just sending anonymous people money for nothing.
Read on to see why I believe no one's getting paid for this job…
Why No One's Getting Paid To Process Worksheets
For starters, the turnaround time of "3-5 days" to get paid does not make sense.
According to the FTC website, recovery companies "cannot ask for — or accept — payment until seven business days after they deliver the money or other item they recovered to you".
Let's consider this for a moment…
Once Federal Account Recovery receives your worksheet, they need to contact the beneficiary. This would have to be done via post since this is all the information you get when searching these 'lost fund' databases. I checked.
This process alone would take well over a week. They have to send the letter to the person who's funds are lost. Who then needs to read the letter, agree to engaging FAR to recover the funds, and return some form of authority in order for the recovery to begin.
So there's easily a week right there. This is just plain logic.
Anyways, from there, there would easily be another week (or quite possibly more) in actually claiming the funds back from wherever they are being held. They would need to contact the relevant organisation, and they would need to process it on their end. Then, the fund would need to be released to the rightful owner.
There's easily another week right there. And that's being generous. In any case, only then does the mandatory seven day waiting period begin.
Remember, the FTC clearly says no company can ask for money until the recipient has received their money in full, and seven days have passed.
So we are (logically) looking at at least 3 weeks before Federal Account Recovery will receive their 30% finders fee from that person. Assuming all goes to plan.
So ask yourself- how can they pay you within 3-5 days of receiving your worksheet?
The simple answer is that they don't pay you. There's no way they're going to be giving people $100's or even $1000's in advance of getting the payment themselves.
Not a chance.
To further concrete my suspicions on this, I'm unable to find anyone who's actually been paid. Instead, there are complaints from people who've got nothing.
Here's one such complaint on the BBB website…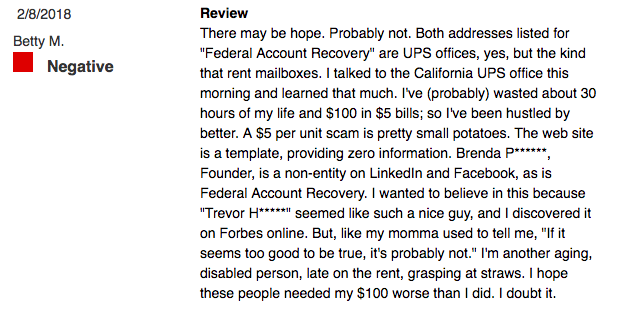 What's more alarming is the number of people who are marking these complaints as helpful. This is a good indication that many people are getting stung by this.
Who's Really Running The Company?
Good question! The Federal Account Recovery website uses an anonymous domain registration for a start. Which isn't necessarily a bad thing in and of itself. But it is when you consider this company as a whole. And it is when the 'founder' of the company hides their true identity.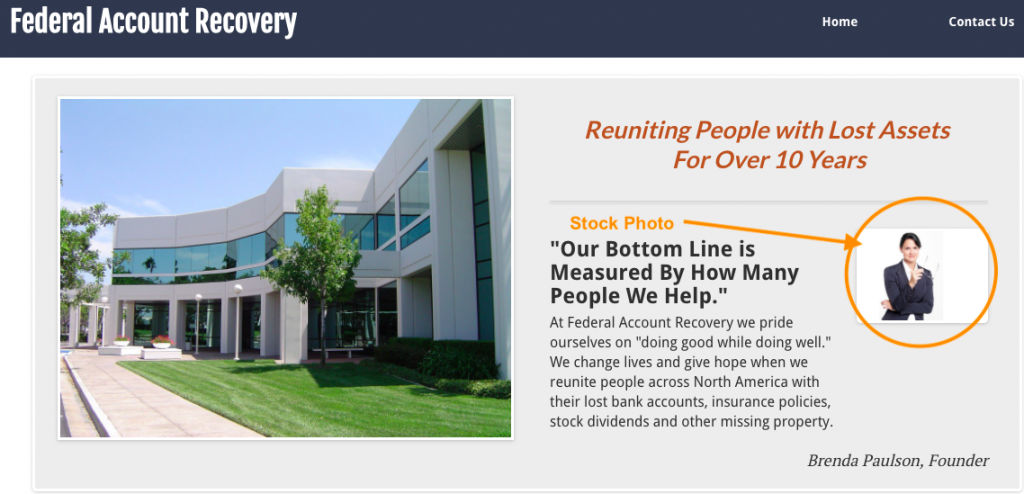 According to the website, Brenda Paulson is the founder. But that's about all they say. No 'about' page, no social links- nothing. Turns out she's a stock photo…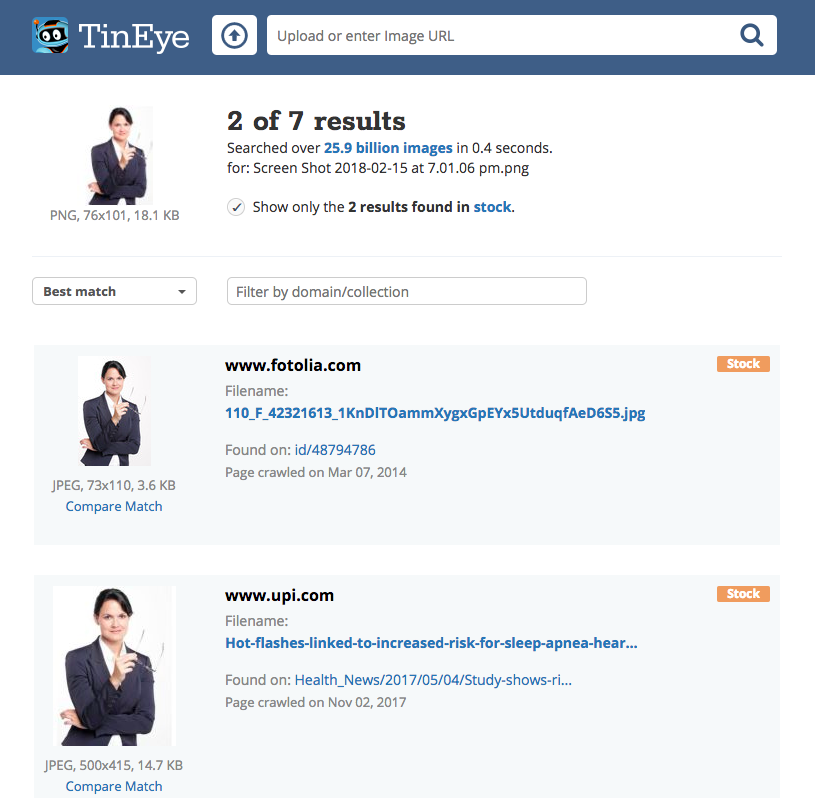 Also, it turns out the main address they provide on their site is a UPS store and the other appears to be a post box.
So they are not being forthright about where they're operating from…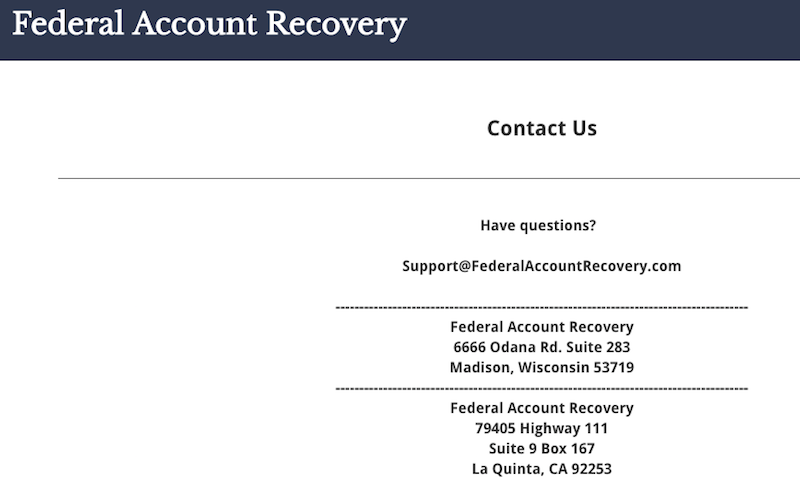 Lastly, the BBB itself reached out to request further information, to which they were ignored. Which further shows they are hiding something.
Legitimate companies simply do not operate in such a secretive manner.
Why Federal Account Recovery Is Very Likely a Scam
All signs point to Federal Account Recovery being a scam.
They portray themselves as 'lost asset recovery company' that offers people a real home based job opportunity. But in reality, they are sitting back collecting $5 money orders from unsuspecting people.
Unfortunately, given the low amount, many people are likely to fall for this scam. I guess it's no big loss on an individual level, but it's certainly a win for the scammers running it if they can fool enough people.
There is another danger here though…
When you participate in this, you are giving these people your name, email and address. Which means they are adding you to their database and will continue pushing more scams to you down the road.
Not to mention, they will very likely be selling your information to the highest bidder. Believe it or not, this is big business online for unethical marketers.
Once your name is on such a list it's near impossible to stop the SPAM.
Conclusion
From what I've seen, Federal Account Recovery is not a legitimate company and their job offer is fake. Given what I've seen here, and based on my experience with work from home programs, it is very likely a scam. I can't be certain since I haven't sent them any money myself, but this is the most likely scenario.
What you decide to do is up to you, but there's no way I can recommend this to you.