Explosive Payday is a fake social media job/ business opportunity.
It's directly linked to a host of equally misleading websites and it's not a legitimate job or business. Unfortunately, there really is nothing good to say about this.
What Is Explosive Payday?
It appears to be some exciting new job opportunity the team at Facebook have created offering people the chance to make big money for doing a few hours of work per day. Hmmm… I haven't heard that line before.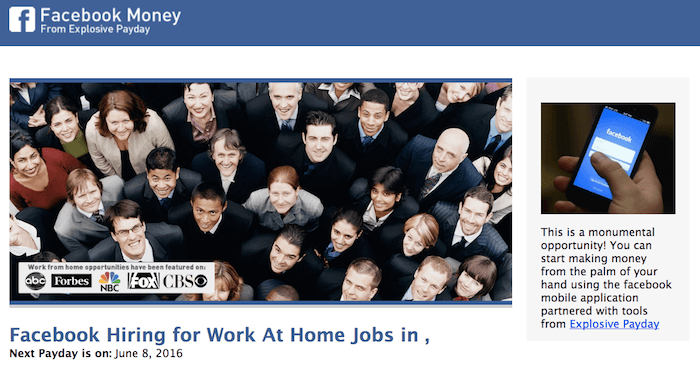 The above sales page features the testimonial of Martin S Russo who's supposedly a father of 2 kids making $14,000 per month just for "posting links and sharing stories". He also states that it was free to sign up. Unfortunately, none of this is true. 
For starters, Russo is made up name and what you are being shown on their sales page is a stock photo: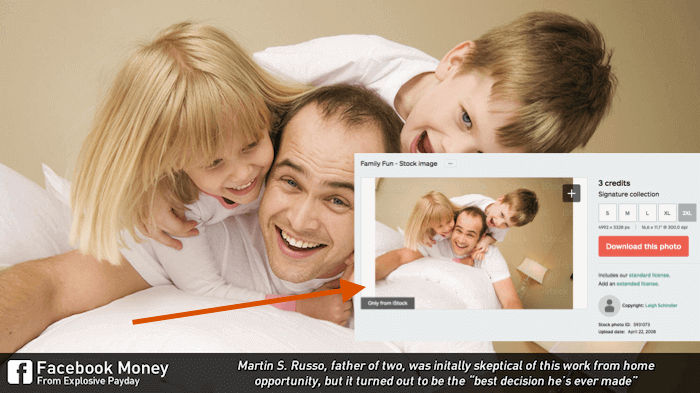 The mandatory disclaimer pretty much says it all though: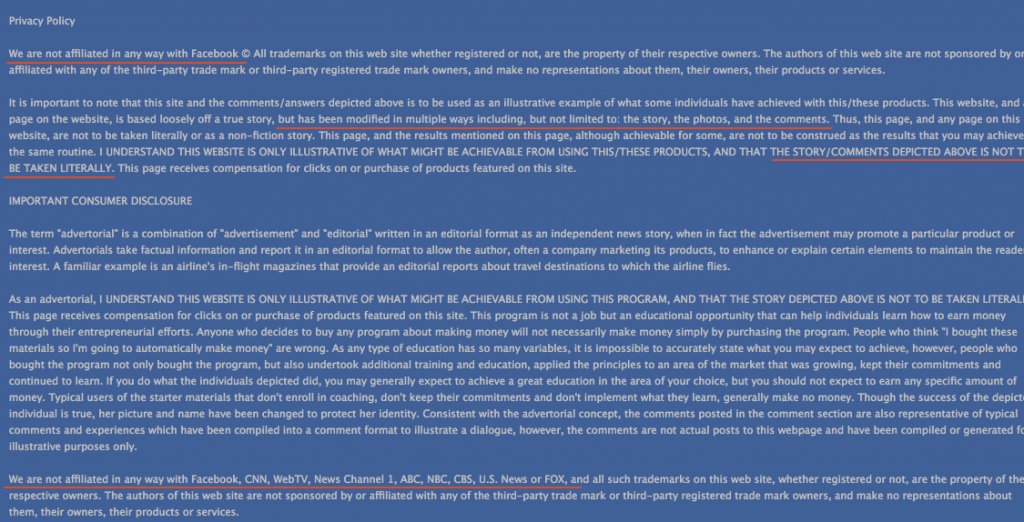 In a nutshell, they confess that the entire page is made up and nothing is real. They also use some ridiculous examples and content to try and justify the page which was good for a laugh if nothing else. The main sales page features a video of a CNN news report interviewing Lili Gil about making money from home in various ways.
The video itself is a real CNN video and is totally above board. That's the whole point though. A closer look into this reveals it has NOTHING to do with Explosive Paydays (EPD) whatsoever. All they've done is grabbed an old video from 2012 and made it 'look' as though it's about their system. They over lace the video with their EPD banner to further give people this misleading impression.
Sales page version: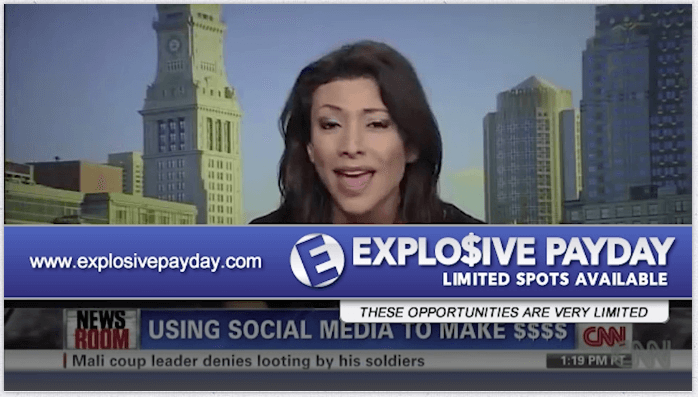 Here's the original news report:

In the context of this review, there is nothing illegitimate about Lili Gil or CNN in the making of this video. It is just how the people behind EPD are using it. They are untruthfully leveraging endorsements with trusted brands and people to increase conversions. They are not affiliated with Facebook, CNN, Google or any other legit company, period.
I could list another twenty odd ways the sales page is a load of crap but I think you get the point.
What Happens After Join Is
Nothing

Like You Are Told

If you decide to take the plunge and sign up, here's an overview of what happens…

Step 1: Pay a non-refundable $9.95 activation fee for 5 days of access. In doing so, you'll hand them your personal and credit card information and hope it doesn't fall into the wrong hands.

Step 2: Join V W Hosting to receive a generic e-book on search engine optimisation (SEO) and website hosting for $29.95 per month.
Step 3: It appears you may be ultimately directed to an mlm program as I explain below.
Given what I know about this through my research and experience in reviewing this stuff I did not purchase this. I did not see any value and also had privacy/ security concerns handing them my info.
About VW Hosting Services
This is a website hosting company that seems to be run by the same people given they both share near identical terms and privacy pages. Three main reasons I don't like the core product:
They are clearly associated with EPD and it's blatantly deceptive marketing campaign- despite their legal disclaimers stating otherwise
Paying $29.95 per month for entry level web hosting is about triple the price of what you should be paying
They rent and sell your personal information along with spamming you themselves to convince you to buy more
There's literally zero information about their hosting for potential customers on the company website also. How can they claim to be a legit hosting company without even telling potential customers what they are paying for? Website hosting is an essential part of making an income online with a website but there are way better options to get started online.
For example, companies like HostGator.com provide hosting packages starting at $3.95 per month! The going rate for decent hosting really does vary though depending on what you need, but if you are just starting you you don't need to be paying big bucks. In fact, I personally show people how to start making money with a free website that includes step by step SEO and online business training to get you off the ground- included.
The Training On SEO
They also provide you with a 22 page e-book on SEO. I haven't seen it personally but I can almost guarantee  it's nothing you couldn't find for free. Forgive me for being skeptical, but these guys cannot even get their own website ranking in the top position for their own keyword!
There are many reasons for this that I won't go into here, but in a nutshell SEO revolves around the concept of giving people value. They do not do this but rather choose to deliberately mislead unsuspecting people. If you follow their advice you won't have a very bright future in terms of SEO unfortunately.
It's Linked With a Sketchy Guru & Defunct System
After reading their terms pages I came to see that they are giving you access to a program known as the Vibrant Money System (VBS). This was run by a guy named Travis Stephenson and is now defunct.
Here's a direct quote from the VW terms page itself:
By joining today our system will send you your username and temporary password for your 5 day free trial membership to your Vibrant Money System back office. You will also be receiving our Welcome Email and our 22 page eBook, Buying and Selling Websites. At the end of the trial period unless you call to cancel your trial, you will be charged the full price of $29.95 and every 30 days thereafter. You may cancel at any time. No questions asked.
Source: https://vwhostingservices.com/terms.html
It seems they are trying to sell you access to a defunct system that looks to have been near identical to what EPD is now promoting. Turns out VMS has tons of bad reviews and complaints as does Travis Stephenson.
It Leads People Into MTTB & MOBE
My investigation into VMS led me to a fake review website located at: www.vibrantmoneysystem.org.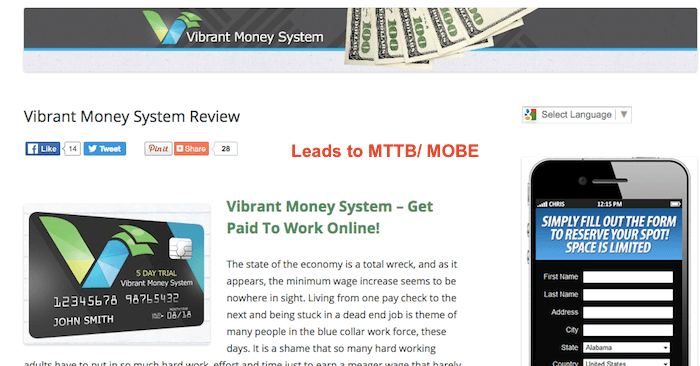 After clicking on the links on that website I was taken to the video sales page for 'Online Empire Maker'. To cut a long story short the video was absolutely full of hype, so much so it was a challenge sitting through it. After clicking through that website you are led into MTTB, a product created by Matt Lloyd to funnel people into MOBE.
MOBE is a high ticket multi level marketing system that works by getting people in the door at a low price point, then progressively promoting addittional products to them to the tune of $10,000's. There's nothing wrong with expensive products or a tiered business model, but it's the way in which it is being marketed that I have an issue with.
Is Your Personal Information Safe?
Not in my opinion. According to their privacy policy: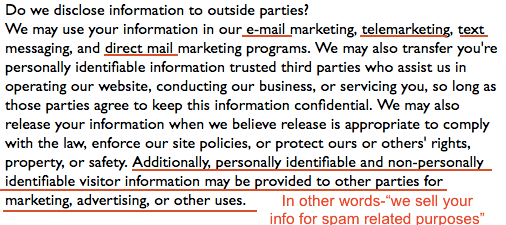 This is not uncommon. Some of the imagery, wording and overall tactics suggest the EPD website was created by the same people behind a plethora of other fake news websites. The general idea is to convince people to buy 'coaching' or mentoring or some other product for $1000's to "make the system really work for you."
They then proceed to rent and sell your information to other marketers which results in even more spam. Cool!
Personally, I would be extremely careful handing my credit card info to these guys. If you already have, it might pay to contact your bank as soon as possible. This isn't their first rodeo which means they have a well crafted set of legal disclaimers in place to protect themselves. Including a 'no refund' policy:

What I Liked
The only reason I have not labelled this as a complete scam is because you might get access to web hosting.
What I Didn't Like
Blatantly deceptive and misleading marketing hype
Links to known con artists and scam websites
In no way describe to people what they are really paying for
No information about the hosting itself on either website- just that it's overpriced
Claim it's free when it's $9.95 for 5 days and

no

 refund policy
Final Thoughts
There are many red flags with this program and I definitely do not recommend it to anyone. Sketchy guru websites like this are directly responsible for many losing money online every single day. They rip off unsuspecting people for their own personal gain and in the process rob them of the chance to build a real online business. It sucks.
It is certainly possible to make money online but it's not a push button deal. I promise you this. It takes real work to succeed and will not happen overnight by using some 'secret strategy' dreamt up by guys like this. The only one's making money with stuff like this are those behind it.