Welcome to my review of Click2Sell (www.click2sell.co).
This is a new site that claims to help you earn money with advertising banners. It's apparently as easy as signing up, purchasing an ad and watching the profits roll in.
Unfortunately, there are some MAJOR red flags with this site.
And in this review, I am going to break down each of my concerns to help you decide for yourself whether or not this is a legitimate site, or just another scam.
What's Click2Sell All About?
According to the Click2Sell website:
Click2Sell is a self-service advertising platform that enables individuals to run online advertising campaigns. – platform.click2sell.co/faq
The site goes on to claim that "anyone can launch their own campaigns in a matter of minutes" and that "Click2Sell enables you to earn revenues whenever your campaigns generate Clicks or Sales".
The site has a "marketplace" where you can purchase advertising banners that range in price from $750 to $3,000 or more: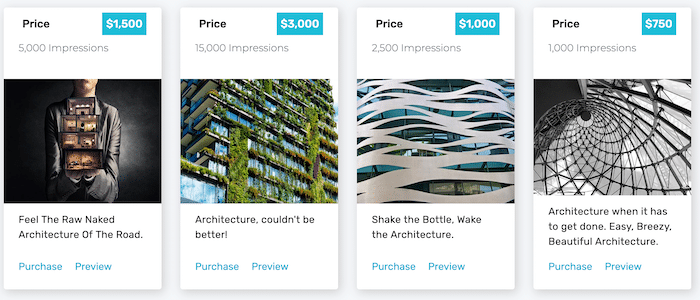 Each ad has its own set amount of ad impressions and supposedly pays you "per click" or "per sale". For example, this ad costs $3,000 and is in the architecture niche: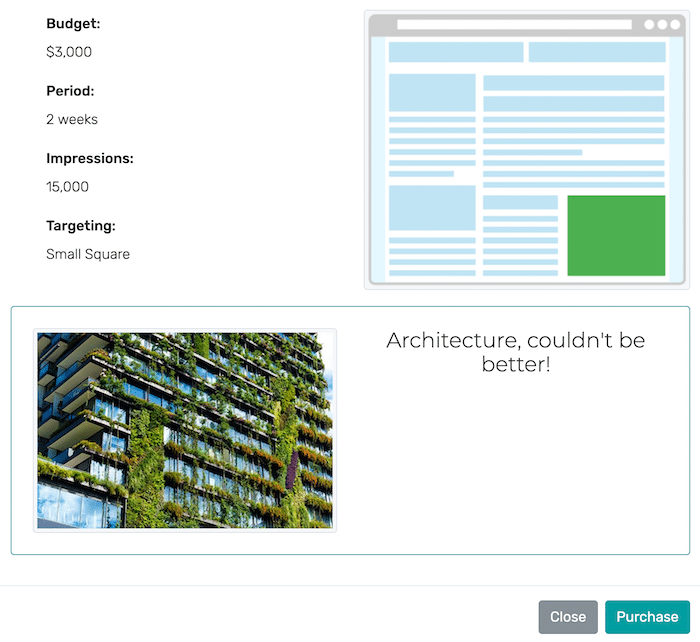 The idea is to purchase this ad, which supposedly gets impressions for 2 weeks, and if it gets clicks and sales, you earn revenue.
How Does It Work?
The way this works is by first of all luring you to a site called Ad Code: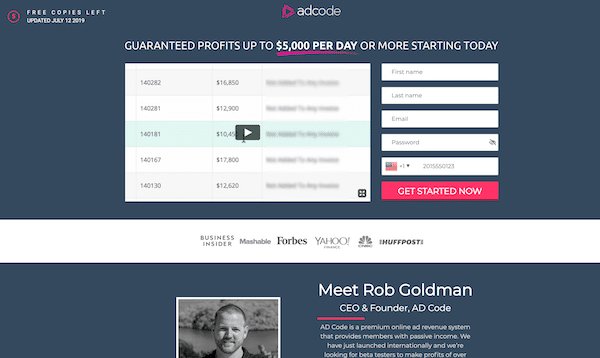 This site claims you can "earn $5,000 per day guaranteed" which in and of itself is a red flag. I've seen similar sites to this and they are never legitimate. Full of misleading hype, fake income screenshots and BS about having "limited copies".
Not to mention they use news clips about "working from home" to legitimise the pitch.
I've seen this nonsense on sites like AD Formula and Digital Payday (links to reviews).
In any case, the whole site is very misleading.
And the purpose of this site is to convince you to create a free account, so you can supposedly start making money today.
If you fill in the form and click on the "get started now" button, you are redirected to the Click2Sell.co website.
This is when even more major red flags started to appear for me.
Because I've seen this exact type of site before, under different names. And all of the previous versions were scams that lost people $10,000's.
For example, Clicks Dealer and Clicks Valley are some recent versions (links to reviews).
This is a common scam tactic, running the same scam under many different names and URLs to throw you off and make it hard for you to find real reviews before you spend your money.
Anyway if you do create your account you will be asked to spend anywhere from $250 to $25,000 (yes you read correctly- $25k) to participate.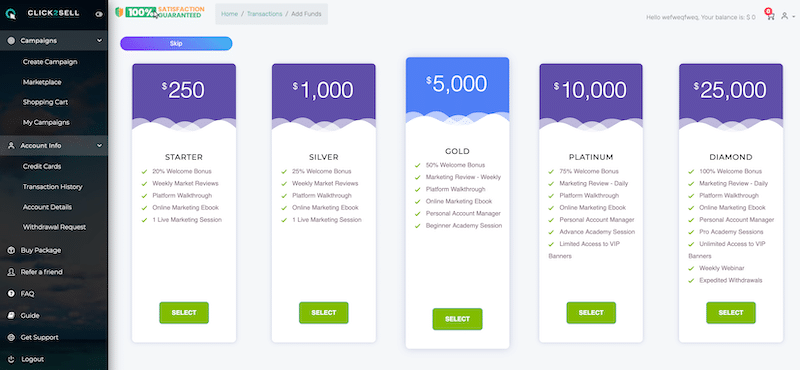 Here's a breakdown of the various membership options:
Starter- $250
Silver- $1,000
Gold- $5,000
Platinum- $10,000
Diamond- $25,000
On top of this, you will need to purchase individual ads which apparently guarantee you revenue, but not profits:
The revenue is generated (apparently) when people click on the ads and if someone clicks on one of your ads and buys something.
The latter of which is known as affiliate marketing where you run ads and if people buy you earn a commission. A legitimate business model (in and of itself).
Anyways, the end result is you withdrawing your earnings, after submitting incredibly detailed information about yourself to complete strangers who remain anonymous.
So to sum up how this works:
Signup on a scammy promo site called Ad Code
Get redirected to Click2Sell where you pay a bunch of money to qualify and;
Pay for ad banners that supposedly generate you revenue for clicks and sales
Hopefully withdraw your earnings after submitting your personal info to "someone"
You are going to want to read the next section before making a final decision. Because this is where I break down (point by point) why I believe this is a seriously sketchy operation.
5 Red Flags You Should Be Aware of Before Buying
There are 6 major red flags I think you should be aware of before joining/ buying:
Similar site and marketing funnel to known scams
Very little information about who's running the show
Giving detailed personal information to withdraw
The ads are incredibly vague and the business model doesn't make sense
The costs are outrageous ($250 to $25,000) plus ad banners ($1,000's)
Read on for a full breakdown of each of the above red flags.
1) Similar site and marketing funnel to known scams
As I mentioned earlier, the initial site you come into contact with (Ad Code) and the site it redirects you to after submitting your details (Click2Sell) are very similar to known scams.
The misleading hype, the fake income claims and the business model itself.
It's all the same.
Unfortunately, what happens often among scam sites is they switch up their name, URL and domain (along with other details) once people catch on.
This allows them to continue the scam running well into the future, without consequence and without the majority of people knowing their track record.
Which brings me to my next point..
2) Very little information about who's running the show
To start with, the domain (click2sell.co) uses an anonymous domain registration.
An anonymous domain registration isn't a bad thing in and of itself. There are many legit sites use an anonymous registration to protect against SPAM.
However, when you consider this along with the other facts, such as there being ZERO mention of WHO is actually running the site or company, it becomes a red flag. Especially when the company is asking for your personal information and $10,000's.
I also want to mention that "Click2Sell Limited" (the company name they use that is supposedly registered in the UK) shows a "dissolved" status according to the companieshouse.gov.uk website: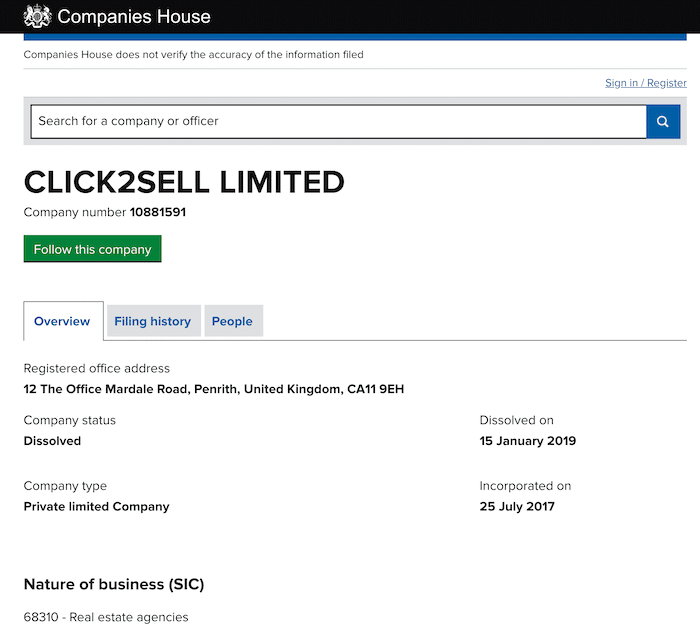 This could be some sort of mistake but it doesn't look good, in light of everything else.
So we have an anonymous domain, no information about who's running the show, and the only information about the company is that it no longer operates.
This is VERY alarming in light of the next point I am going to make..
3) Giving detailed personal information to withdraw
In order to withdraw your "earnings" you are asked to provide KYC documents. Which is basically your driver license or passport, along with other documents such as a utility bill.
At face value, this may seem legit. Because legit companies ask for this stuff.
However, it's also WAY over the top for a business of this nature. I am an affiliate for many companies, and earn a full time income promoting other companies products, and NONE of them ask for your license or passport.
This is (literally) everything a person needs to commit identity theft. And you are submitting this to a company that in my opinion has ZERO credibility.
This is an insane risk people.
4) The ads are incredibly vague and the business model doesn't make sense
One thing that really strikes me as odd is the incredibly vague nature of the ads you are buying.
I mean, spending $1,000's for ads that supposedly generate you tons of revenue, and you don't even get to see the ad before you buy. You literally get a stock image- that's it.
I also want to point out that the business model itself just doesn't make sense.
I mean, buying an ad that gets impressions and earning when people click is just NOT how online advertising works. Period.
What happens in reality is advertisers work with legitimate companies (like Google or other networks) and pay them to run ads. They don't work with a shady operation like Click2Sell who sell their ad banners to "online income seekers" because that would be incredibly bad for their brand and reputation.
There's also just too many questions here that are simply not answered.
For example questions such as:
Who's the advertiser?
What exactly are they selling?
Where is the ad going to be shown?
None of this information is revealed to you until AFTER you buy, which is total BS.
5) The costs are outrageous ($250 to $25,000) plus ad banners ($1,000's)
The last red flag here is the sheer cost of participating.
Asking people to spend $25k and $1,000's more on individual ads is simply outrageous. Especially when you consider the alarming red flags I've bought out within this review.
You can get started with affiliate marketing (earning by promoting other companies products online) for free. And at most pay 50 bucks per month for everything you need to build a legitimate, real business advertising other companies products.
There is no need to spend $10,000's (in any reality).
Review Verdict – Is CLick2Sell a Scam or Legit Site?
Yes, I personally believe Click2Sell is a scam.
I don't expect you to just take my word for it either. I recommend you search for other (honest) reviews about Click2Sell before joining, and some of the complaints on the Click2Sell BBB profile (where they currently have an F rating).
In any case, there is simply nothing "legit" about this site whatsoever. Period.
After looking honestly at the facts here, it is my opinion that this is a blatant scam operation and one that could potentially cost you a LOT of money.
This review may sound harsh and I know that (since I recommend legitimate alternatives such as Wealthy Affiliate) some of you may question my agenda here.
Which is a good thing- you should question what you read online.
But I tell it like I see it.
And I refuse to "water down" the truth when I see scams like this.
Because far too many people lose money and given the sheer volume of money they are scamming you for, if this review helps ONE single person- I've done my job.
What you decide to do is your call, I hope you found this review helpful either way.