CJ Affiliate by Conversant is an affiliate network for newbies to elite marketers. It was founded in 1998 by one Lex Sisney under the original name of Commission Junction, which was re-branded in early 2014.
It boasts a dynamic team of industry professionals and a high quality platform for both merchants and affiliates.
So what are the specs on this affiliate network and how does it stack up against the rest?
Brief Overview Of CJ Affiliate Platform
This network is by far one of the most comprehensive platforms online today. The overall theme running throughout this platform is an absolute dedication to quality and providing value to all involved.
You are provided with a knowledge-base and expert help within the platform to learn more about affiliate marketing and working with vendors, which is useful to newbies trying to learn the ropes and build their businesses. Everything is laid out neatly and easily for you to navigate and learn the system and the offers.
The tools provided are very useful and are always being kept up up to date for users. Once inside you will have access to a feature rich user interface and a suite of tools that make it simple and easy to find products to promote and manage your campaigns.
The tools on offer provide a high level of customisation in setting up campaigns, including deciding where your affiliate links will take your website visitors once clicked on. For example you may wish to send your visitors to the merchants welcome video or directly to their sign up page according to your own unique marketing strategy.
As a user of this platform you will have access to some very advanced and easy to use tracking tools and interfaces. The ease of use and level of insight provided are what makes this unique and a very useful part of this platform for any serious affiliate marketer. You can track a broad range of actions taken by those clicking on your affiliate links so as to optimize campaigns and maximise revenue.
The offers within this network operate on a CPA model. What is a CPA or 'cost per action' model? Well essentially you will be getting paid when one of your website visitors clicks on one of your affiliate link and converts into a lead, subscriber, paying customer or some other action is taken. This does not include mere clicks or impressions, but certain actions that are taken by the traffic you send the merchants way. The good thing about this is you are not limited to only getting paid for sending sales to a merchants website, which means flexibility and options for you in setting up campaigns.
Their advertiser (merchant) network is made up of more top 500 Internet retailer advertisers than any other platform, according to the CJ Affiliate by Conversant website. This means you able to promote some of the most recognised and respected brands online. CJ also has some of the most lucrative affiliate commission offers going.
The verticals you can advertise in are very extensive which provides you broad options for creating and developing profitable campaigns.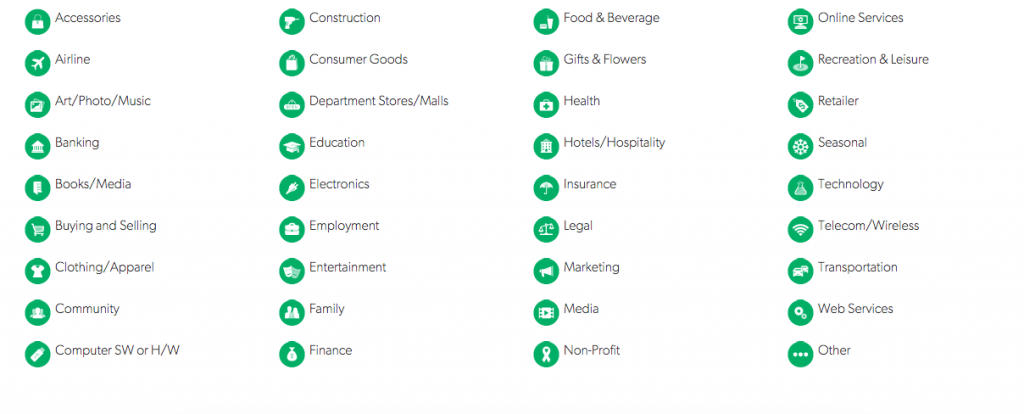 There are also many different methods of promoting merchant products available including banner advertising, text links, coupons and more that you can easily implement into your website or in other ways. There are options to set up pay per call, mobile marketing and even offline affiliate campaigns to further increase revenue and build your affiliate business.
What's Good?
A global platform with offices in six locations around the world. This means more opportunities and support for your business
Very quality focused affiliate network that always strives to add more value to all involved
High performance tools enabling you to get more out of each campaign
Intuitive and easy to navigate members area. This is useful in finding relevant offers to promote with ease.
Flexible campaign options and promotional methods
Access to a vast array of quality advertisers
Broad range of verticals to promote as you can see from the picture above
Advanced tracking and performance which is critical to optimising campaign performance and boosting revenue
Reliable and frequent payments, they operate on net-20 terms and a minimum payment threshold of only $50
Run by a team of experts in the field that are dedicated o your success
A range of certification programs that are beneficial in your reaching higher quality standards and standing out to top merchants
What Sucks?
Limited to contact form for support
No dedicated account manager, although additional support can be obtained through certain certification programs
If you have anything else you think I should add here to help others then please post below and I'll update this 🙂
Summing It Up
This has been a brief overview of the CJ Affiliate by Conversant platform to help you benchmark it against the others out there.
Overall this is a network that stands out above the pack as a quality, credible and effective affiliate network platform that ticks all the right boxes. The merchants and the products are of a high standard overall and commission payments are reliable according to what I've seen.
There are many options for you to build your affiliate business around and many merchants to choose from. There is also a good amount of room for a newbie to grow and network within this platform, as those behind it are very passionate about your success and about connecting the right people together.
If you are focused on providing real value to your website visitors (which I'm sure you are) then this platform will connect you with the right merchants and offers to continue to grow your online business.
How To Really Take Advantage Of Platforms Like This
Although this is a fantastic platform and offers great value to affiliates and merchants, it is only one important piece in the affiliate marketing pie. More is needed than joining a great affiliate network and promoting merchant products. You need to learn how to build a good website, provide your visitors unique and valuable content on a regular basis and drive targeted traffic to your site to be successful.
This way you can promote merchant products with confident you will be adding real value to people and making consistent profits along the way.
It is actually very easy to get started online and begin learning how to building a website, write content and drive traffic that converts to commissions. It takes work but it is definitely achievable by anyone willing to put the effort in.