Cannabis is something that has been a very controversial topic – especially in recent years. And with cannabis stocks making headlines, you might be wondering whether to invest in them, and if so, where?
Your research may have led you to Matt McCall and his newsletters. If so, you may be thinking:
Is McCall's Cannabis Cash Weekly legit or a scam? Cannabis Cash Weekly is not a scam because it's a subscription that gives you tips and insights on where to invest for cannabis stocks. You get alerts, tips, bonuses, and more in exchange for the $1,596 per year subscription fee.
In this article, we're going to explore a little more about what is included in Cannabis Cash Weekly, but first, let's find out a little bit more about Matt McCall and who he is.
Who is Matt McCall?
Matt McCall is the founder and president of Penn Financial Group. He really got started in investing 17 years ago when he worked as a stock broker for Charles Schwab.
Matt McCall is a former co-host of a daily investment show on Fox Business Network. He has also been on a national radio show Winning On Wall Street as co-host and chief technical analyst.
He has a bachelor's degree in Finance from Kutztown University and an MBA in Finance from the University of Colorado.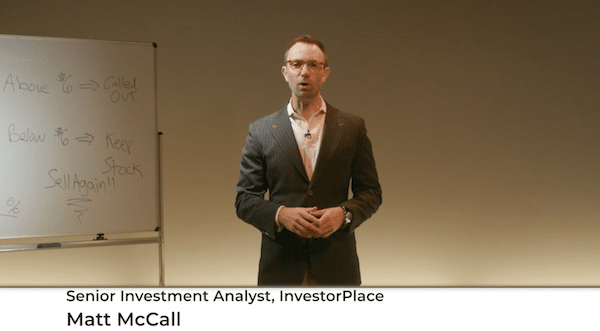 McCall has written two best-selling investment books, including The Next Great Bull Market.
Along with all this experience, some other notable things Matt McCall is known for are being founder and CEO of both CrowdVest.co and Crowdvest Securities, and founding the financial publishing company Point B Publishing.
As you can see, Matt McCall has a lot of experience when it comes to investing and finances. So, it's probably a smart thing to get some of his insights into the stock market.
What is Cannabis Cash Weekly?
Now that we know about the man behind it, let's take a look at what Cannabis Cash Weekly really is.
Cannabis Cash Weekly is a subscription service where you will get tips and insights from Matt McCall on investing specifically in cannabis stocks. He claims that this newsletter will help you claim your piece of the $150 Million (per day!) cannabis market.
So, what does he give you in order for you to successfully get in on some potentially profitable stocks?
Well, the features that are included in this subscription are:
"Green Monday" Income Alerts: You'll get a minimum of 52 of these alerts over the course of a year (once per Monday). They'll give you instructions on how to get in on "Green Monday" money.
Monthly "Green Monday" Profit Recap: This is a monthly summary of all the "Green Mondays" for the month so you can see really how this strategy is performing.
The Little Green Book of Big Cannabis Income: In this, McCall will go into detail on the "Green Monday" income secret which is only available to those who subscribe to this newsletter.
The Magic 9 Pot Stocks: This includes the names of all the nine "pipeline" firms that are creating the "Green Monday" income.
Trading Tutorial Video Series: These are step-by-step videos to show you how to make the trades. You also get to watch McCall as he does real-world trades.
Marijuana Masterclass: This is a five-part video series to teach you the basics of cannabis investing.
Matt McCall's Mastermind Meetup: This is a yearly event to meet Matt McCall in Baltimore's Inner Harbor, and Cannabis Cash Weekly members receive a ticket to this event for free.
"Green Monday" Calculator: This is the special tool for Charter Members to enter in "Green Monday" income alert data and it will calculate your projected returns.
This is all included in the subscription to Cannabis Cash Weekly. And just like Jeff Yastine, throws in a "free" bonus:
The Millionaire's Income Secret: According to Forbes Magazine, it "builds wealth more consistently than [any] other asset class." And according to Matt McCall, "90% of the world's millionaires used this to create their fortunes."
Cannabis Cash Weekly is the newsletter that you need in order to receive "Green Monday" alerts and make money from that, which is essentially what the whole subscription is focused on. You can learn more about Green Monday here.
How much does it cost?
This newsletter genuinely seems like it could be a great thing to subscribe to if you want to get into investing in cannabis stocks. I mean, it's smart to get advice from experts before investing in something as notoriously daunting as stocks.
But how much money are you going to have to invest into this subscription?
There is only one type of subscription, not multiple tiers like some others out there. Which is good because you don't feel the need to pay more to get more information – or like you're getting gypped when you can't afford the most expensive tier.
This subscription is going to cost you $399 every three months – or per quarter. This is a little pricey, but nothing compared to some of Tom Gentile's subscriptions.
But to make it seem better, McCall does let you know that the normal retail price is supposedly $499. So, according to that, you're getting a $100 discount per quarter.
But let's be honest, $399 a quarter equates to $1,596 a year, and that is quite a bit of money if his advice didn't work out.
Is there a money-back guarantee?
Technically, yes, there is a 100% money back guarantee, but honestly it seems a little bit shady in my opinion.
Matt McCall says, "If you join Cannabis Cash Weekly today, I guarantee you'll see at least 52 "Green Monday" payout opportunities over the next 12 months."
The key word there is "opportunities." As long as you get 52 Green Monday opportunities – or alerts – within the next year, you might not get a refund. So, the refund policy isn't based on how much you actually make or whether you found the subscription valuable.
Although, on the other hand, people could abuse it if it were worded a different way. So even though it seems shady on the surface, it might be worded in such a way as to prevent unfair abuse. We don't really know.
And you do have to try Cannabis Cash Weekly for a whole year before you'll be eligible for the money-back guarantee.
So, even though you pay quarterly, you still have to pay for a full year until you can determine that you aren't satisfied. But you can cancel your membership after just a quarter if you so chose to.
And it is important to note that in the fine print at the bottom of the sign-up page, after you pay for your first quarter, your subscription is set to automatically renew, so if you are not careful, you could pay for another quarter, even if you didn't want to.
Is It a Scam?
Cannabis Cash Weekly is not a scam because it is a subscription service that is giving you what you are paying for. It is a little pricey, but you are receiving what it states you'd receive.
But just because it isn't a scam doesn't mean you're promised to make money with it, or that you should invest your time/money into this. That's a personal decision you'll have to make using your own discernment.
Conclusion
In the end, Cannabis Cash Weekly is a legit subscription, however, legit does not mean necessarily you should go do it.
Stocks are always something that are unpredictable, and once you add cannabis into the equation, there is a lot more uncertainty that you are getting involved in.
The legalities and questions surrounding cannabis make investing in cannabis stocks have the potential to be significantly more volatile than any other stocks.
It is a personal choice if you would like to go invest your money in something like Cannabis Cash Weekly to get tips on what to invest in with cannabis stocks.
Just keep in mind that even people like Matt McCall can lose money at any moment, and there are other options to find tips that are cheaper that may be better places to start.