If you were asked what the 84th largest economy in the world was, you'd probably guess a country. But actually, it's Coca Cola. And that shouldn't be surprising, seeing as 69 of the top 100 economies in the world are corporations. 
Most people can see this as a problem, and the folks over at bUnited felt compelled to do something about that, and they want you to get on board.
So, is bUnited a scam or do they actually pay you? It's not a scam, per se, but with the fact that they promise you $10 per person you invite, plus $10 per person they invite up to five degrees, it seems a bit shady. Especially when you realize no one has really gotten paid yet.
In this article, we'll discuss what bUnited is about, how it works, if it's a trustworthy company or not, and whether or not you should sign up!
What Is bUnited About?
bUnited's entire goal is based around two things: save the environment and transfer the power from big corporations back to the consumers.
The whole concept of bUnited is to gather a large group of consumers together. The theory is that once they have enough people (called members), they'll be able to strike deals with large companies. 
The pitch is this: they have a large member base willing to purchase a corporation's products, so the corporation can give bUnited a discount (which can be offered to its members) instead of that corporation having to spend so many millions of dollars on advertising.
They as a company with millions of members under them want to become a big corporation's largest customer. That way, they can strike more deals with bigger corporations – the growth trajectory is exponential.
That way bUnited's member base has access to exclusive discounts on things they would already be purchasing, the corporations that bUnited makes deals with will have a significant customer base without the need of excessive, expensive advertising, and everyone wins.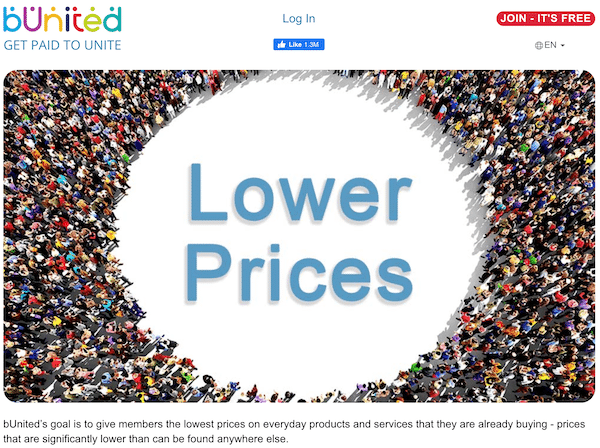 This is similar to how an MLM company called Team National works. Except it's not free, you have to pay to become a member of their "discount club".
They also, as a company, seem convinced that if something major isn't done to save the planet right away, we're all doomed. That's why they put saving the environment above things like feeding starving children (which, to their credit, they also do, it's just not their main focus).
But how does saving the environment flow from taking power away from big corporations and placing it back in the hands of a united group of consumers?
Well, from what I can understand, their idea is to make deals with the "right" companies – presumably companies that focus on taking care of the environment and focus on sustainability – and thus taking away a significant portion of the consumer base from corporations which don't value those things, thus motivating a change.
Who's Behind It?
The company was founded by three people: Jim Jorgensen, Johannes Pohle, and Ozan Taner. And those three people are the same ones that give this company some much needed credibility.
Why? Because with most pyramid schemes or scams, you won't be able to find much more than a stock photo and a blurb about a commonly-named guy who you can't seem to find any information about outside of the website. But thankfully, that's not the case here.
Jim Jorgensen has been a part of over 25 successful business ventures, and you can Google him and find more information (which is always a good sign).
Johannes Pohle was the cofounder of a successful advertising company called AllAdvantage. He has also been involved in other successful software ventures.
Ozan Taner founded the company Moema Espresso Coffee, which had at its heart the benefits of being fair trade.
The company bUnited is also registered with California's Secretary of State, which is another promising sign that it's a legitimate company.
How Does It Work?
bUnited is an extremely unique company, as it differs from basically all other multi-level marketing companies out there, but it also doesn't really fit into the description of a "pyramid scheme" either.
Here's the deal: bUnited's goal is to gain as many users as possible, and that's what they're paying you to do.
What you do is sign up for bUnited (it's free and you don't need to buy anything). Then, you invite your friends to sign up as well. Then they invite their friends, and the idea is that it will keep growing from there.
The company promises to pay you $10 per person you invite, and $10 per person they invite, and so on within five degrees (or tiers) of you.
They give an example on their website. Say you invited six people, and they each invited four people, and their four people each invited four more people, and so on and so forth until you've gone five rungs down the ladder.
You would get paid $10 per person – and your downline would've included 2046 people – so you would get paid $20,460.
So, it seems pretty straightforward: invite people and get paid! And they need people to join, because without a large member base, the whole concept falls apart.
How Do You Get Paid (and when)?
How you get paid with bUnited is what makes people very skeptical, and rightly so.
Let's take our example we mentioned previously: you and your recruited downline have collectively invited 2,046 people, leaving you with a handsome $20,460 to cash out, right?
Not exactly.
Those earnings are called "reserved" earnings, because they aren't always available right away. In fact, in most cases, they aren't.
This is because they're still in the "growth" stage, not the "making money" stage. What that means is that they don't have the money to pay you, yet.
They promise that once they can strike deals with big corporations in your home country, they'll be able to release some of the money to you. Which, let's be honest, sounds shady. But in a way, it makes sense. 
Since they need a customer base first, before they have any chance of succeeding, they need to incentivize people to sign up. And again, it is free, and you aren't buying or selling anything to anyone, so it's not like they're getting anything out of you. You don't really have much to lose at this stage.
Plus, the reserved earnings never expire. So if it takes them a few months or even a few years, but they do end up being successful, then you'll still get access to every penny you've earned.
Well actually, that's not exactly the case, either.
Even if they do make deals and offer discounts to members in your home country, you still won't have access to that money. You'll only be able to withdraw the $10 per person you've earned after that person buys from a discounted product or service through one of bUnited's partners.
So, if you invited 2,000 people and had $20,000 reserved, but no one actually bought anything through bUnited's offers, then you'd still never see any of it.
To their credit, bUnited's website does state that member payments (should) already be being made in Brazil, with their partnership launch with Cinemark and two other major movie chains in the country.
According to bUnited, the money will become available at different times for different countries – which is, again, all dependent on when they strike deals with big corporations.
Currently, there are talks about Germany and the United States being the next two countries that they will focus on. They did have a deal in place with Vodafone – the world's second largest mobile operator – in Germany, but it had to be postponed.
As of right now, for those members who are able to withdraw money, you can do so once a month, but you do get the entire balance paid out to you in your local currency.
Currently, they use the following payment methods:
PayPal
PagSeguro
WeChat
Alipay
PayTM
PhonePe
ACH
SEPA bank transfers
And they do state that they are looking to add more payment methods in the future.
Has anyone gotten paid yet?
This is the big question that trips a lot of people up, because the answer should be yes. They made a deal in Brazil with three movie chain companies, so people should be able to withdraw money by this point in time.
However, when you google "bUnited payment proof," very little comes up to show that someone has actually been paid yet.
There is one video that shows over $2,000 being deposited into someone's Paypal account. However, many comments claim that it's misleading, because at the time of posting that video, the company was not paying anyone out yet.
Instead, people claim that it was a bonus the man received from being the first to sign up in his country. And still others claim that the whole video was a lie.
This raises a big concern for the legitimacy of this company. If no one has seen any money – and there certainly isn't an abundance of proof to show that anyone has – then that raises some serious red flags.  
Is bUnited a Scam?
Whether or not bUnited is a scam is a hard question to determine for sure one way or the other.
On one hand, they aren't asking you for money, and they aren't asking you to purchase anything. So, if it is a scam, it would be hard to see exactly what is in it for them.
But on the other hand, it seems as though no one has gotten paid for referring friends yet. And while the vast majority of people not being able to withdraw money at this time makes sense, there should be people in certain countries who are able to prove that they have received payment.
My own personal hesitation with signing up is centered around the concern that these people are gathering a lot of personal information and promising a lot of money in return that honestly I can't see them being able to pay out in the future, even if they reach the levels of success they're hoping to achieve.
Please understand that I am not accusing the founders or any members of the company of being hackers or having ill intentions. It is just my personal choice to hold off on signing up until there's a couple people able to show legitimate proof that this company is honest.
What I Liked
Offers a lot of money for little work
They aren't requiring any purchases upfront, significantly lowering the risk
The founders are reputable
What I Didn't Like
There isn't any strong proof that anyone's been paid yet
A deal with a huge company in Germany fell through
They're promising a lot of money that they might not be able to pay out entirely, even if they are successful 
Conclusion
Overall, bUnited has a unique concept with a strong desire to put the power back in the hands of consumers, not corporations.
They also are very passionate about seeing a positive change in the environment, specifically with regards to protecting rainforests like the Amazon.
Both of those desires fuel their mission of becoming the largest customer for multiple corporations, and in doing so, they hope to pass on huge savings and discounts on everyday items to their members.
In order to get a large enough following, they're incentivizing people to refer their friends, promising hundreds and even thousands of dollars to those who do.
Of course, the only problem is that no one seems to have gotten paid yet. And even though they explicitly state that the funds will only be made available after they make deals with big corporations, deals have been made in some countries, yet there is no strong evidence to show that anyone has received money from them.
Whether or not is a scam is ultimately up to the individual to decide. There is a low risk involved in getting started, because they don't ask for any money up front. But the vague nature of the process of actually seeing money raises some red flags.