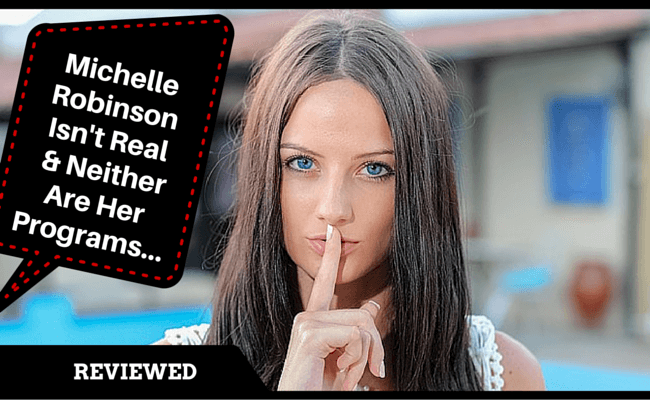 Quick Overview
Profile: A fake alias that seems to be slowly getting phased out although there is one active website using her name that I managed to find at http://homecareerstarter.com. This name has been directly associated with 9 other similar websites all selling the same rubbish link posting system.
Recommendation: Avoid anything even remotely similar to any of the websites I list in this article, none of these will help you make money on the Internet in my opinion. Read my #1 recommendation here.
What's This Girl All About?
The people behind these websites present her, and a dozen other alias's, as a once struggling single mother who 'cracked the code' to becoming wealthy and having enough time to enjoy life.
While this sounds great and certainly works for them there's not a single shred of truth to it.
They use stock photos, fake names, fake testimonials and comments along with a suite of other tricks to mislead you into trusting their story and convince you to buy from them.
Have a look at this screenshot of the 'Home Career Starter' website: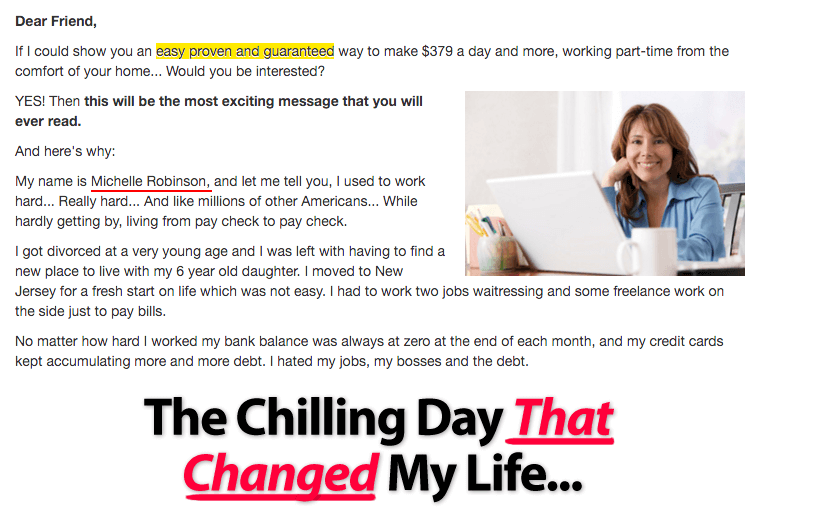 Now compare it to the 'Replace Your Job' (RYJ) website: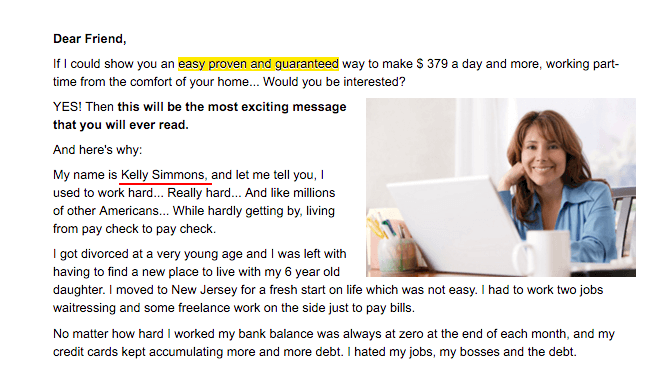 Same photo both times except she's using a different name and website. Why do they do this?
Because they only have a small window of opportunity to scam as many people as possible before the authorities shut them down and/ or reviews like mine expose them. When I first started reviewing these websites I had no idea just how deep this went, I can honestly say it's hard keeping up with these guys.
Just when you expose one website they shut it down shortly after and open it under a new domain name or they'll keep that domain and change the name of the site itself- or both.
There's a ton of these similar websites all promoting the same program to do with posting links which is not a legitimate business.
Things To Watch For
While they do change around a few details, here's some of the key things they ALL have in common…
#1 Everything's Fake
From the comments to the testimonials, none of it's real. It's very easy to buy a stock photo and write some convincing text to make people believe it's coming from members who are doing well and that's just what they do. I've proven this in my reviews multiple times.
They also use fake alias's and totally unsubstantiated income 'proof' pictures on many of these websites to make matters worse.
#2 Leverage News Networks
Probably one of the most notorious things they do is use popular news network logos to try and gain a visitors trust. They even go as far as putting in news videos that are talking about 'working from home' opportunities and have zero to do with the particular program they are promoting.
They most certainly don't have an affiliation or genuine endorsement from any news company I assure you.
#3 Income Hype
They always make it sound super easy and amazingly profitable to just 'plug in' and start earning money.
I'm sorry to be the one to tell you this (someone has to) but no one is making money this easily online except the ones behind the scam itself.
Yes, you can create an income online but it takes work and effort just like any other real business.
They are simply telling you what you want to hear to get you to buy. They know there's millions of people desperate to make money online and they do a good job at catering to this demand by proving people with false hope.
They get paid, you don't. Sucks doesn't it?
Don't give up yet though, keep reading…
#4 Vague Information About The Actual Program
A lot of the time they go on and on about how great the whole thing is without ever actually explaining the nuts and bolts of the program.
Why?
Because there is nothing tangible or real about there program!
Link posting is not a real job or business… period. Some of these sites remove some of the hype and focus on explaining it a little better but unfortunately it's still the same program and it's sure as heck not worth the $97.
The general training you get (if you are actually lucky enough to get access to your account) can be found online for free.
#5 Pressure Tactics
Another common theme is they always get your name, email and phone number before you even get to see the sales page.
They do this because they intend on renting, selling and sharing your information to the highest bidder. Many reviews I've done on these sites even admit to doing this within the fine print of their disclaimers.
Here's a screenshot I took from the privacy policy of the website I mentioned earlier (located at www.replace-your-job.com/gm/).
Yeah I know it's referring to yet another website known as '37 Clicks' to make matters more confusing. This is just because they own that site too and haven't changed the names around in amongst all of their shenanigans. I suppose that's easy done when you have hundreds of these sites all constantly changing names and web addresses.
You're probably starting to see what I mean when I say this is a very elaborate and almost endless stream of garbage.
#6 Trapping You In
Lastly I want to touch on the fact that they always try and trap you into the website with some special offer. This is a classic and grossly overused guru trick that works to increase the level of sales to these sites.
It's kind of funny how there's only 1 spot left given the programs 'insane popularity', yet they are so desperate to keep me there they've knocked $20 off the price lol!
Any time you see a website using this trap you in technique, run for the hills. Experience tells me it's a dead giveaway it's not a legit program.

The List
Here's a list I've put together based on websites that have been or are currently associated with Michelle Robinson:
WAH edu

Work at Home edu

Ultimate Home Profits

Extreme Home Profits

WAH Ecademy

Wah Rev

Work At Home Revenue

Work At Home Cash

Online Cash Institute 

Home Career Starter
To learn more about similar scam websites and fake personas check out this constantly updated list and if you have one you'd like me to look into pease let me know below.
Final Thoughts
Hopefully this article has given you some insight into the kinds of programs these people run and what you need to look for to avoid them.
The deeper you dig into the details the more you will find that there's nothing worth your while being offered and you're going to be in line for some super annoying telemarketers all pushing similar junk.
I recommend keeping your money and sanity by avoiding anything relating to Michelle or the hundred other similar sites pushing the same program.