I recently came across a presentation by Ian King about fluorescent sand, which led me to checking out his paid newsletter, Automatic Fortunes.
Ian says that members of this newsletter get access to his exclusive four-step system for discovering "tipping-point trends" in the stock market. Which sounds pretty exciting.
But is it legit? Automatic Fortunes isn't a scam, it's a newsletter service created by Ian King that shows you how to invest in mid-cap stocks related to new technologies like 5G and artificial intelligence. Ian is an expert investor who shares his unconventional investment strategy with members, so it's legit, but it's also highly speculative.
In this review, we'll look at what Automatic Fortunes is about in more detail, who Ian King is, and whether or not I think it's worthwhile.
Who's Ian King (and is he legit)?
Ian King is definitely not a scammer, he's an expert investor with over 20 years experience in the financial markets. And he has worked with some of the biggest names in finance.
According to his Banyan Hill profile page, he started out working for a company called Salomon Brothers, before moving onto working with companies like Citigroup and Peahi Capital.
He says he was able to make "outsized returns" for these companies and others he worked with, despite the fact that many other hedge funds and banks were going bust.
And he attributes this to his unconventional thinking and investing strategies.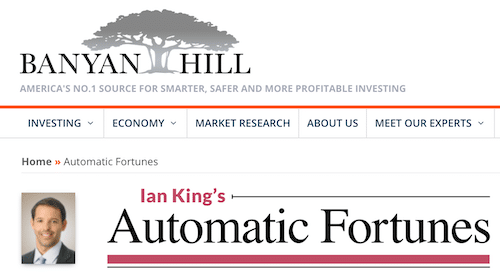 Which makes sense. I mean, if all you do is follow mainstream advice, you're going to get mainstream results. Which are mediocre at best. And, as history proves, can be quite devastating during times of stock market volatility.
It's pretty rare to see the masses jumping on stocks that are about to take off. It's normally the other way around, most people jump into stocks after they start going up. So I personally think it pays to think outside the box.
In any case, Ian now works with a site called Banyan Hill Publishing to create newsletter services like Automatic Fortunes, Crypto Profit Trader, and Small Cap Alert among others.
He creates the content and is the expert behind it, and Banyan Hill publishes his work and handles the payment side of things.
He also works alongside other experts at Banyan Hill, such as Charles Mizrahi who created the Alpha Investor Report, a similar newsletter about investing in AI technology.
What's Automatic Fortunes About?
Automatic Fortunes is a newsletter service created by Ian King, that shows you how to invest in mid-cap stocks related to new technologies like 5G or artificial intelligence.
He specifically looks at mid-cap stocks with a market capitalization of between $2 billion to $10 billion, that he believes are poised to take full advantage of emerging technologies.
For example, right now he is focussed heavily on what he calls the "coming $12 trillion 5G boom". 5G is an emerging technology that has the potential to change the world we live in, quite dramatically.
This is actually how I found out about Automatic Fortunes in the first place. Ian created a presentation called "Fluorescent Sand" which is basically a term Ian came up with to describe the underground fiber optic network. And how he believes this is key to the upcoming 5G revolution.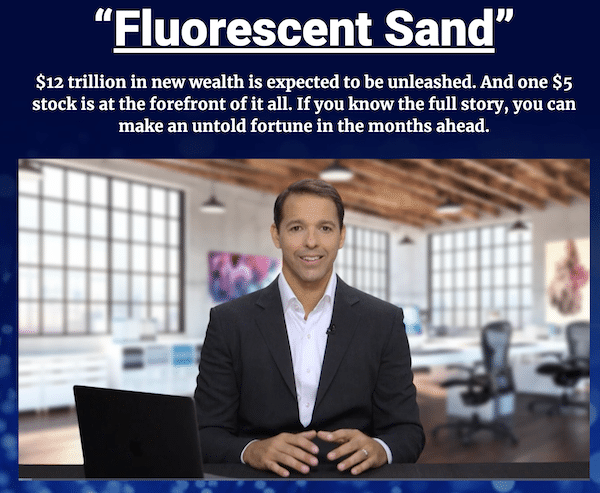 In this presentation, he talks about a small company with a $5 stock, that he says is about to profit from this 5G technology as it rolls out throughout the United States. And as a member of Automatic Fortunes, you get access to this stock pick.
See also: Is Fluorescent Sand a Legit $5 Stock?
Aside from 5G stocks, Ian reveals other stocks he believes will benefit from other emerging technologies like artificial intelligence for example.
And the companies he looks at are within a broad range of industries, so it's not limited to one specific type of company. For example he analyzes companies in the auto, payment processing, and e-commerce niches.
And he applies his unconventional thinking to identify which of these companies he believes is set to profit from emerging tech trends, right before they take off. Even if these are stocks are being overlooked by Wall Street.
How Does Automatic Fortunes Work?
The core of the Automatic Fortunes membership is a 12 month subscription service, where you get a new newsletter each month. Each newsletter contains an in-depth report of what stocks Ian is investing in now, and which ones he believes will soon take off.
The idea is to purchase stock in the companies he recommends, in the hope of seeing a profit if the stock price goes up thanks to key emerging technologies picking up steam.
In addition, members of Automatic Fortunes get access to Ian's model portfolio, which contains all of his recommended stocks. As well as weekly alerts and updates on what is happening in the market, and what to buy, hold or sell at any given time.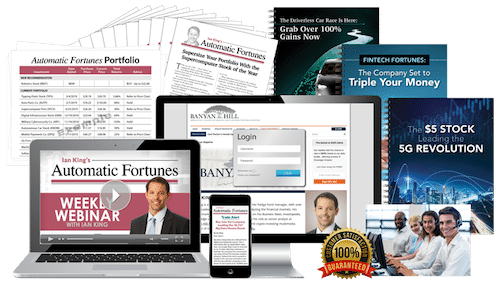 Most of this is simply emailed to you, but you also get access to a members only website which contains everything you need to get started, past newsletters and more.
On top of this, members receive the following bonus PDF reports..
The $5 Stock Leading the 5G Revolution: This is a bonus report where Ian reveals his number one stock pick that he says is going to take off when 5G starts taking off in the United States.
The Driverless Car Race Is Here: Driverless cars are taking off, literally (lol), and in this report Ian shares a company he is banking on to profit big in the coming years.
Fintech Fortunes: The Company Set to Triple Your Money: This report talks about a company that Ian says will profit from the the increase in paperless transactions, due to 5G technology.
The Company Leading the 18,767% Big Data Money Boom: When 5G technology takes off, so will the data companies have access to. In this report, Ian talks about a company that is set to profit by harnessing this data and turning it into actionable insight.
Total Wealth Insider (3 months access): Total Wealth Insider is actually a paid subscription I've reviewed, which is run by Jeff Yastine. And as an added bonus, Automatic Fortunes members get 3 months access to this for free.
To get started, all you need to do is visit the Banyan Hill website, navigate to the Automatic Fortunes page and purchase a subscription.
How Much Does It Cost?
Automatic Fortunes costs $47 for 12 months access, but there are higher tiers that come with additional bonuses.
Here's a quick breakdown of the different options:
Standard subscription ($47): Digital subscription and bonuses explained earlier.
Premium subscription ($79): As above, but with the added physical subscription.
Deluxe subscription ($129): As above, but a few extra bonus reports.
One thing I want to point out here, that I personally find a bit odd, is that in the fine print it seems there are some extra costs involved.
Turns out Automatic Fortunes automatically renews at $97 per year, regardless of which of the above options you select. And, after 3 months, you get billed $97 for the Total Wealth Insider bonus.
This is exactly what I found when I reviewed The Bauman Letter. So it must be a way Banyan Hill is cross promoting subscriptions that are created by different financial gurus that work for them.
In any case, you might want to check the fine print before you make any final decisions, to make sure there's nothing there you may have missed.
The good news is, there is a 100% money back guarantee on offer for Automatic Fortunes. So if you buy and decide you don't like it within the first 365 days you get your money back. I think that's pretty cool.
Conclusion
Overall I think Ian King is providing members of Automatic Fortunes with a lot of value, especially considering it's only $47 for the Standard subscription.
Ian is a knowledgable investor with an impressive track record, and I think most of us will agree that 5G technology is going to take off in the years to come. So if you can choose the right stocks, with Ian's help, then your subscription could end up paying for itself many times over.
I also think that Ian's newsletter is among the least overhyped out of all the services I've reviewed from Banyan Hill over the years. Which is a plus in my books because I don't like unrealistic sales hype.
With that being said, there are risks involved with any kind of investing or trading. And let's face it, betting on emerging trends is highly speculative, no matter which way you slice it.
So you should probably only invest money you can afford to lose and always focus on educating yourself, instead of just taking someone's word that this or that will be "the next big thing".