Recently, Matt Badiali and John Ross – investing "experts" – released something called the Apex Profit Summit where they talk about their new proprietary system called the Apex Profit System.
So, what's it all about?
The Apex Profit System is an investing system created by Matt Badiali and John Ross that lets you know when to invest in certain stocks to earn a profit. You get access to the system by subscribing to the $2,995 per year "Apex Profit Alert" newsletter, which is published by Banyan Hill.
Read on to learn more.
What Is the Apex Profit System?
The Apex Profit System is an investing system that's explained in a video presentation (or webinar) called the Apex Profit Summit. And it's put forth by two Banyan Hill contributors: Matt Badiali and John Ross.
Basically, the way you make money with this system is by following one "proprietary signal." This signal is just a combination of other, supposedly effective indicators that are already out there. This system identifies a signal within the stock market that will supposedly show a stock that is set to rally.
Once that signal appears, Matt Badiali and his team screen the stock to really ensure the quality and potential of the opportunity proposed by the system. Which he says has been working out well so far.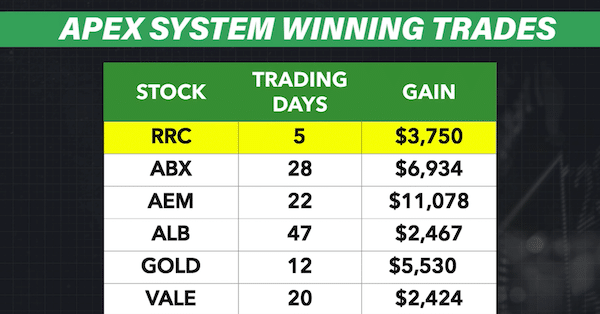 If it passes through his screening, then he'll recommend buying it. And apparently, they put $2.5 million into this project and even conducted a beta test that lasted 15 months.
So, that's supposed to add some credibility to the effectiveness of the system itself. And credibility is something that's much needed when they're claiming that you can make $100,000 or "possibly $229,000 or more this next year" just by subscribing and becoming their "newest member."
Yes, you have to pay to subscribe to Badiali and Ross' newsletter, Apex Profit Alert, in order to actually learn about the system and take advantage of their recommendations.
How Does Apex Profit Alert Work?
Apex Profit Alert is an options trading service in the form of a weekly newsletter centered around the Apex Profit System. This is where you'll really get to learn all the details of the system and how to use it to (supposedly) make you money.
With the Apex Profit Alert, you will be receiving the following features:
Daily Trade Alerts: You'll receive all the details of a new trade opportunity personally vetted by Badiali and Ross. This includes instructions on how to make the trade and earn a profit. Then can also receive this alert via text.
Weekly Podcast: Every Friday, Badiali and Ross give you a detailed analysis of the market and discuss any future trades they may be looking into. 
The Apex Profit Playbook: This is an in-depth breakdown of the Apex Profit System.
Options 101 Guide: This just gives the basics of how to buy and sell options.
A Customer Care Team: Customer service.
Exclusive Website Access: You'll have access to the website that has an archive of every trade report, alert, update, and model portfolio since the newsletter began.
All of this would normally cost you $5,000 per year, but if you're one of the first 1,000 people to subscribe, you'll get 50% off and only have to pay $2,495 per year. 
Honestly, I'm not sure if they're really only offering it to the first 1,000 people, or if that's just a marketing ploy to make you feel a sense of urgency.
Regardless, it still seems pricey – like most of these financial newsletters from companies like Banyan Hill or Money Map Press. It's certainly more expensive than Matt's other newsletter services, like Real Wealth Strategist which cost just $47 per year.
But it comes with something called the "$100,000 guarantee," which says that they'll give you a second year's subscription for free if their trade recommendations don't "give you the chance to collect $100,000 in profits" over the next year.
Notice the guarantee isn't actually contingent upon whether or not you make $100,000 or not, but whether or not they have given you the opportunity somehow.
Who Are Matt Badiali and John Ross?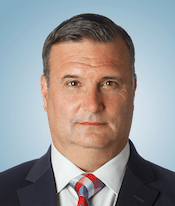 Matt Badiali is an investment expert who contributes to services and articles under financial publishing company, Banyan Hill. 
He started off as a geologist where he traveled all over the world to speak with companies about geological data and natural resource prospects.
Because of this, he's learned to take a little more of a hands-on approach when it comes to investing.
This leads him to go and physically see certain operations for himself and really do some digging by interviewing people high up in a company, because he believes that you need to see for yourself what's going on in order to know the truth.
With this method, Badiali has been able to discover major red flags as a geologist and an investor, but he's also been able to find good signs about companies that has led to his investing success.
He also has two degrees which are a B.S. in Earth Sciences and a Masters in Geology.
If you want to know if he's legit or just another scammer, you can read my full review about him here.
John Ross is also an investment expert under Banyan Hill.
He's created methods of trading that help investors protect and grow their money, and he's done it over 12 years of refinement by studying global macroeconomics, pattern analyses, and investor behavior.
He earned a degree in finance from Florida State University and is in the process of becoming a Chartered Market Technician, or CMT, a title that less than 5,000 people worldwide can claim. 
One achievement of Ross' is that he helped investors avoid losses when crude oil prices tanked in 2014, and then helped them make huge gains by buying back into crude oil in 2016 when the price bottomed at $30.
Is Apex Profit System Legitimate?
The Apex Profit System is not necessarily a scam because there are actually people who have profited from it and it can actually have some success.
One success story they use is quite compelling:
I Made 232% on My First Trade. Then I made 4 Triple-Digit Gains in a Month!

– Apex Profit Alert testimonial Banyan Hill website
However, just because some people can claim they've had success doesn't necessarily mean you will, too.
Stocks are unpredictable. And yes, while they can follow patterns and experienced investors can see those patterns, that's not a guaranteed way of making a profit every single time.
And of course, as is generally the case with these types of sales pitches, they make bold claims (like that you can earn $100,000 a year easily), but they don't give you details, like how much you'd have to invest to get there, or things of that nature.
Also, there are reviews out there that point out how this specific sales pitch uses fake testimonials, replete with stock photos and all. Which is obviously a red flag. If your system works as well as you say it does, you probably wouldn't need to fake your testimonials.
Conclusion
The Apex Profit System is a new way of finding certain signals within the stock market that indicate to Ross and Badiali that the stock is poised to soar and bring in massive profits to anyone who invests.
Unfortunately, throughout the sales presentation of this system (the information you only get when you become a paying subscriber) is surrounded by – at best – a lot of marketing hype.
Whether or not you invest your money into this newsletter is completely up to you, but be sure that you can actually afford to purchase it and you take their bold claims with a grain of salt.
If you're just looking to get a feel for some of the content Banyan Hill Publishing, the company behind all of this, it might be worth checking out one of their free newsletter services, like Bold Profits Daily for example.